Sweet and Savory: Corn Recipes to End Summer
Comments Off

on Sweet and Savory: Corn Recipes to End Summer
Corn recipes are perfect for summer and oh-so versatile! From sweet cornbread to savory dips and everything in between, it's an easy ingredient to cook with. There are different varieties that offer different amounts of sugar and starch. But all corn is packed with nutrients, fiber, and juicy delicious flavor! It also goes well with so many foods. For example, corn tastes good in creamy casseroles, recipes with other crunchy fresh vegetables, and baked goods too.
Summertime Corn Recipes
The summer season is in full swing and there are plenty of corn recipes to try this time of year! An iconic summer vegetable, tall stalks grow abundant all over the Pacific Northwest. The crop grows well around here and allows us to enjoy the vegetable all summer long. Most people love it and use it in so many different types of dishes. It takes just a few minutes to cook. Or, there's nothing wrong with grabbing a convenient can or frozen bag of corn kernels! At Tacoma Boys, you can pick up a jar of Sweet Baby Corn or Field Day Organic Whole Kernel Sweet Corn. You can also look at corn products like Rill Foods Columbia River Corn Chowder Soup Mix, Stonewall Corn Bread Mix, and Bob's Red Mill Organic Corn Grits Polenta.
Check out Tacoma Boys own corn recipes to celebrate and enjoy the sweet and seasonal vegetable:
How to Cook Corn: 3 Different Ways
It's easy to learn how to cook corn when starting with any variety. Cobs are fresh and juicy, while canned and frozen corn is convenient and brings a good amount of flavor, too. Corn be roasted in the oven, charred on the stovetop, and even microwaved. It can be cooked alongside other summer vegetables, especially when on the grill. For example, try a grilled zucchini and corn salad or creamy chowder with the two vegetables. Or, try it in a grilled salsa with fresh summer tomatoes and peppers. Read on for three main ways to get familiar with how to cook corn on the cob for any recipe you desire!
1. Simply Grilled Corn on the Cob
Grilled corn is debatably the best way to cook corn when enjoying it on its own. Oil the corn cobs and season all the way around with salt and pepper. Place on a grill heated to medium-high heat and let cook for about 5 minutes per side. Rotate and keep cooking until the cobs are deeply browned on all sides. Then, just slather the corn with a good amount of salted butter and munch away on its natural grilled flavors!
2. Grilled Corn in Foil
This method of grilling corn is very similar to cobs cooked directly on the grill. It's a bit more hands-off but might take a few extra minutes to finish cooking. Wrap oiled and seasoned cobs in foil and set on a medium-high heated grill. Let cook for about 20 minutes, rotating just once or twice to cook evenly.
3. Boiled Corn
Boiled corn is a quick and easy way to prepare corn on the cob to use in any recipe. This cooks the kernels until tender and allows it to be easily sliced. Then, use it in corn casserole, corn salsa, chowder, and much more! Bring a large pot of salted water to boil and place the cobs in the pot. Boil for about 5 minutes or until the kernels are bright yellow or white.
Sweet and Savory Corn Ideas
Any type of corn will work great for your sweet and savory corn needs. The most common type of corn found at grocery stores is simply considered sweet corn. From corn pudding, to street corn dip, to fresh corn salad and more, there are plenty of uses for summertime corn! You could also consider these sweet and savory corn recipes to try:
Local Corn Varieties
Common sweet corn can be yellow or white. Yellow corn is good for its distinct color and adds a pop of brightness to your recipes. And while some people debate over whether yellow or white corn varieties are the sweetest, all corn found at the market is bound to be slightly sweet yet good in savory recipes, too.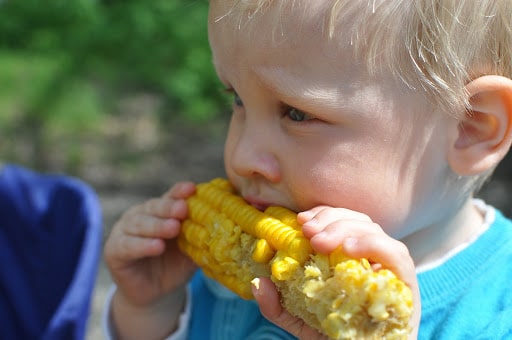 Check out these varieties like these at Tacoma Boys for your sweet and savory corn recipes:
White sweet corn
Bi-color sweet corn
Yellow sweet corn
Your local Tacoma Boys or H & L Produce markets have tons of seasonal produce available including corn, zucchini, and tomatoes! Plus fresh cuts of meat, specialty cheeses, and much more. Build your summer recipes with all the essentials for a satisfying, delicious meal. To stay up to date on insider deals and specials, sign up for Tacoma Boys' text list. Just text (253) 246-1661 to tell Paul you want to be on the list!