We Believe Quality Is Always The Better Buy
Tacoma Boys is your local specialty market committed to sourcing products from the highest quality source. Our goal is to serve our communities the best selection of real food, ranging from fresh, handpicked produce to thoughtfully curated meats and cheeses. From local fare to ingredients found around the world, get all the best, right here in the South Sound.
Tacoma Boys Products
Those who eat well, live well
We love good food. We love fueling our community. And we love having fun doing both. That's why we've promised to use organic ingredients, sourcing whole foods and fresh produce from farmers who grow responsibly, and aim to source from local suppliers and partners as much as possible.
Community
See what we've got going on
It's happened to the best of us: You're shopping at your local store. You make your way through the produce section, but can't seem to find that perfect peach or […]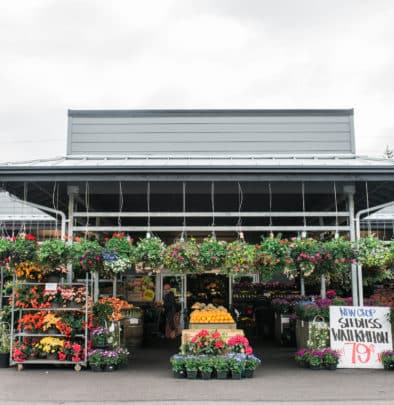 If you're native to the Pacific Northwest, the name H&L Produce may ring a bell. H&L Produce started as a roadside produce stand around 25 years ago. It was notorious […]

Walking through the produce section of a specialty grocer like Tacoma Boys or H&L Produce is an eye opening experience for some. Beyond organic bananas and tomatoes, there is an amazing assortment of fruits and veggies that many people have never heard of! Shallots are one of theses great everyday food items that, for some reason, have remained under the radar for many Americans.

Ever feel a little lost around a little known fruit or vegetable? Fear not, we are here to help! If you are ever unsure of how to prepare a food item, or what it may be for, make sure to ask one of our skilled staff. We love to help our customers.

Shallots are like small, delicious, less pungent, onions. They won't make you cry – and as you may have guessed are a great alternative to onions in any number of dishes. Once you start using them you may find yourself purchasing them on each trip to your specialty market. Check out our Weekly Specials!

Hints of Garlic and Onion.
Shallots are part of the Allium family of vegetables, which include onions, leeks and garlic. They have a more delicate flavor than onions with a hint of garlic. They even look a bit like large garlic cloves when prepared, but are much easier to eat whole.

Shallots Melt Into Your Meals
Unlike onions, which maintain their shape and texture when cooked, shallots are quicker to break down when cooked. This is a good thing. It means they become part of the meal instead of sitting separate in the mix. The creamy texture of the shallot, when cooked, is pleasant on the palate. This sensation, matched with their delicate, yet rich, flavor make the shallot an excellent ingredient.

A Great Substitute
Shallots are a great substitute for onions in any number of dishes. Make sure to try them out in your favorite meals and let us know how it goes!

The Easiest of Recipes
Looking for an easy way to prepare your shallots? It's as simple as rinsing them, with the skins on. Hand place them on a rimmed baking sheet. Heat your oven to 425 degrees. Once the oven is ready, insert the tray of shallots into the oven and cook for about 20 minutes, or until the skins are golden brown and the shallots are tender when probed with a fork or knife. Remove and enjoy!

These roasted beauties are ready to be enjoyed on their own or with any number of dishes. Remember they have a milder flavor than onions or garlic, so you are more likely to eat them on their own.

Olive Oil & Salt
Want to get a little more complicated? Peel the shallots, then toss them in olive oil with a generous amount of salt. Roast these at 425 degrees until tender. If you like you can slice the shallots in half, leaving their inner beauty exposed. This also allows for a shorter cooking time.
Shallots Across The World
It is believed that shallots first came to Europe from the middle east, during the 12th century. Today there are over 10 varieties available in France. In Indonesia, shallots are often pickled and served with meals. Shallots are well loved in Iran where they are often crushed into yogurt or grilled on kebabs.

Local Specialty Markets Offer Shallots

At Tacoma Boys and H&L Produce we are proud to offer our community the freshest and best ingredients for their day to day lives, including shallots! If you've never been into one of our South Sound locations, make sure to stop in soon! We have a wide selection of beers and wines, chocolates, canned foods, meats and cheeses and more! Look around our website and check out our social media on Facebook, Instagram and Pinterest.

Now that it's Fall, farmers markets have shut down. But that doesn't mean the quality of your meals has to go down. Fall and Winter actually bring a bounty of healthy and tasty foods, too! It's as easy as visiting a natural grocer like Tacoma Boys or H&L Produce.
Fall is Harvest Season!
There's a lot to miss about summer, but Fall brings a whole new variety of delicious and heart-healthy fresh fruits and vegetables. Because our inventory is constantly revolving you can always shop on a budget without sacrificing quality. Every week we are changing the specials and bringing in new foods and beverages. If you like trying new things, you'll never get bored at one of our markets. We believe that Quality is Always the Better Buy. We sell the best and leave the rest alone.  
October & November Selections
Our #1 tip for saving money while eating healthy is to shop in-season. But that's not always easy! So what's good right now? There are plenty of in-season fruits and vegetables that you can buy without breaking your bank.
For the Fruit Lovers
Apples and Pears
Grapes
Cranberries
Oranges and Tangerines
All the Best Veggies
Broccoli and Cauliflower
Brussels Sprouts
Cabbage, Lettuce and Spinach
Other Seasonal Favorites
Pumpkin!!
Squash
Sweet Potatoes
All-Season Deals
Consider Tacoma Boys and H&L Produce to be your farmers market that stay open all year long. It's a total game changer! Some fruits and vegetables maintain a great price year round.
The first one that comes to mind is the cucumber. Another thrifty choice is cabbage. A head of cabbage is great no matter what season you're in, and like the cucumber, it can be eaten a number of ways, so it's definitely a go-to vegetable for any meal.
Fruits You Can Always Find
When searching on a budget, sticking to these fruits and vegetables won't let you down.
A Natural Grocer That's Open Year Round
Tacoma and Puyallup both have great farmers markets, but they are forced to close by the end of October. Thankfully, you can have the same experience at Tacoma Boys and H&L produce all year long. Did we mention we're open 24 hours a day? That means we've got you covered whether you're looking for a quick lunch or a midnight snack.
Think of us like a permanent farmers market but with more options. Having brick-and-mortar locations allows us to offer a lot more than a pop-up market. When you visit, you'll find a variety of produce indoors and outdoors. Inside, we also have a fresh meat department, thousands of different beers and wine, unique gifts and snacks.
If you like exploring the aisles, you can discover something new each time you visit. On the other hand, if you're looking for a favorite food or beverage and can't find it anywhere, let us know and we'll do our best to order it for you.
Check Us Out
If you're looking for an alternative to farmers markets for the Fall and Winter seasons, you should definitely check us out. As your local natural grocer we are known for carrying what's fresh, local, organic and in-season.
When it comes to our suppliers, we truly only want the best. The food we sell comes from farmers and suppliers who care about giving customers quality, no matter what the occasion or time of year.
Give us a call to learn more about what we can do to help you and your family eat healthy all year long. We look forward to hearing from you.

Instead of stocking up on processed foods for the month, aim for quick, yet frequent, trips to your favorite market. Think about what you'll be cooking in the next few days. The more that you shop fresh, the more at home you will feel in the produce section!
#TacomaBoys
Follow @TacomaBoys on Instagram