We Believe Quality Is Always The Better Buy
Tacoma Boys is your local specialty market committed to sourcing products from the highest quality source. Our goal is to serve our communities the best selection of real food, ranging from fresh, handpicked produce to thoughtfully curated meats and cheeses. From local fare to ingredients found around the world, get all the best, right here in the South Sound.
Tacoma Boys Products
Those who eat well, live well
We love good food. We love fueling our community. And we love having fun doing both. That's why we've promised to use organic ingredients, sourcing whole foods and fresh produce from farmers who grow responsibly, and aim to source from local suppliers and partners as much as possible.
Community
See what we've got going on
It's happened to the best of us: You're shopping at your local store. You make your way through the produce section, but can't seem to find that perfect peach or […]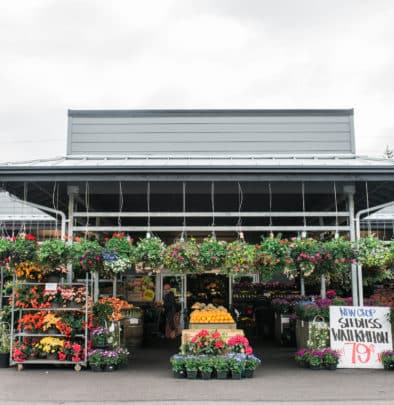 If you're native to the Pacific Northwest, the name H&L Produce may ring a bell. H&L Produce started as a roadside produce stand around 25 years ago. It was notorious […]
Whether you've lost track of time, worked later than you would have liked, or have guests dropping by with only a few hours' warning, you need to put together the perfect meal — as quickly as possible.

Read on to learn not only where you should shop when you're in a rush, but also to get some ideas for last-minute meals that don't require the use of every pot and pan in your house.
Shop the Right Way
One of the most important decisions you'll make when it comes to getting dinner on the table in time is where you choose to do your shopping.

First of all, going with a local store where you can get personalized help and attention allows you to find the ingredients you need in a hurry. You can rest easy knowing that we'll have the items in stock — because you definitely don't have time to go driving around to several different stores to find that one missing ingredient.

When you shop at a local specialty market, you'll also get the benefit of being able to cook with the freshest possible ingredients. Since your fast recipes likely won't be complicated, getting high-quality produce, meats, and more will make all the difference. We stock plenty of organic goods, and have strong relationships with local suppliers and farmers.

The one-on-one help you'll get at a specialty grocery store prevents you from having to race up and down the aisles, losing valuable time. Staff members can even give you advice about what you can cook under a time crunch.

Popular Quick Meal Ideas
The good news is that it's totally possible to get dinner on the table in under a half an hour.

You can always put together a salad with fresh romaine or leaf lettuce and one of the dozens of varieties of specialty Tacoma Boys salad dressings — just make sure to add in a protein like nuts, chicken or shrimp to ensure it's filling.

We also love this easy recipe for 15-minute meatloaf (yes, it can be done!) And we have all of the ingredients you'll need!

If you're a fan of something quicker and simpler like pizza, grab a garlic baguette or gluten free cauliflower crust, a can of pizza sauce, one package of turkey, pepperoni or your favorite veggie, and 2 cups of mozzarella cheese. And don't forget a fresh tomato and basil. Preheat your oven to 435 degrees, slice up the baguette, and broil it for 3 minutes with a little butter or olive oil.

Then, cover the toast in pizza sauce, fresh sliced tomatoes and sliced fresh basil and add the cheese and toppings. Cook the mini pizzas for another 5 minutes, and you're all set!
When in Doubt, Go with a Platter
One fast meal or snack that you can always count on to be a crowd pleaser?

A fruit, vegetable, meat, or cheese platter — or better yet, a combination of all of the above!

Just ask the butcher or the experts at the cheese counter for a few suggestions, and you can throw together a beautiful charcuterie platter in minutes. We have dried fruit and nuts to add a little crunch or sweetness to your platter too!
Ready to Cook Your Last-Minute Meal?
Now that you have a few ideas for what you can prepare when you're pressed for time, get in the car and head to one of our 3 fresh markets.

We always have the ingredients you need, and our staff is here to help you find them as fast as possible, 24 hours per day.
Also, be sure to check out our weekly specials to learn what's on sale, so that you can cook the right meal for less. Dinner will be done before you know it.
You can't call yourself a foodie unless you've ventured into a local gourmet grocery store! Here are 5 reasons to try one in Tacoma, WA on your next market trip!
6 Easy Dinner Recipes
Three cheers for healthy, nearly effortless and delicious meals. We have six healthy and easy dinner recipes for busy families like yours. Tell the hungry kids to hold their horses because you're about to whip up a fantastic meal in no time.
1. Black Forest Reubens
At Tacoma Boys, we are proud to carry the freshest organic ingredients in the south sound. Fresh, healthy ingredients make these meals possible. And these Rueben sandwiches are some of our favorites.
Spread one side of 2 slices of pumpernickel bread with softened organic butter. (2 slices for each person) You will be building these sandwiches with the buttery sides facing out.
In a separate bowl, mix:
3 tablespoons of dill pickle relish
1 finely chopped shallot
1 tablespoon of chopped capers
4 tablespoons of Tacoma Boys spicy brown mustard
Add the mixture on 1 slice(s) of bread, then top it with a slice of Swiss cheese, a slice of corned beef and Black Forest ham, a small bit of drained red cabbage OR sauerkraut, and the other slice of bread.
Heat over a nonstick skillet over medium heat for 5 minutes on each side.
And to compliment the Rueben, we love thinly sliced carrots and zucchini, boiled with a little butter and salt.
Yummy!
2. Crispy Cheese Chicken
This recipe is a fun twist on your classic breaded chicken – kids will love the cheesy crunch! No shake and bake from a box here; the breading is made with REAL cheese and simple ingredients from your kitchen.
Here's how:
Cut 4 chicken breasts into three pieces.
Measure a cup of your favorite panko bread crumbs or a gluten-free version.
Place the crumbs in a large container and mix in 1/4 teaspoon of salt and 1/8 teaspoon of pepper.
Pour 1/2 cup of skim milk and 3 cups of your favorite grated cheddar cheese (we like cougar gold) into two separate containers and line all three up.
Dip chicken into the milk first, then cheese and bread crumb mix last.
Sprinkle with parsley, cover with foil and bake at 400 degrees for 35 minutes.
Remove foil and bake an extra 10 minutes.
You can serve this chicken with your favorite veggies like a spinach salad with strawberries and balsamic vinaigrette dressing from Tacoma Boys! In the last few minutes, whisk a 10-ounces of cream of chicken soup on the stovetop with 2 tablespoons each of low-fat organic sour cream and teaspoon of butter. Spoon it onto the chicken and serve.
You'll never want crispy cheddar chicken another way.
3. Mushroom Pork Chops
Chicken and beef are the usual rotation for family dinner proteins, but this recipe is a great way to switch it up while keeping dinner quick, easy, healthy and delicious!
First, season 4 pork chops with salt, pepper, and garlic to taste.
Brown the pork chops over medium-high heat in a skillet. Add 1 chopped onion and 1/2-pound sliced mushrooms and sauté for one minute. Add 10 ounces of condensed cream of mushroom soup.
Cover, reduce heat to medium-low and simmer for 20 to 30 minutes. Try some fresh green beans and a green salad with balsamic vinaigrette dressing and carrots for complementary and flavorful sides.
Enjoy!
4. Halibut on the stovetop
Many kids in the PNW grow up eating salmon, halibut and other local fish as youngsters. We love this recipe because it's healthy, flavorful and the kids usually ask for seconds.
First pre-heat your oven to 425. Take your frozen or chilled, fresh Halibut and put a little lemon zest, garlic powder, lemon juice and salt over the meat side of the halibut.
Next, add butter, a little garlic and olive oil into a cast iron pan on medium and sear the meat side of the halibut slightly. Then, turn the halibut over so it's lying on it's flesh side.
Then, take the cast iron pan and put in oven for 8 – 10 minutes. When you remove it from the oven, fish will easily come apart from the flesh and it will be super flavorful and delicious. Sometimes we melt a little butter on top for extra flavor as well!
While the fish is baking, we chop up some broccoli and make a quick batch of whole grain rice to compliment the meal. Fresh and delicious in about 15 – 20 minutes!
5. Marinated Steak
Take one-part red wine and mix with one-part balsamic vinegar and a dash of olive oil in a large zip-lock bag. Throw in a dash of pepper, chopped onions and garlic for spice. Marinate with your choice of steaks all day and by dinner time, they'll be ready to throw on the BBQ or pan fry with a little olive oil. Cook to temperature.
We love these steaks with a sweet potato, cut into slices with a little oregano, pepper, salt and olive oil and then broiled along with some steamed carrots or zucchini.
That's all this delicious steak meal requires!
6. Sheet Panned Italian Chicken
In a sealable plastic bag add 6 skinless, boneless chicken breasts. Then add some salt, olive oil and a quick pour of balsamic vinegar (⅓ cup). Add some italian seasoning, pepper, salt and garlic powder to your preference. (Some folks cheat and use a bottle of Italian dressing, but we think this version is much fresher). If you can refrigerate for 1 hour, that is ideal, but not necessary.
Then, we use cherry tomatoes, fresh green beans and diced summer squash to make this a full meal in one sheet pan. Toss the veggies around the outside of your chicken and season with a little salt, pepper and olive oil.
Take your entire sheet pan and bake at 350 degrees for one hour.
It's a quick and easy taste of Italy.
Bon Appetit!
We hope these easy dinner recipes help you enjoy mealtime even in the midst of busy work schedule. The options are endless, and even the kids are sure to find something they love that is wholesome and delicious.
Remember, if you want quality food, you need the right ingredients. Stop by Tacoma Boys or H&L Produce! Quality is always the better buy. We're located in three convenient locations: Puyallup, Tacoma, and Lakewood.

#TacomaBoys
Follow @TacomaBoys on Instagram