End of Summer Corn Chowder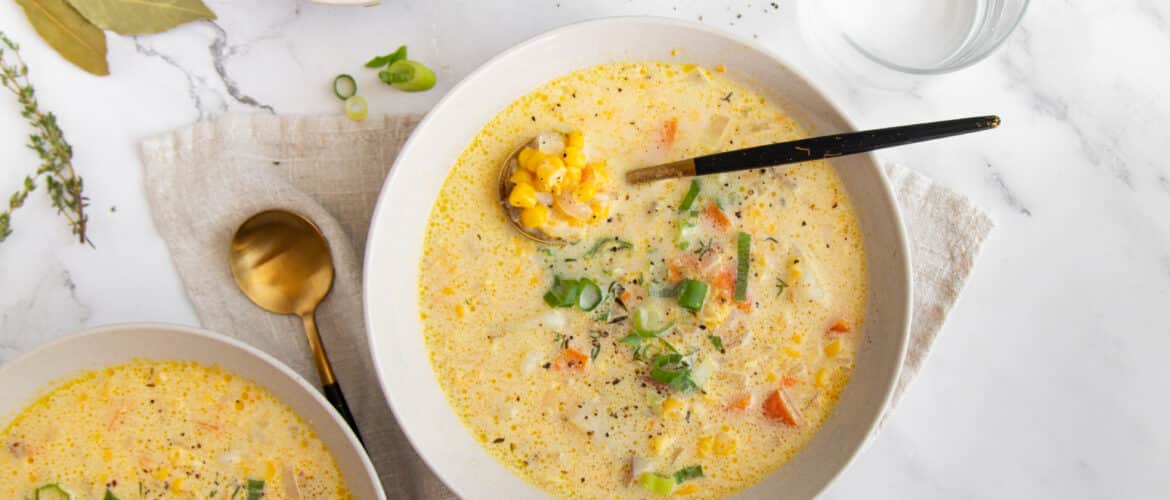 As we near the end of summer, you may be looking for ways to use leftover corn or get ready for cooler evenings. This corn chowder is both cozy and packed with flavor!
It's as simple as sautéing onion in butter: Then, add in vegetables like corn and potatoes and simmer it with vegetable broth and seasonings. A swirl of half and half near the end ensures things are super creamy.
Ingredients
2 tbsp Tillamook Salted Butter
1 large white onion
1 tbsp minced garlic
½ tsp salt
Black pepper to taste
2 medium carrots, diced
3 medium red or gold potatoes, diced
5 cobs Tacoma Boys Fresh Corn, husked and cobs removed
1 large bay leaf
1-2 sprigs fresh thyme
4 cups Pacific Foods Organic Vegetable Broth
1 cup Smith Brothers Farm Half and Half
Chopped green onion, to serve
Fresh thyme leaves, to serve
Directions
Sauté the Onion

Melt the butter in a large soup pot over medium heat. Once the butter is melted, add the onion. Sautee, stirring often, until the onions are mostly tender and translucent, about 5 minutes.

Add the Vegetables

Add the garlic, salt, and pepper and stir. Cook for about 1 minute, until the garlic is fragrant. Add the carrots, potatoes, corn, bay leaf, and thyme sprigs and stir to combine.

Simmer the Soup

Increase the heat to high, then add vegetable broth. Bring to a low boil, then simmer, stirring occasionally, for approximately 20 minutes or until the potatoes and carrots are fork tender. Remove from the heat and let cool slightly. Remove the bay leaf and thyme sprig.

Blend the Soup

Quick stir in the half and half. Partially blend the soup either with an immersion blender or with a heat proof blender: If using an immersion blender, stick the blender into the soup and blend for about 30 seconds, moving the blender throughout the soup the whole time. If using a standard heat proof blender, transfer about 2 cups of the soup to the blender and blend on low speed until mostly smooth, about 1 minute. Transfer the blended soup back to the rest of the soup and stir to combine.

Simmer Again & Serve

Bring to a low simmer again and simmer for about 5 minutes. Serve hot with chopped green onion and fresh thyme, if desired.