Turkey Provolone Pinwheels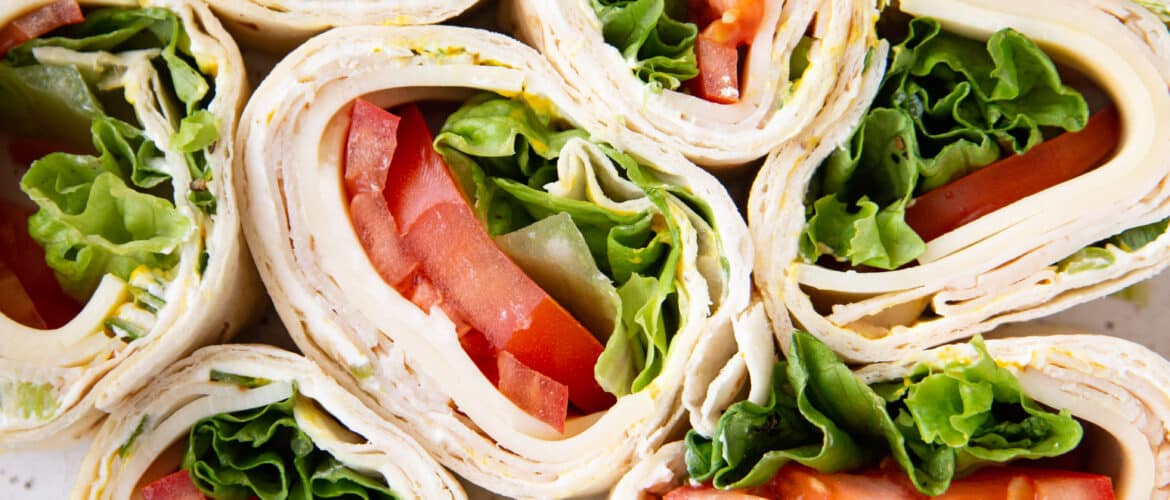 Cream cheese is spread over tortillas and topped with provolone cheese, sliced turkey, tomatoes, and lettuce in these super simple turkey provolone pinwheels.
It's a great time of year for such small sandwiches: The tasty snack is quick and easy to put together on a whim for school lunches for the kids or snacks for yourself!
Ingredients
2 large flour tortillas (burrito size)
6 oz cream cheese, softened
1-2 tsp Suzie's Organic Yellow Mustard
2 stalks green onion, finely chopped
5 oz Tacoma Boys Deli Smoked Turkey Breast
8 slices California Premium Provolone Cheese
3 medium roma tomatoes, sliced
4 leaves green leaf lettuce
Salt and pepper to taste
Directions
Prepare the Tortilla

Working on a cutting board or other flat work surface, lay out a tortilla. Spread half of the cream cheese evenly over the entire tortilla. Spread half of the mustard evenly over the cream cheese. Sprinkle with chopped green onion.

Assemble Tortilla Roll

Lay slices of turkey over the cream cheese across the center of the tortilla. Lay slices of provolone over the turkey. Lay slices of tomatoes over the provolone. Lay 2 leaves of lettuce over the tomatoes. Sprinkle salt and pepper over top.

Roll the Tortilla

Gently roll the tortilla over the filling, keeping it tight, until the filling is tucked into the center of the tortilla and it resembles a burrito. Some of the cream cheese should help the tortilla stick. If not, feel free to skewer the tortilla roll with a toothpick.

Cut into Pinwheels and Enjoy!

Use a large serrated (bread) knife to cut the tortilla roll into about six 1 ½ inch thick pinwheels. Enjoy immediately or store in an airtight container in the refrigerator.