Spring Vegetable Frittata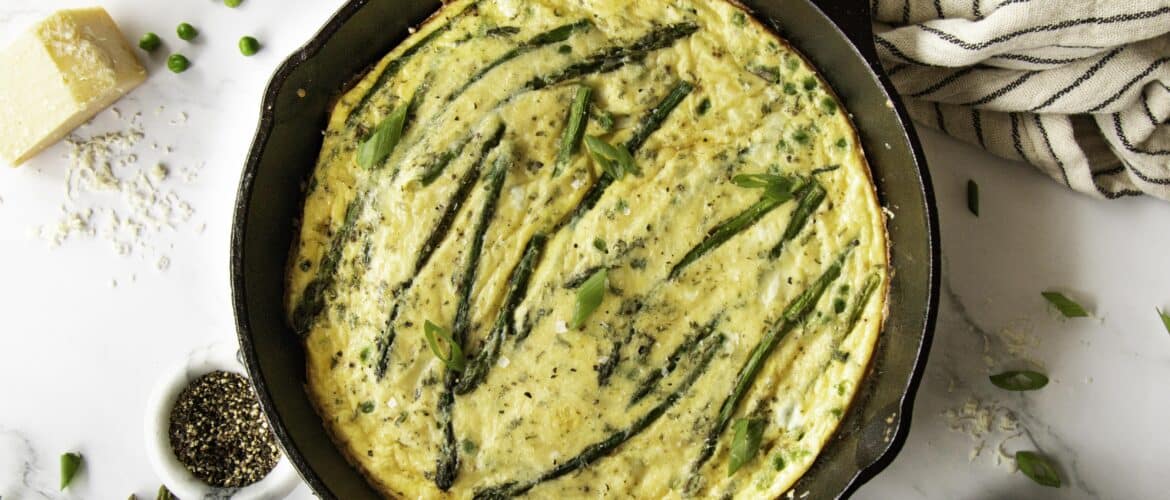 This quick and easy breakfast frittata makes great use of the Pacific Northwest's best seasonal vegetables. Leek, asparagus, and green peas are cooked with eggs and shredded cheese like swiss and parmesan.
It's perfect as the foundation to your spring brunch or as leftovers throughout the workweek!
Ingredients
12 large eggs
¾ cup Smith Brothers Farms Whole Milk
1 ½ cups Stahlbush Green Peas
⅔ cup Kerrygold Swiss Cheese, shredded
2 tbsp Kerrygold Pure Irish Butter
1 leek, trimmed and sliced
1 cup asparagus spears
½ tsp salt
Pinch ground black pepper or to taste
½ cup BelGioioso Grated Parmesan Cheese
Directions
Preheat the Oven

Preheat the oven to 400 degrees Fahrenheit.

Whisk the Eggs

In a medium bowl, whisk together the eggs and milk. Stir in the green peas and swiss cheese.

Saute the Vegetables

Heat a large oven safe skillet over medium heat and add the butter. When the butter melts, add the sliced leek. Saute, stirring often, for about 2 minutes. Add the asparagus spears and saute another 2 minutes. Season the vegetable with salt and pepper.

Add the Eggs

Pour the egg mixture over the asparagus and spread evenly in the skillet. Sprinkle the grated parmesan cheese over the top.

Cook the Frittata

Transfer skillet to the oven and cook for 15-20 mins or until the egg is set throughout. Remove and let cool 5-10 minutes before serving.