Simple Greek Pasta Salad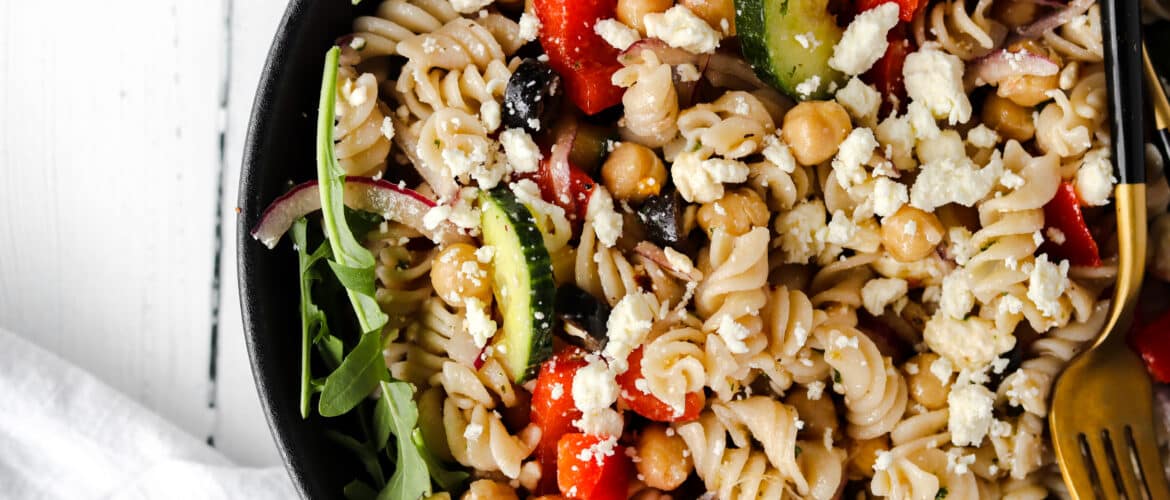 Pasta salad is a classic lunch or side dish that's perfect for a spring picnic or backyard barbecue. Many people enjoy it as a quick lunch on the go, too! This Greek-inspired pasta salad takes ingredients like olives, cucumber, red onion, chickpeas, and feta cheese that go so well together.
A simple dressing of olive oil, balsamic vinegar, lemon, and seasonings allow these Greek flavors to come forward nicely! A variety of vegetables and chewy pasta means contrasting textures, too. We recommend mixing this up a day in advance to allow those flavors to really meld and come together.
Ingredients
Pasta Salad
2 ½ cups short pasta - we used rotini 
½ medium red bell pepper, chopped
½ medium cucumber, chopped
¼ cup red onion, thinly sliced
½ cup black olives, sliced
One 15-ounce can chickpeas, drained and rinsed 
½ cup Stella Crumbled Feta Cheese
1 tbsp parsley, chopped
Arugula or mixed greens to serve
Dressing
2 tbsp California Olive Ranch Extra Virgin Olive Oil
1 tbsp Napa Valley Naturals Balsamic Vinegar
1 tbsp lemon juice
½ tsp garlic powder
½ tsp Italian seasoning
Pinch red pepper flakes
Salt and pepper to taste
Directions
Cook the pasta.

Prepare pasta in boiling water according to package instructions, rinsing well with cold water to finish.

Make the salad & dressing.

In a large bowl, combine all ingredients for the salad. In a small bowl, whisk together all ingredients for the dressing. Pour dressing over salad and toss to coat evenly.

Serve!

Serve on a bed of arugula or mixed greens.