Rice Krispie Trick Or Treats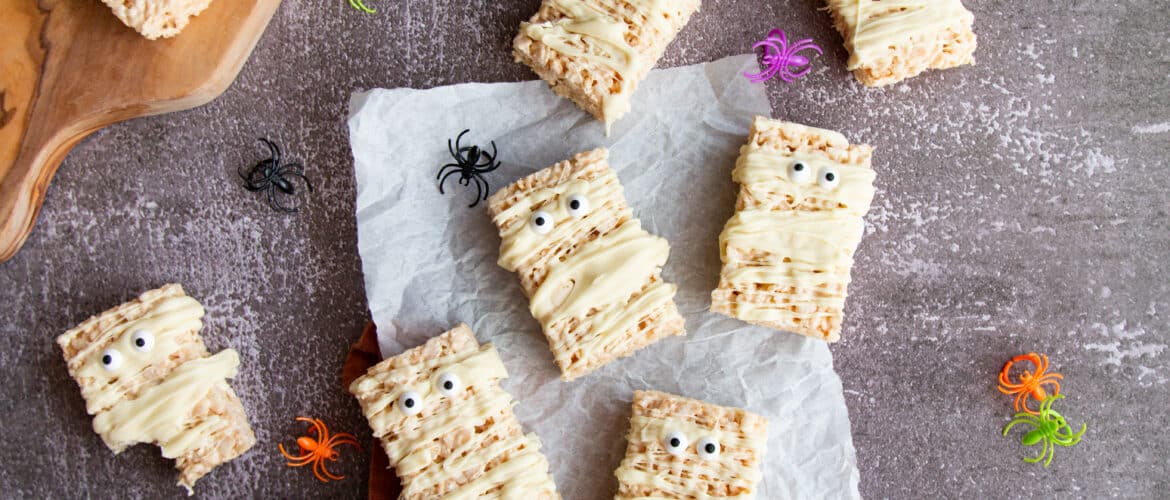 Who doesn't love fun spooky treats for Halloween?! These rice krispie trick-or-treats are festive and tasty sweet.
Plus, it's quick and easy to put together with less than 10 ingredients!
Ingredients
3 tbsp Nellie's Free Range Butter
10 oz bag Dandies Vanilla Marshmallows
1 tsp vanilla extract
4 cups puffed rice cereal
9oz Lily's White Chocolate Baking Chips
1 tbsp coconut oil
Candy googly eggs
Directions
Prep the Equipment

Line a 11x13 in a baking dish with parchment paper.

Make the Rice Krispies

Melt the butter in a large saucepan over low heat. Add the marshmallows and melt, stirring occasionally, until smooth, about 3 minutes. Stir in the vanilla extract. Stir in the rice cereal, working quickly as the marshmallow mixture will begin to harden, until all the ingredients are well incorporated. Press the mixture into the prepared dish.

Chill the Rice Krispies

Let sit at room temperature for approximately 30 minutes to firm up. Once firm, cut the treats into equal rectangles.

Prepare the White Chocolate

In a medium bowl, add the white chocolate chips and coconut oil. Microwave in 30 second intervals, stirring, until smooth and completely melted. Alternatively, melt the chocolate in a double boiler until smooth.

Decorate the Rice Krispies

Use a spatula or spoon to drizzle and flick the chocolate horizontally across the individual krispie treats. Use another couple drops of melted chocolate to stick the googly eyes on the mummy treats. Let chill in the refrigerator for 30 minutes to harden the chocolate.