Red Velvet Hot Chocolate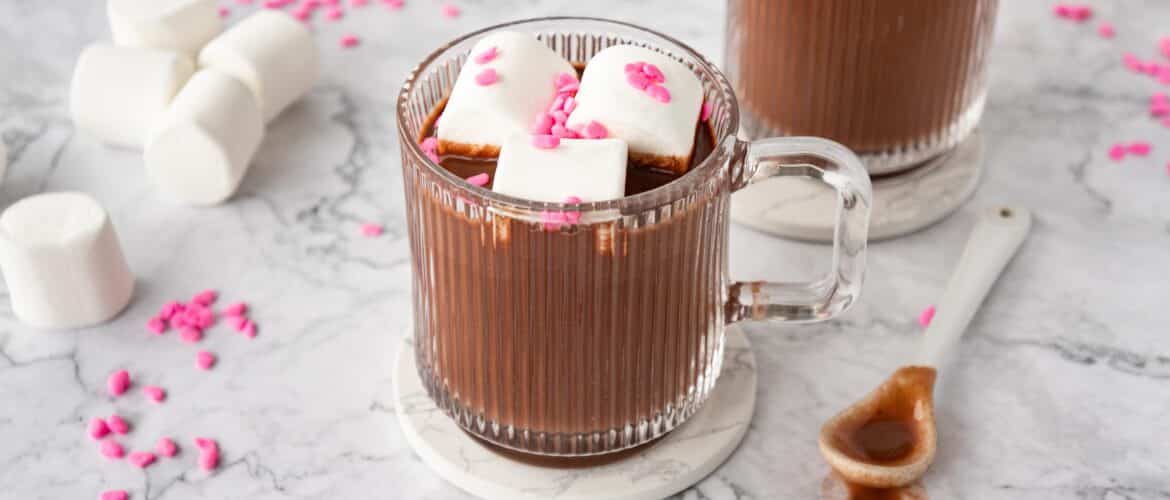 Creamy and chocolatey, this red velvet hot chocolate is a perfect way to end Valentine's Day evening. Homemade but super simple, you can get the kids involved or save it for yourself!
Feel free to use whatever milk you prefer along with a few other pantry staples.
Ingredients
2 cups milk of choice
2 tbsp maple syrup
⅓ cup Lily's Semi Sweet Chocolate Chips
1 tbsp Ghirardelli Cocoa Powder
½ tsp Simply Organic Pure Vanilla Extract
Red food coloring - optional
Marshmallow, to top
Sprinkles, to top
Directions
Heat the Ingredients

In a small saucepan, add the milk over medium heat and bring it to a simmer. Reduce the heat to medium-low and whisk in the maple syrup, semi-sweet chocolate chips. and cocoa powder. Continue to whisk until the chocolate chips are melted.

Stir in the Food Coloring

Remove from heat and stir in the vanilla and the desired amount of red food coloring if using.

Serve and Enjoy

Pour into serving glasses, top with marshmallows and sprinkles of choice and enjoy!