Honey Roasted Carrots with Crushed Pistachios on Whipped Feta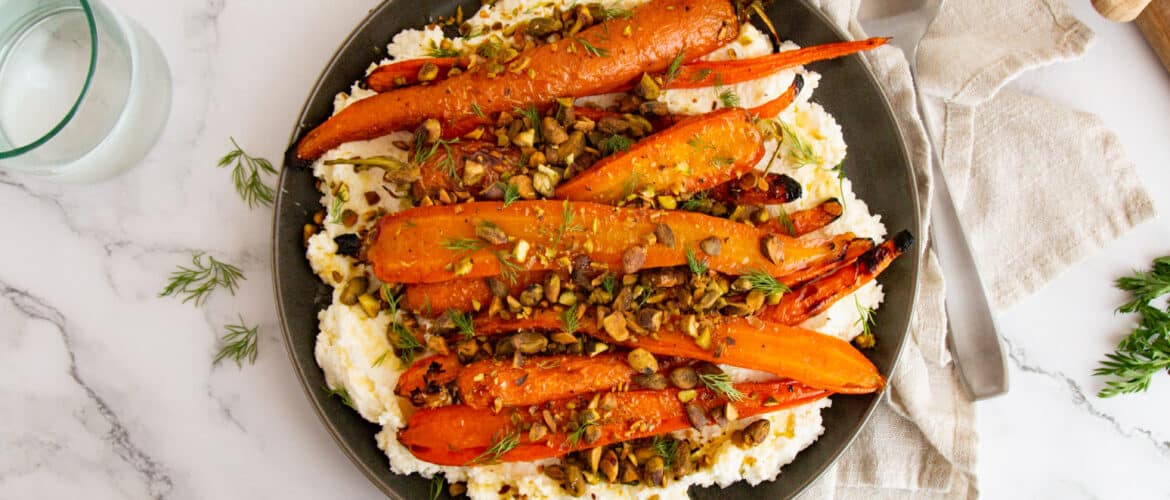 Whole carrots are roasted with honey and olive oil, then spread on a creamy bed of whipped feta in this recipe. These flavors go great with crunchy pistachios and a sprinkle of fresh dill!
Try these sweet and salty roasted carrots for a prime side dish or appetizer for the holidays.
Ingredients
1 ½ lbs whole carrots, scrubbed & sliced lengthwise 
5 tbsp Bragg Organic Extra Virgin Olive Oil, divided
2 tbsp GloryBee Honey, plus more for drizzling
Salt and pepper to taste 
2, 7 oz blocks Mt Vikos Traditional Feta 
⅓ cup Zoi Plain Greek Yogurt
⅓ cup pistachios, crushed
2-3 tbsp fresh dill or chives
Directions
Preheat & Prep

Preheat the oven to 425 degrees Fahrenheit and line a large baking sheet with parchment paper.

Season the Carrots

Place the sliced carrots in a large shallow dish and drizzle with 2 tbsp olive oil and sprinkle with salt and pepper. Use tongs to toss to coat the oil on the carrots. Drizzle with honey and toss again to coat the carrots evenly in the honey.

Roast the Carrots

Spread carrots in a single even layer on the lined baking sheet. Transfer to the oven and roast, flipping once, for 30-35 minutes or until fork tender but still firm.

Whip the Feta Cheese

Meanwhile, crumble the feta into a food processor. Add the greek yogurt and remaining 3 tbsp olive oil. Pulse, scraping the sides of the food processor once or twice, until well combined and smooth, just about 15-30 seconds.

Assemble the Platter

To serve, spread the whipped feta onto a serving platter. Top with roasted carrots, then sprinkle with crushed pistachios and fresh herbs. Drizzle with extra olive oil and honey, if desired.