Grilled Sausage, Peppers, And Onions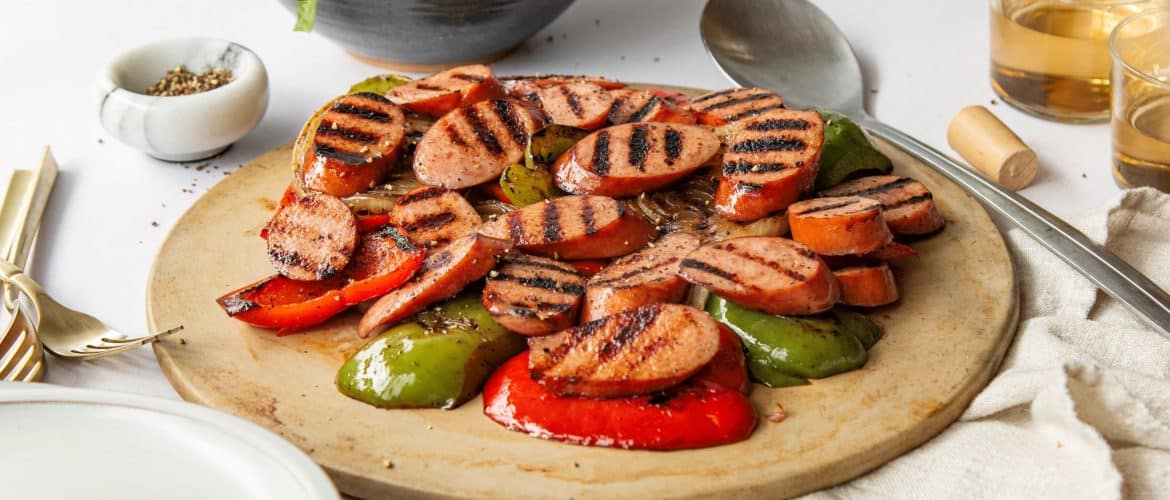 Smoky grilled sausage, bell peppers, and white onion brings all the flavors for a perfect entree. Serve this grilled recipe on its own or on rice, salad, or buns.
And be sure to make enough for leftovers — You'll keep coming back for bite after bite!
Ingredients
Neutral oil, to grill
1 lb sausage of choice such as Hemplers Andouille Smoked Sausage
1 red bell pepper, sliced into quarters
1 green bell pepper, sliced into quarters
1 red or sweet yellow onion, sliced into thick rounds
Salt and pepper to taste
Served in buns, on salad, or on rice
Directions
Preheat & Prep

Heat a grill or grill pan over medium high heat and oil the grill if necessary. Season the peppers and onions with a pinch of salt and pepper. Slice the sausage at an angle or in thick slices.

Grill

Place the peppers, onions, and sausage on the grill, working in batches if necessary. Grill for about 3 minutes, then check on the sausage and flip if browned on the underside. Grill the peppers and onions for about 4-6 minutes on each side, flipping when browned on each side.

Serve & Enjoy!

Remove from heat and cut the peppers into smaller chunks if desired. Serve hot on its own or with salad, rice, or in buns and enjoy!