Freezer-Friendly Breakfast Burritos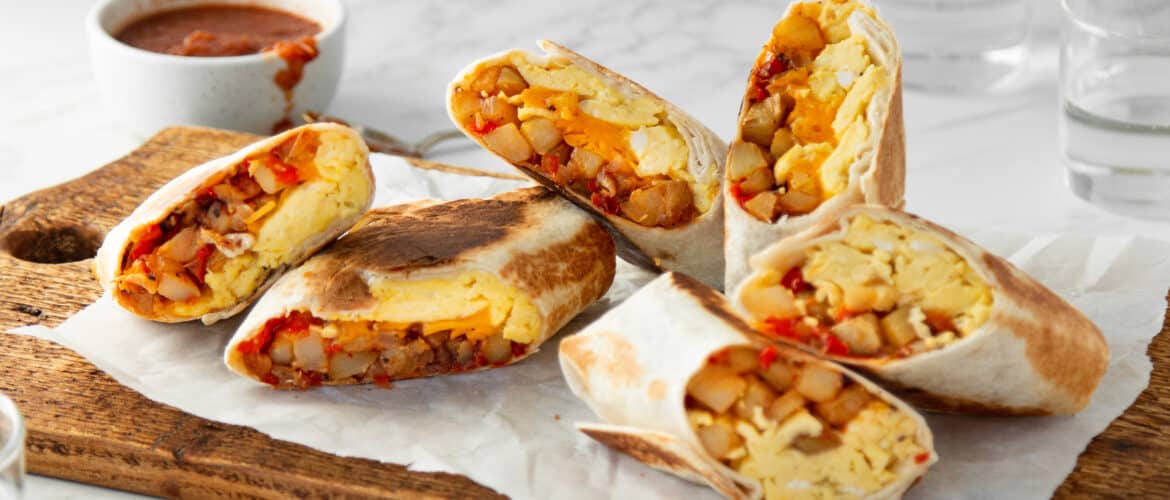 Just in time for the school year, these breakfast burritos are perfect when you're on-the-go. Scrambled eggs and sauteed peppers and onions join soft potatoes in a flour tortilla. Then, they can be stored in the freezer and reheated in just a few minutes!
Ingredients
2 ½ tbsp avocado oil
2 large red potatoes, scrubbed or peeled and finely diced
½ small white onion, finely diced
1 bell pepper, finely diced
1 tsp garlic powder
1 tsp paprika
Pinch salt and pepper to taste
1 dozen Smith Brothers Farms Eggs, beaten 
6 large flour tortillas
1 cup Tillamook Shredded Sharp Cheddar Cheese
Optional - cooked breakfast sausage or bacon
Directions
Cook the Potatoes

Heat a large skillet over medium heat and add 2 tbsp oil. When the oil is hot, add the diced potatoes and a pinch of salt and pepper. Cook potatoes, flipping and stirring every couple minutes, for about 10 minutes.

Cook the Veggies

Add the bell pepper and onion and sprinkle everything with the garlic powder, paprika, and another pinch of salt and pepper. Continue cooking the potatoes and veggies, stirring occasionally, until everything is fork-tender, about 6 more minutes. Remove from the pan and let cool to room temperature.

Cook the Eggs

Reduce the heat to medium low. Add the remaining ½ tbsp oil and pour in the beaten eggs. Cook, pushing the eggs to the center of the pan as it scrambles, until set. Remove from heat and let cool to room temperature.

Roll the Burrito

Lay a large tortilla flat and place some of the potato mixture in the center of the burrito. Top with shredded cheese, then follow with the scrambled eggs and if using, bacon or sausage. Tuck the tortilla over the filling, tuck the sides in, and roll into a burrito.

Freeze the Burritos for Later

Place burritos on a small lined baking sheet, seam-side down, and transfer to the freezer. Flash freeze until just firm, about 30-60 minutes, then transfer to a large bag or other container and store in the freezer.

Reheat When Ready

When ready to serve, remove a burrito from the freezer and place in a damp paper towel. Microwave for 2-3 minutes, flipping halfway through, until heated through. If desired for a crispy exterior, place burrito in a hot pan on the stovetop for 3 minutes, rotating halfway through.