Caramelized Onion Shakshuka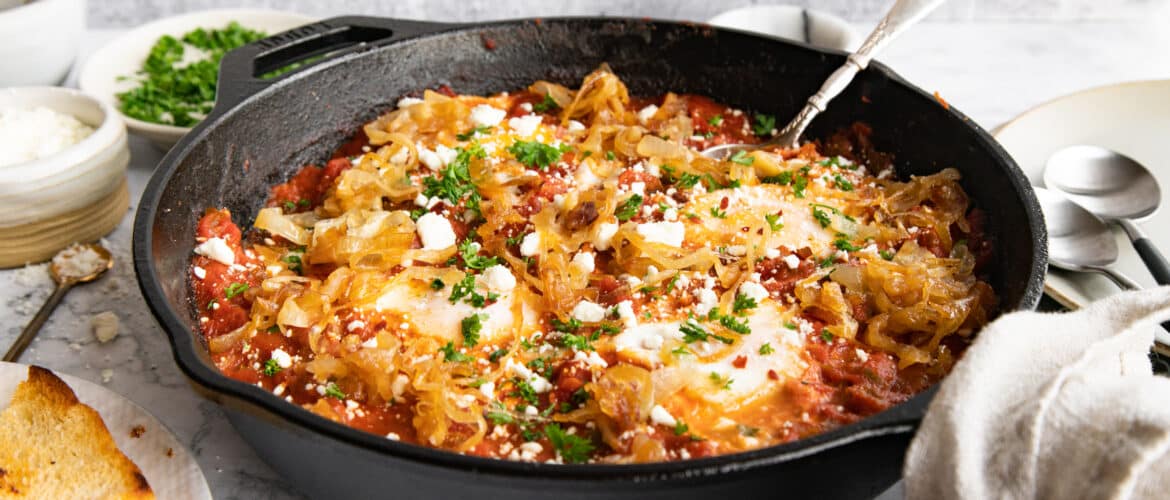 This breakfast dish is full of flavor and can be made with pantry staples! Sweet onions are slowly caramelized, adding another savory element to the shakshuka.
We recommend you serve the one-pot meal with crusty bread for dipping!
Ingredients
2 tbsp Napoleon's Organic Extra Virgin Olive Oil
2 sweet onions, thinly sliced
1 bell pepper, diced small
1 tbsp minced garlic
1 tsp paprika
½ tsp cumin
¼ tsp red pepper flakes
Salt and pepper to taste
2 tbsp Field Day Organic Tomato Paste
28 oz Field Day Organic Crushed Tomatoes
4 large eggs
Stella Crumbled Feta Cheese, to top
Fresh parsley, to top
Directions
Caramelize the Onions

Heat a medium skillet on the stovetop over low medium heat. Add the olive oil. When the olive oil is hot, about 2 minutes, add the sliced onion. Cook the onions, stirring occasionally, for about 5 minutes, then reduce the heat to low. Continue cooking the onions on low heat, stirring occasionally, until golden brown and caramelized, about 40 minutes.

Saute the Vegetables

Remove about half of the caramelized onions from the skillet and set aside. Increase the heat to medium and stir in the bell pepper, garlic, paprika, cumin, red pepper flakes, salt, and pepper. Saute, stirring often, until the bell peppers are slightly tender, about 3-5 minutes. Stir in the tomato paste and cook for another minute.

Simmer the Tomatoes

Stir in the crushed tomatoes. Bring to a simmer then reduce the heat to low. Simmer, stirring occasionally, for about 10 minutes. Gently mash the tomatoes.

Crack Eggs Into Wells

Use a spoon to make 4 shallow wells in the tomato mixture. Gently crack 4 eggs into the 4 wells, spooning some of the tomato sauce over the edges of the egg white.

Cook & Serve!

Cover and cook over low heat for about 7-10 minutes or until the egg whites are set and the yolks are cooked to preference. Garnish with crumbled feta cheese and parsley and serve hot with toasted bread!