Buffalo Cauliflower Bites With Garlic Lemon Dip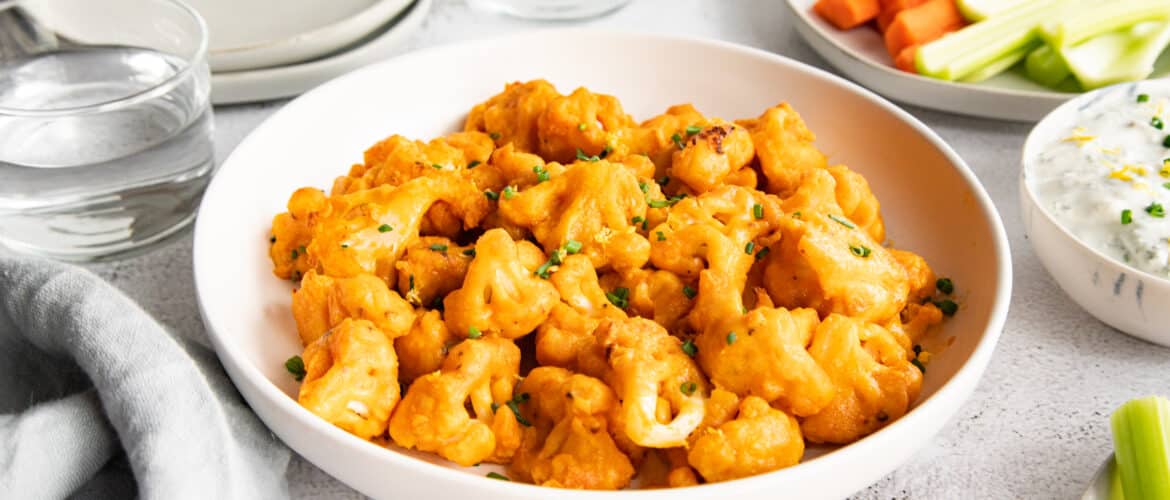 Slightly spicy and crisp, these buffalo cauliflower bites are perfect for an appetizer or gameday snack. And a thick lemony dipping sauce is a nice cooling contrast to the buffalo flavor!
Try this appetizer with cut celery and carrot for some extra crunch.
Ingredients
1 cup Zoi Plain Greek Yogurt
2 tbsp lemon juice
1 tsp lemon zest
1 tsp minced garlic
1 tbsp fresh parsley, chopped
1 tbsp fresh chives, chopped 
½ cup Bob's Red Mill All Purpose Flour
1 tsp garlic powder
½ tsp paprika
½ tsp onion powder
½ tsp salt
½ cup Califia Farms Unsweetened Almond Milk
4 cups cauliflower florets
2 tbsp butter, melted
½ cup Mitch's Best Buffalo Sauce
Directions
Preheat & Prep

Preheat the oven to 425 degrees Fahrenheit. If desired, line a large baking sheet with parchment paper. In a small bowl, whisk together the greek yogurt, lemon juice and zest, garlic, parsley, chives, and salt and pepper to taste. Whisk in a couple tablespoons of water for thinner consistency, if desired.

Batter the Cauliflower

In a medium bowl, whisk together the flour, paprika, garlic powder, onion powder, salt, pepper, and almond milk. Working in batches, gently toss the cauliflower florets in the batter. Remove the florets, allowing the excess batter to drip off, and place on the baking sheet.

Bake the Cauliflower

Transfer the baking sheet to the preheated oven and cook for 15-20 mins, until the cauliflower is slightly tender. Remove and let cool slightly.

Mix with Buffalo Sauce

In a medium bowl, whisk together the buffalo sauce and melted butter. Transfer the cauliflower to the medium bowl and toss to coat in the buffalo sauce.

Finish Cooking & Serve

Return the buffalo cauliflower to the baking sheet. Continue cooking for 5 minutes, then broil for 2 minutes until slightly browned. Serve warm with the garlic lemon sauce to dip!