Breakfast Enchilada Skillet for Two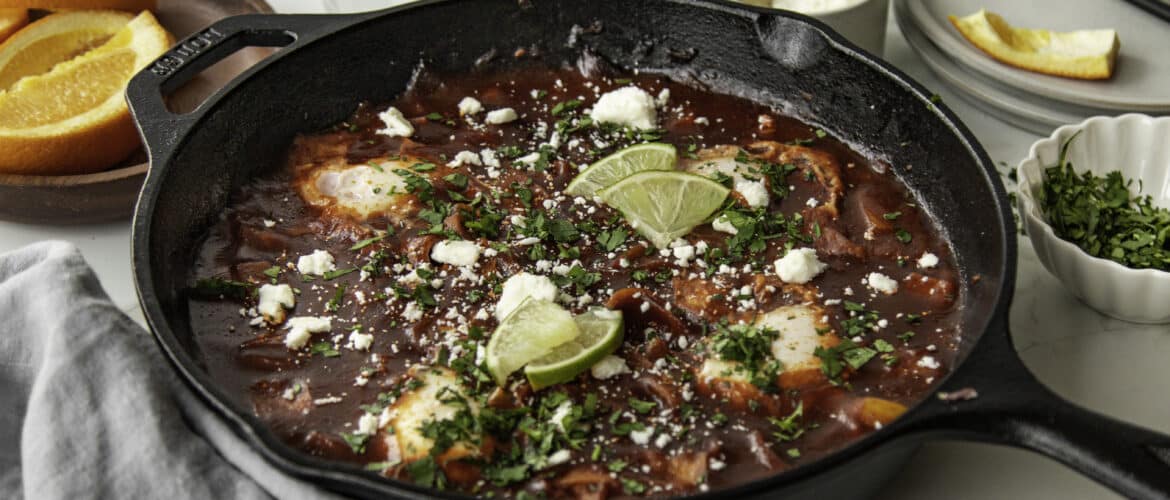 Peppers, onions, and tortilla strips are simmered in your favorite enchilada sauce along with poached eggs in this simple breakfast recipe. It's perfect for two people to share on a cozy morning relaxing around the house.
Finish it off with toppings such as queso fresco and cilantro for a savory main for brunch or anytime of day!
Ingredients
1 tbsp Lucini Organic Extra Virgin Olive Oil
½ red onion, diced
1 poblano or bell pepper, diced
1 ½ cup El Pato Mild Enchilada Sauce
2-4 small La Tortilla Factory Corn Tortillas, cut into strips
Pinch red pepper flakes - optional for spice
4 Smith Brothers Farms Eggs
Cacique Queso Fresco Cheese, crumbled
To serve: cilantro, lime juice, etc.
Directions
Saute The Vegetables

Heat a medium skillet over medium heat and add the oil. When the oil is heated, add the onion and pepper. Saute, stirring occasionally, until mostly tender, about 5 minutes.

Add Enchilada Sauce

Stir in the enchilada sauce and red pepper flakes if using. Bring to a simmer for a couple minutes, then stir in the tortilla strips.

Poach the Eggs

Make wells in the sauce and crack the eggs into the wells. Cover and poach the eggs for about 7-10 minutes or until cooked to desired doneness.

Serve & Enjoy!

Remove from heat and add some crumbled queso fresco over top. Serve hot with toppings like cilantro and lime juice.