Baked Ricotta Egg Cups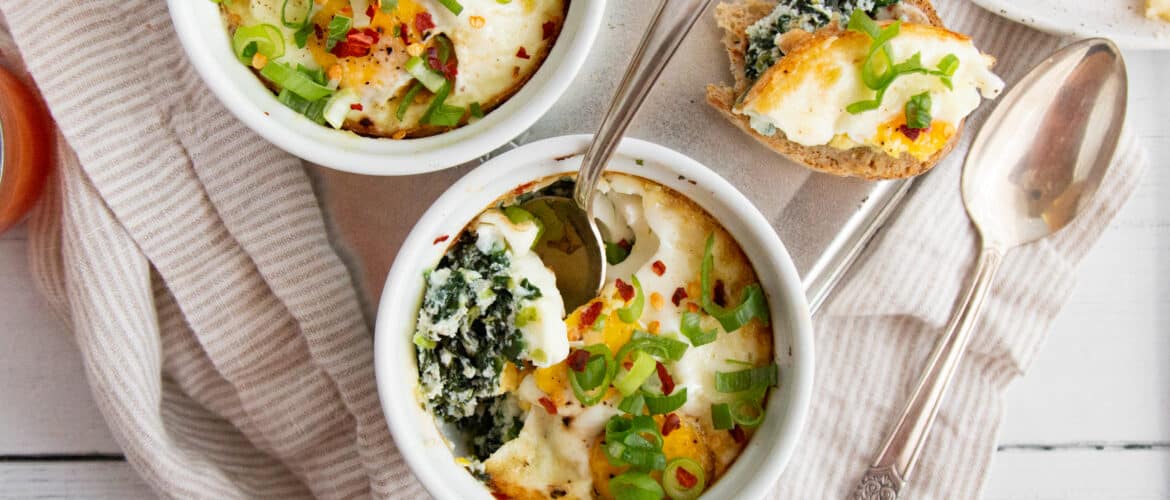 These baked ricotta egg cups are as simple as they are delicious! A ricotta base includes cooked spinach, garlic, and seasoning. Then, a couple eggs are cracked on top and baked until just done.
Enjoy these protein-packed cups with a slice of crusty bread and watch that egg yolk run!
Ingredients
½ cup Bel Gioioso Ricotta Con Latte
1 cup frozen spinach, thawed
¾ - 1 tsp Christopher Ranch Minced Garlic
Salt and pepper to taste
4 large eggs
Red pepper flakes
Chopped green onion, to serve
Boulart Baguette, toasted to serve
Directions
Prepare the Equipment

Preheat the oven to 375 degrees Fahrenheit and lightly grease two medium (3 ½ inch) ramekins with oil or butter.

Prepare the Ingredients

In a small bowl, mix together the ricotta cheese, spinach, garlic, salt and pepper until well combined. Spread half of the ricotta mixture into each ramekin.

Crack the Eggs

Gently crack two eggs in each ramekin over the ricotta mixture. Sprinkle with salt, pepper, and red pepper flakes, if desired.

Bake and Enjoy

Bake in a preheated oven for 16-18 minutes, or until the white is set and the yolk is cooked to your liking. Let cool slightly, then sprinkle with chopped green onion and serve with crusty bread.