Now that fall has begun, it's time to get ready for Halloween and trick or treating. While the kids have to wait until later in the month, it's not too early to get stocked with candy! Tacoma Boys' candy aisle is full of treats and goodies for any time of the year. But for the spooky holiday, you'll find a variety of Halloween-themed candy, too. Large bags of assorted candy are great for handing out to trick-or-treaters. Meanwhile, chocolate bars and loose candy like Brach Candy Corn are great for kids and adults alike.
Trick or Treating
For kids, the tradition of trick or treating is all about candy! It's also a fun time to show off costumes and hang out with friends. But you don't have to spend a fortune or buy mass amounts of candy. Halloween simply involves getting prepared with candy for trick-or-treaters and fun treats for your own kids, too!
As far as trick or treating goes, things might be a bit different this year. If you know of community events or celebrations, check in to note other Halloween activities. And then make sure you're set with enough candy for a whole night of trick or treating!
For the parents or if you're hosting a party, this is also a great time to enjoy your favorite fall beverages — Tacoma Boys' guide on the seasonal beverages includes pumpkin beer and apple cocktails.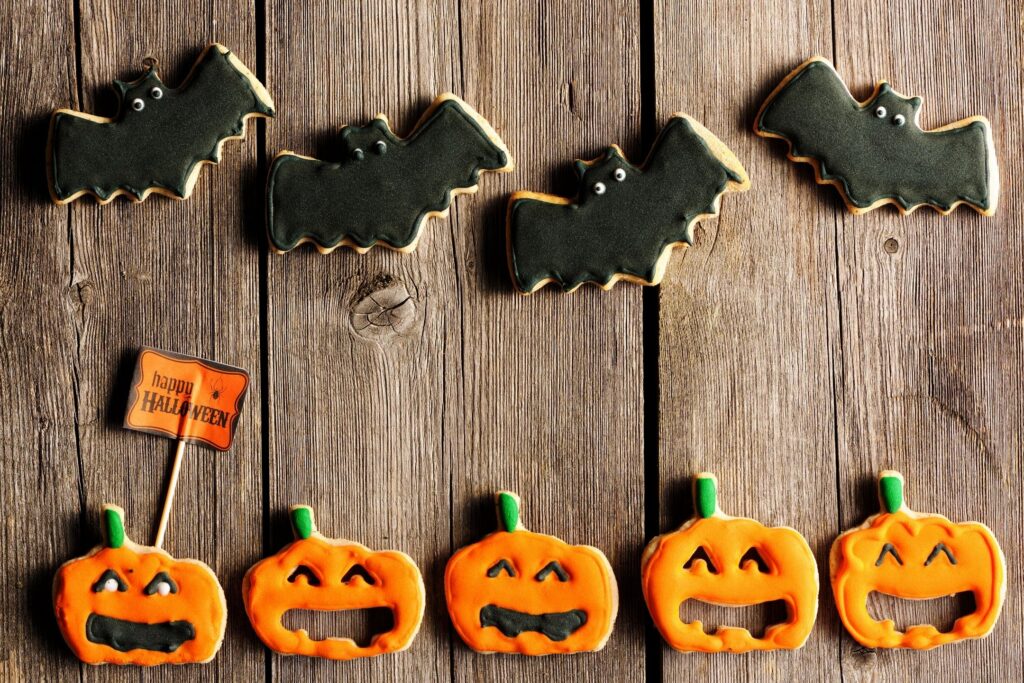 Halloween Candy Available at Tacoma Boys
While getting set with Halloween candy, there are many choices to consider. Tacoma Boys offers an assortment of bagged mini candy perfect for trick or treating. This is in addition to a year-round stock of specialty candy, including chocolate in many varieties. Check out the chocolate, gummies, hard candy, and more when you shop for Halloween candy!
If you're looking for traditional Halloween candy for the kids, try these classics from Tacoma Boys:
Tootsie Pops
Bags of Trolli Gummies
Marshmallow Peeps shaped like pumpkins and ghosts
Halloween-themed Skittles and Pez
Reese's Pumpkins
Jelly Belly Jelly Beans
The Chocolaty
Halloween candy given out to trick-or-treaters is often chocolate. Mini chocolate bars and individually wrapped chocolate candy is popular! Chocolate candy can be made with different flavors, mix-ins, and through different methods. That means the chocolaty candy available at Tacoma Boys is vast and assorted. Think white chocolate, dark chocolate, peanut butter-filled chocolate, and more. You can find a variety of specialty chocolate in Tacoma Boys candy aisle, such as these local brands:
Seattle Chocolate
Jcoco Chocolate
Theo Chocolate
Moonstruck Chocolate Co.
Truffle Pig Chocolate
The Fruity
If you're not much of a chocolate fan, there are a ton of other sweet, fruity options! Halloween candy can be chewy and gummy or hard and crunchy. Think Haribo Gummies, Caramel Apple Pops, and Laffy Taffy, to start. Tacoma Boys has a selection of packaged salt water taffy in several fruity flavors as well as other packaged candy like sour belts and gummies. You will also find all the licorice you could ask for! Try Tacoma Boys own black and red licorice. Or, try Red Vines, Panda Licorice, Kookaburra Licorice, or Wiley Wallaby Licorice in many flavors.
Halloween Recipes with Candy
Sweet Halloween recipes are so fun to make— Kids especially are bound to get a kick out of all the themed treats you can make. Candy and sweets can be shaped and decorated like ghosts, pumpkins, and mummies. Get creative with colors like black, orange, and purple. One example is decorating cookies like Halloween spiders using that black licorice. Another idea for Halloween recipes is an orange bell pepper carved like a jack-o-lantern: Make stuffed bell peppers festive! Or, make use of that leftover Halloween candy like candy corn in a homemade yogurt bark.
For festive rice krispies, check out Tacoma Boys Rice Krispie Trick-or-Treats: These mummies are drizzled with white chocolate and dotted with googly eyes! But healthy Halloween recipes are possible too. A healthy Halloween treat can be as simple as arranging fresh fruit in different designs. Color coordinate and make ghastly shapes with fruit, nuts, cheese, and more! — This is a simple way to enjoy a party appetizer, especially. For another easy-to-make, healthy candy recipe, try these vegan snickers using United With Earth Medjool Dates.
Trick or Treating with Tacoma Boys
When you're ready to shop for Halloween candy and supplies for the holiday, come on in to Tacoma Boys! You'll find a selection of individually wrapped candy for trick or treaters as well as specialty candy and more. Chocolate bars and personal packs of candy are also available. Whether you like chocolate, fruity candy, soft candy, or hard candy, there's a wide selection of anything you'd want! To stay up to date on insider deals and specials, sign up for Tacoma Boys' text list. Just text (253) 246-1661 to tell Paul you want to be on the list!