Buy or Make Your Own Sauce for National Sauce Month
Comments Off

on Buy or Make Your Own Sauce for National Sauce Month
It's National Sauce Month which means it's time to enjoy dipping sauces, hot sauces, pasta sauces, and more! There are so many different types of sauces to embellish your meals and round out pasta and meat dishes. Sauces are good because they add a lot of flavor with little preparation or extra seasonings. This flavor also makes it easier to eat nutritious foods like vegetables and lean meat and seafood.
Happy National Sauce Month!
March is National Sauce Month and Tacoma Boys is ready to celebrate! Sauces are great to add flavor and moisture and change the texture of your food. This includes pasta sauces which can be the main aspect of the meal. Same goes for enchilada sauce and other main-event sauces like gravy. Otherwise, some sauces can be light and mostly there for that extra yummy taste. Think hot sauce, aiolis, salsa, and condiments like barbecue sauce and mustard. If you're looking for lots of hot sauce and other spicy seasonings to bring flavorful heat to your meal, take a peek at Tacoma Boys guide to cooking spicy food here.
Some other examples of sauces available at Tacoma Boys include Kikkoman Tempura Dipping Sauce, Sharwoods Tikka Masala Cooking Sauce, and Stonewall Kitchen Garlic Rosemary Citrus Sauce. From drizzling on roasted vegetables and meat, to tossing with salad, to marinating and much more, there are so many different ways to get saucy for National Sauce Month! You can also use these sauces with grains like quinoa and couscous, stirred into soups, and spread on tacos and sandwiches.
Pasta Sauce and More
The quintessential sauce that most everyone considers and has on hand is of course pasta sauce! Marinara is surely the most common sauce to use on pasta. But others like alfredo, pesto, and even butternut squash are easy favorites, too. You can even combine a few like making a creamy alfredo pesto pasta sauce by simply joining the two! Or, fancy up your favorite jarred marinara tomato sauce by adding elements like roasted or fresh garlic, red pepper flakes, basil, and more.
Browse these brands of pasta sauce and more available at Tacoma Boys:
Dave's Gourmet Pasta Sauce
Classico
Emergil's Pasta Sauce
Stonewall Kitchen
Muir Glen Organic
Sonoma Gourmet Pasta Sauce
These brands offer classic tomato marinara sauces and alfredo as well and other types. Variations include butternut squash sauce, cauliflower alfredo, black truffle marinara, and more. Basil pesto, artichoke pesto, and sundried tomato pesto are great options for pasta as well as other dishes too.
San Marzano Pasta Sauce
One easy recipe for pasta sauce is the popular San Marzano tomato sauce. A quick internet search yields thousands of recipes for this type of sauce. The thing that most of these recipes have in common is olive oil, garlic, basil, San Marzano Whole Peeled Tomatoes, and salt and pepper. Saute the garlic in olive oil then add the whole can of tomatoes including the surrounding sauce. Simmer for a while, at least 20 minutes but preferably an hour and breaking up the tomatoes as you go. Season with salt and pepper and give it a taste! These types of tomatoes are known for being very flavorful with not too much acid nor bitterness.
Spreads and Sauce Recipes
For a fresh homemade flair to your meals, try making your own spreads and sauce recipes. One easy way to make creamy sauces and dips is by using mayonnaise and stirring in some hot sauce or other simple ingredients like garlic and lemon. This can be referred to as an "aioli," which is a flavored version of mayonnaise. Another popular sauce to drizzle on different foods is tahini-based (which is blended hulled sesame seeds). Stir some tahini with ingredients like garlic, lime, herbs, and chipotle peppers for a flavorful and creamy recipe.
For a list of plenty of other sauce recipes to use in many ways, check out these 19 sauces by Pinch of Yum.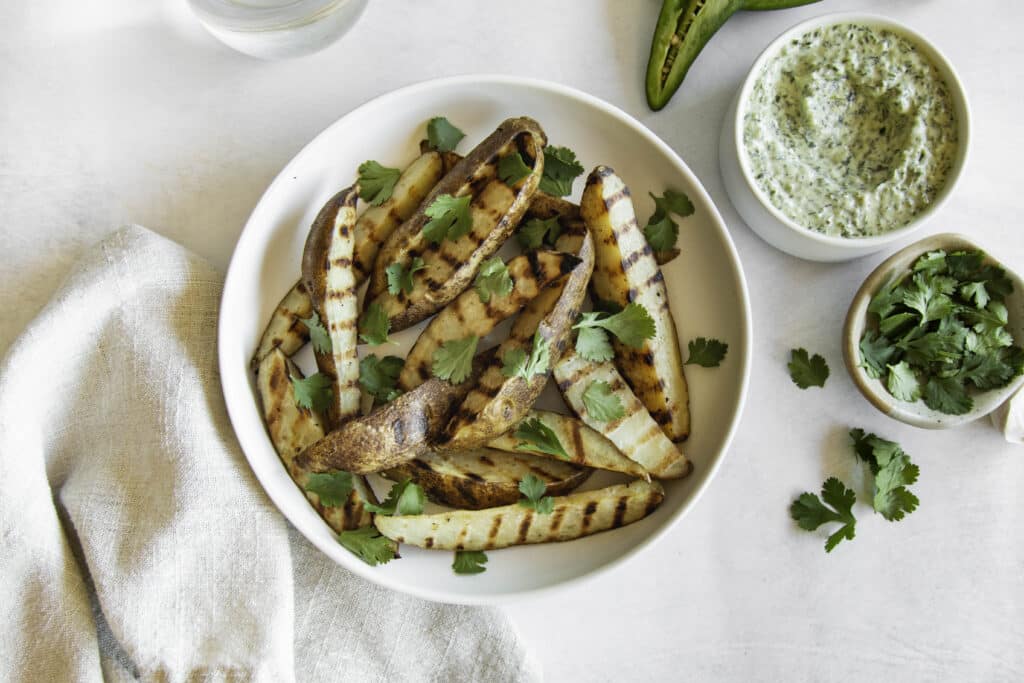 Aji Verde Sauce and Dip
This aji verde combines a simple base of mayonnaise and lime juice plus a couple fresh herbs and additions. It's a flavorful, creamy blend of basic ingredients that goes so well on so many things! Also known as Peruvian green sauce, it works best with Latin American food like tacos. Check out Tacoma Boys Grilled Potato Wedges recipe to try it as a dipping sauce, too.
Ingredients
½ cup mayonnaise
½ bunch parsley, roughly chopped
½ bunch cilantro, roughly chopped
2 jalapenos, roughly chopped
2 green onions, roughly chopped
2 cloves garlic, chopped
1 lime, juiced
¼ tsp salt
Directions
Blend all ingredients in a food processor or blender until well combined, leaving some chunks of herbs as desired.
Chill for 30 minutes to allow the flavors to meld. Use as a dipping sauce for crispy potatoes or chicken, as a spread for sandwiches, or to drizzle over tacos or enchiladas.
Swing by Tacoma Boys to shop for sauces to use in several different recipes and dishes. In addition to sauces we have aiolis, condiments, dips, spreads, and dressings too. Tacoma Boys is known for a variety of specialty jarred products like these. To stay up to date on insider deals and specials, sign up for Tacoma Boys' text list. Just text (253) 246-1661 to tell Paul you want to be on the list!