Tacoma Boys Guide To Vegan Spring Cooking
Comments Off

on Tacoma Boys Guide To Vegan Spring Cooking
This time of year, an abundance of fresh fruit and vegetables means vegan spring cooking is a breeze. Along with pantry staples like whole grains and protein like beans and nuts, a variety of produce makes up a solid vegan diet. And if you're interested in eating less meat and dairy, vegan spring cooking is a great way to get inspired and try new tasty recipes You can enjoy delicious, flavorful food thanks to the fresh ingredients and various seasonings available at Tacoma Boys.
Vegan Spring Cooking
When it comes to vegan spring cooking, go for local seasonal produce and try recipes with what's available right now. Especially as we get further into the Pacific Northwest's gardening season, there are plenty of spring produce to cook up. And when making things vegan, it's easy to fill up on lots of nutritious vegetables! These provide nutrients, fiber, and even some carbs and protein. Easy side dishes like garlic roasted potatoes and miso green beans are often vegan or can be made vegan. Think of your favorite vegetable: There are several ways to prepare it for vegan spring cooking!

Get started with vegan spring cooking with recipes like Tacoma Boys' Grilled Carrots with Maple Tahini Drizzle, Oatmeal Protein Balls, or Dairy Free Penne Alla Vodka. Look for recipes that utilize spring produce, too, to keep things fresh and seasonal. Lots of vegetables like collard greens and potatoes are in season. And berries will soon be in season. It's easy to prepare these foods simply with seasonings, grains, and protein for a satisfying, filling meal. Tacoma Boys offers a variety of vegan protein sources other than beans and nuts to round out your recipes, like Lightlife Tempeh and House Foods Premium Tofu (including different textures like medium or extra firm).
Local Seasonal Produce
As we move further from spring into summer, it's a great time to take advantage of the gorgeous seasonal produce that's local to the Pacific Northwest. Spring and summer bring with it the most abundant growing seasons for our climate. That's why fresh seasonal produce like asparagus, peas, and greens are so popular and tasty around here this time of year. When you're shopping for local seasonal produce, you might come across some of these fruits or vegetables that are in season during the spring:
Asparagus
Snap or snow peas
Radishes
Garlic scapes
Arugula
Chard, collards, and other greens
Rhubarb (try fresh rhubarb in our recipe for Apple Rhubarb Crisp!)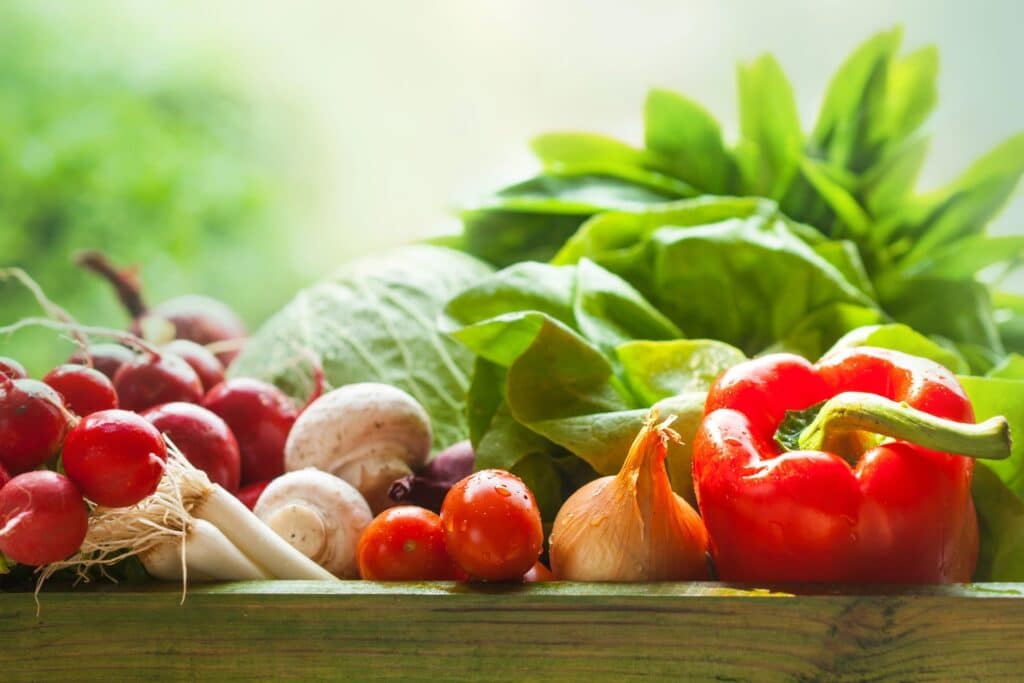 If cooking these vegetables sounds unfamiliar and daunting to you, relax! There is no right or wrong way to eat seasonal produce as long as you enjoy the final product. Everyone knows we should all be eating tons of vegetables — For those who struggle with sneaking their greens in, check out our blog all about it here. And branch out with cooking vegetables and making them taste good with tips like in this guide from My Foodbook!
Vegan Recipes to Try
Vegan recipes can be as simple as chips and bean dip or Charred Cowboy Caviar, avocado toast, or greek pasta salad. But if you're looking to try more vegan food, it's easy to get creative with more! A variety of vegetables, beans, grains, and other kitchen staples are easily made into so many different delicious recipes without the need for animal products like cheese or meat. You can research different cuisines and learn new vegan recipes throughout food blogs and cookbooks— More and more vegan options pop up everyday!
For a few examples, of vegan recipes to choose from and new foods to enjoy, check out these:
If you're looking for vegan dishes that are quick and easy, check out the selection of vegan snacks at Tacoma Boys. Choose from goods like Amy's Vegan Margherita Pizza, Starlite Crispy Vegan Chorizo Taquitos, Field Roast Miniature Vegan Corn Dogs, and much more. Then, you can cool off with convenient dairy free treats from Tacoma Boys like Tofutti Dairy Free Ice Cream Sandwiches or Righteous Dairy Free Raspberry Lime Gelato— They're perfect for summer!

When you're ready to try new vegan recipes and snacks, stop by Tacoma Boys. In addition to a wide selection of Pacific Northwest seasonal produce, you'll find an assortment of pantry staples and vegan protein options to choose from. To stay up to date on insider deals and specials, sign up for Tacoma Boys' text list. Just text (253) 246-1661 to tell Paul you want to be on the list!