It's National Barbecue Month! Start the Season with Grilling Recipes
Comments Off

on It's National Barbecue Month! Start the Season with Grilling Recipes
Warm and sunny days have arrived and so has National Barbecue Month! The month of May is a great time to get outside more and start cooking and eating al fresco. Grilling is great because it results in a specific smokey flavor and allows the opportunity to gather outdoors and enjoy the weather. We're talking marinated and grilled chicken, grilled corn on the cob, and of course burgers too! There are so many different foods and recipes to choose from and try out when grilling. Search the web and walk the aisles of Tacoma Boys and H&L Produce to get inspired with recipes and ingredients.
National Barbecue Month is May
Tacoma Boys is here to help you celebrate National Barbecue Month. Fresh meat and seafood, local produce, and seasonings like steak rubs brings out the flavor and freshness of the season! Swing by to check out what's available at the butcher counter and the produce section. When getting ready to barbecue and grill this month, there are a few tips to keep in mind. Be sure to stock up on all supplies ahead of time, get the meat marinating, and clean that grill first! If hosting others for a backyard barbecue, furnishings like yard games are good to have on hand, too.
Barbecue vs Grill: What's the Difference?
To barbecue or grill food is essentially to cook foods on a grill — While these terms can be used interchangeably, there is a slight difference in their meaning. Barbecuing meat is to cook food on a low temperature, slowly. This helps tenderize the meat while incorporating flavors like when marinated. Barbecuing might also involve smoking the meat with wood chips for a smokey flavor. To grill means cooking meat or other food like vegetables more quickly and at a higher temperature. This often results in a charred texture and flavor.
The Best Grilling Recipes
Tasty and nutritious grilling recipes can be so simple and quick, too. A little bit of practice helps but anyone can learn to fire up the grill safely and efficiently. Some more simple recipes include grilled hot dogs and grilled corn on the cob. These are good because they fit nicely on the grill and don't require much precision or seasonings. Start simply and build up from there. Some other examples of good grilling recipes include: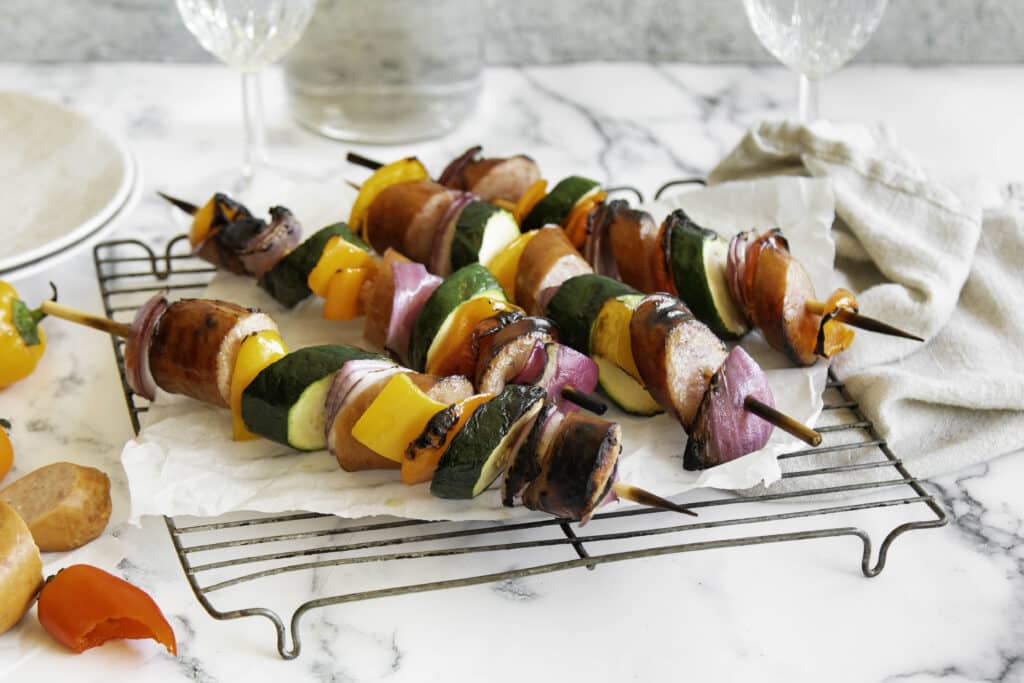 Tacoma Boys has a variety of ideas for grilling season grub— Check out the recipe section here to see examples like grilled steak, shrimp, zucchini, and more. Get going with the grilling recipes by marinating some meat or seafood and prepping some vegetables too! Vegetables can also be marinated for extra goodness and flavor.
Meat and Veggies for Grilling Season
The best vegetables for grilling season are sturdy and can fit on the grill easily or with the help of a grill pan. Thick slices of peppers, zucchini sliced lengthwise, potato wedges, and portobello mushrooms are great for grilling season. Carrots and rings of onion can be grilled, too. Many if not most types of meat are easily grilled and taste delicious while remaining juicy and tender. Tacoma Boys has a solid selection of meat that is ready to go on the grill with seasonings and rubs for maximum flavor. You can pick up some baby back ribs, bacon cheddar burgers, or Chicago beef franks.
And did you know you can grill fruit, too?! Stone fruit like peaches can be halved and grilled to tender perfection. Same goes for rings of pineapple, which can be used in sweet or savory dishes. Try grilling those peach halves then serving them with vanilla ice cream and some granola for a refreshing spring or summer dessert.
Barbecue Sauce at Tacoma Boys
Tacoma Boys has dozens of barbecue and other sauces available to choose from. From sweet, to spicy, smokey, and more, there is a favorite for everyone. Check out sauces like ones available at Tacoma Boys:
Rub with Love Kansas City Style Barbecue Sauce
Stonewall Kitchen Honey Sriracha Barbecue Sauce
Annie's Organic Smoky Maple BBQ Sauce
Bachan's Hot and Spicy Japanese Barbecue Sauce
Red Duck Organic South Carolina Style BBQ Sauce
And much much more! These sauces and more are a great way to flavor your food like meat either by marinating, slathering it on after grilling, or both. Browse the various sauces including hot sauce online or in store to see what looks tasty for your recipes. You can also find dozens of seasonings and rubs for meat and veggies. To spice it up, check out Tacoma Boys guide to cooking spicy food with seasonings, hot sauce, and add ons like pepperoncini peppers. To stay up to date on insider deals and specials, sign up for Tacoma Boys' text list. Just text (253) 246-1661 to tell Paul you want to be on the list!