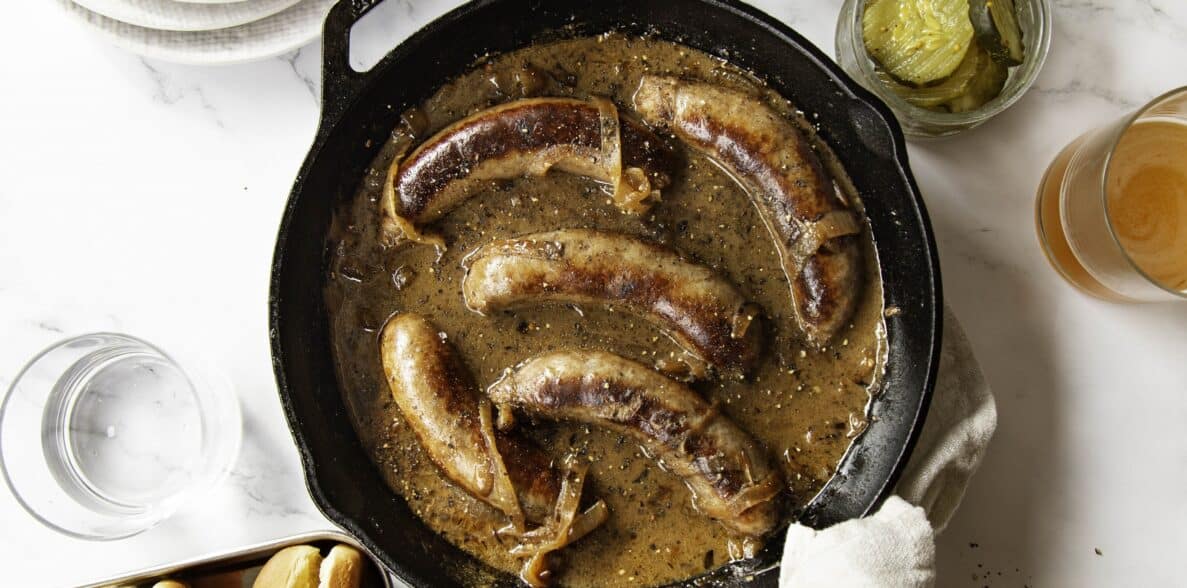 Celebrate St. Patrick's Day with These Irish Recipes
Comments Off

on Celebrate St. Patrick's Day with These Irish Recipes
St. Patrick's Day food including Irish recipes can be hearty, nutritious, and super savory. Think cabbage, potatoes, beef stew, and more! A couple variations of Irish food also includes shamrock salad (with plenty of green vegetables) and cheesy potato soup. Tacoma Boys offers all the ingredients to make your favorite Irish recipes. Plus, there is a variety of Irish beer to enjoy alongside your meal. Browse our blog all about Irish beer and food pairings here!
Irish Recipes to Inspire
When thinking of Irish recipes, something like corned beef and cabbage probably comes to mind first! This is a good representation of Irish foods because beef and cruciferous vegetables like cabbage are popular in Ireland. Vast lands of lush grass grow tall and strong for the majority of the year. Cash crops and livestock like cows are farmed almost year-round and allow the opportunity for widespread beef and dairy consumption.
Seafood chowder, boxty potato pancakes, soda bread, and Shepherd's pie are a few classic examples of Irish recipes. Or, check out these dishes to inspire your own Irish cooking this St. Patrick's Day:
Cooking St. Patrick's Day Food
Along with Irish food, cooking colored or themed St. Patrick's Day food is always fun for the holiday! St. Patrick's Day celebrates Irish heritage and religious festivities with feasts, parades, and more. For the kids and other parties, there are so many different Irish and green foods to make. Check out Tacoma Boys own Cupcakes with Matcha Frosting and Irish Beer Cheese Dip. and for more appetizers to try, we have plenty of those here too!
Baked breads and other goods are plentiful for Irish St. Patrick's Day celebrations! From soda bread, to blaa buns, to barmbrack and more: Breads are a staple in Ireland. Baking can be a good opportunity to try something new and spend time in the kitchen trying St. Patrick's Day food.
Mean Green Pea Pesto Pasta
For something not traditional to Ireland but with plenty of spring greens, try this pea pesto pasta with fresh arugula. Feel free to add some basil for that classic basil pesto flavor, too.
Ingredients
1 cup Field Day Organic Green Sweet Peas, drained
½ cup packed parsley, roughly chopped
¼ cup Stella Parmesan Cheese, grated
¼-⅓ cup Napa Valley Naturals Organic Extra Virgin Olive Oil
2 tbsp Tacoma Boys Pine Nuts
2 green onions, roughly chopped
½ lemon, juiced
Salt and pepper, to taste
1 lb Marella Italian Harvest Organic Fusilli Pasta
2 cups Organic Girl Baby Arugula
Directions
Add all ingredients except for the pasta and arugula to a food processor. Pulse until all ingredients are well combined. Keep pulsing for a smoother texture or leave chunks of peas and herbs as desired.
Cook pasta according to package directions, saving ½ cup or so of pasta water if needed later.
Toss your desired amount of pesto with the pasta and arugula, adding another splash or so of olive oil or pasta water if it seems a little dry.
Serve hot or chilled for a pasta salad. Top with more grated parmesan cheese if desired.
Traditional Irish Food and Ingredients
Staples like potatoes, stewed meat, and cabbage are a couple examples of traditional Irish food. The hearty meat-and-potatoes diet can be versatile and so satisfying to just about anyone! Soups and stews fill you up and keep you going all day long. This includes Irish foods and ingredients like root and cruciferous vegetables, dairy like cheese, seafood, and corned beef. You can pick up these Irish foods and more to cook with at Tacoma Boys:
Orrington Farms Organic Beef Stew Seasoning
Kerrygold Grass Fed Dubliner Cheese
Really Great Food Co. Gluten Free Irish Soda Bread Mix
Tacoma Boys Bone-In Pork Chop
Tacoma Boys White Potatoes
Republic of Tea Lucky Irish Breakfast
Plus, you can browse for other types of traditional Irish food like fruits and drinks. Of course, there's plenty of Irish beer to choose from! Lemonade in different flavors and colors is popular. Plus tea like black breakfast tea too. Irish fruits include plums, pears, and plenty of different berries.
To stay up to date on insider deals and specials, sign up for Tacoma Boys' text list. Just text (253) 246-1661 to tell Paul you want to be on the list!