Since different colored fruits and vegetables provide a variety of nutrients, you should aim to eat the rainbow everyday! You should always aim to eat a variety of colorful produce that provide various nutrients for the whole family. Plus it can be fun to plan what different colored produce you will cook throughout the week! When you get creative with it, half of your plate can be a beautiful bright rainbow. These fruits and vegetables are rich in nutrients and ready to boost your immune system.
Eat The Rainbow
Eat the rainbow by making sure you eat a variety of fruits and vegetables and in different colors. Think dark leafy greens, purple cabbage, blueberries, and an assortment of bell peppers. These different colored vegetables and fruits contain different vitamins and minerals. The colors also provide phytonutrients, which means extra antioxidants and immunity, too! Get the kids involved with the beautiful colors and they will be happy to eat the rainbow: One way is to give them a plate of colorful vegetables and have them build an edible rainbow. For more tips on how to get your kids to eat more vegetables, check out this blog by Crystal Karges.
When shopping to eat the rainbow, fresh or frozen produce is fine. The nutrients are there either way! Same goes for canned fruits or vegetables (just watch out for additives like sugary syrup or extra salt). Most of your grocery basket should be fruits and vegetables, so go for local, seasonal produce when you can. Learn more about how and why to eat local and seasonal on our blog here.
An Array of Colorful Produce
Step out of your comfort zone and try a variety of colorful produce to reap a variety of benefits! Enjoying multiple servings (5-10 servings daily is often recommended) of colorful produce every day is the foundation of healthy eating for many. They're low in calories and can be cooked and eaten in so many different ways. The vitamins and minerals of multicolored produce are vast: Continue on to read about the nutritious benefits found in each color.
Red
Foods that are red in color are known for properties that may reduce cancer risk. They're also associated with cardiovascular health and maintaining blood pressure. Look for red bell peppers, red berries, tomatoes, and beets.
Orange and Yellow
Eating carrots just might make you see better! Orange and yellow toned fruits and vegetables provide nutrients that support eye health. They're also rich in vitamin C. Look for carrots, sweet potato, orange and yellow bell pepper, squash, oranges, and stone fruits like peaches and apricots.
Green
Greens are well known as being healthy and loaded with various nutrients. The phytonutrients in green produce support cell function and brain health. Look for broccoli, brussels sprouts, asparagus, avocado, kiwi, peas, and leafy greens like kale and spinach (rather than lighter colored greens like iceberg lettuce, which has much less nutritional value).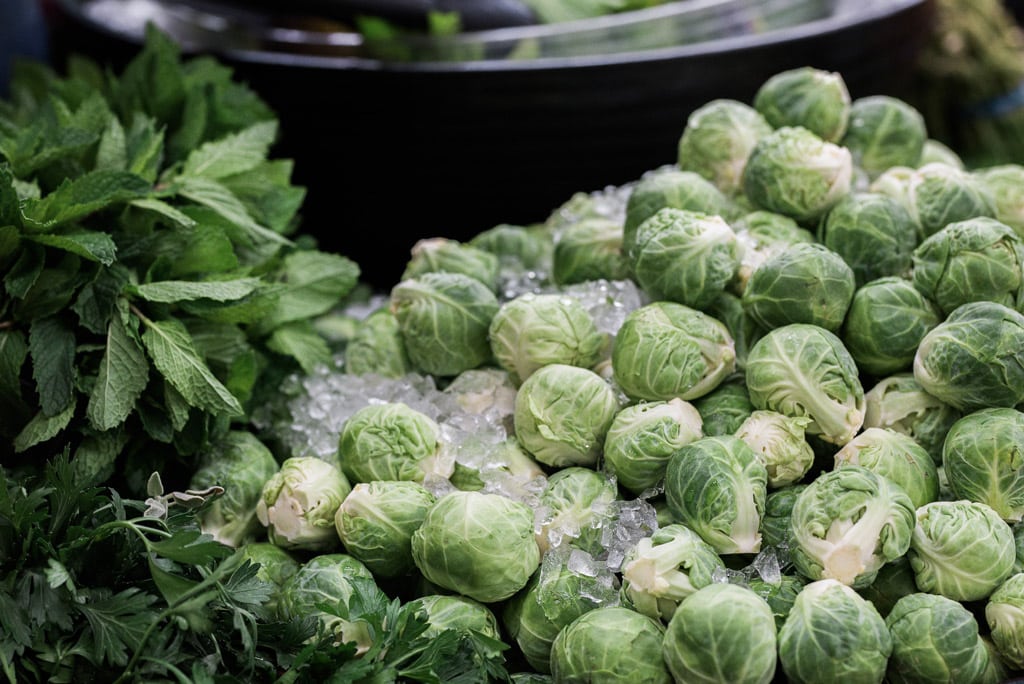 Blue and Purple
Antioxidants in dark blue and purple fruits and vegetables help prevent blood clots and build immunity. The acai berry comes to mind as one of these purple fruits that is rich in antioxidants: Also look for blueberries, blackberries, plums, eggplant, red cabbage, and more. Blue and purple produce also comes rich with nutrients that support heart health and reduce inflammation.
White and Brown
White and brown fruits and vegetables might not look as exciting as other brightly colored produce. But they're still full of wholesome nutrients and part of a well-rounded diet. Some of these nutrients are anti-inflammatory and overall important to human health. Look for onions, garlic, mushrooms, cauliflower, parsnips, and potatoes.
Colorful Meals are Delicious and Doable
It's easy to eat an abundance of colorful meals when you incorporate various fruits and vegetables into your diet. Even if you're not used to eating colorful meals, it's as simple as shopping for produce in every color. Nature makes it easy for us to get various nutrients in this way. Planning nutritious, colorful meals makes healthy eating enjoyable. Get creative with different colors and cooking methods!
One way to ensure you're eating the rainbow is to eat plenty of raw cut fruits and vegetables. Cut up a bunch of carrots, celery, cucumber, bell peppers, and cauliflower: Serve with your favorite dipping sauce like Gnarly Garlic Dip or Tessemae's Avocado Ranch and you've got every color of the rainbow covered! Same goes for snacking on raw fruits like apples, bananas, and berries. Keep it on hand for whenever you need a quick bite to eat.
Try building a loaded salad with fresh spinach, red cabbage, cucumbers or other vegetables, Mezzetta Sun Dried Tomatoes, and your favorite Tacoma Boys salad dressing for a colorful, healthy meal. Salads are a quick route to eating the rainbow because you can customize it with whatever produce you have on hand. Same goes for a Simple Greek Pasta Salad: This recipe is loaded with colorful ingredients!
Shop the Rainbow at Tacoma Boys
Next time you're looking for a rainbow of fruits and vegetables, stop on by Tacoma Boys. The specialty grocery store offers an assortment of fresh produce for nutritious meals. And an array of dressings, dips, seasonings, and ingredients available at Tacoma Boys ensures your meal will be tasty and complete. To stay up to date on insider deals and specials, sign up for Tacoma Boys' text list. Just text (253) 246-1661 to tell Paul you want to be on the list!