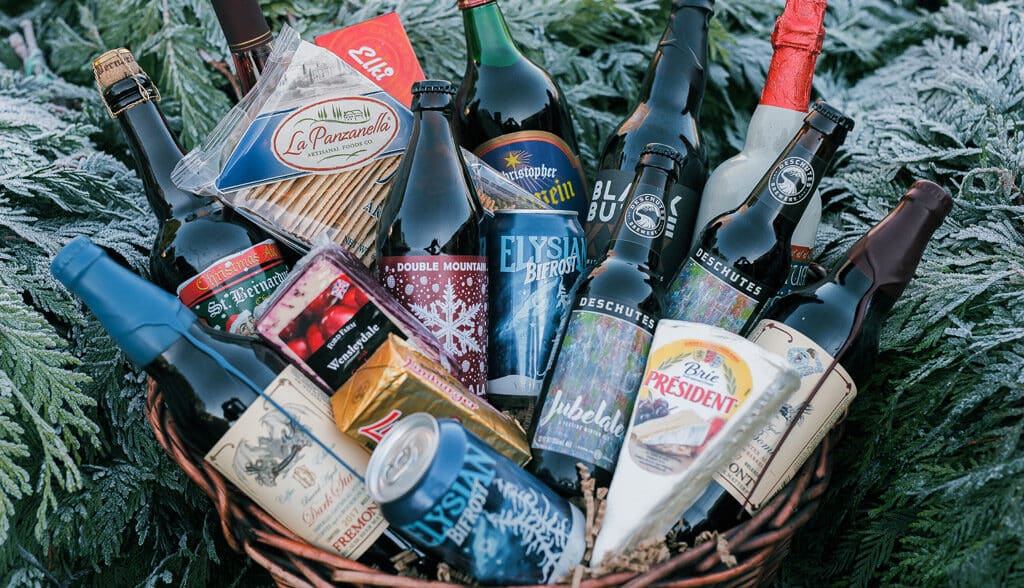 IPAs, Pilsners, Lager, & More! Tacoma Boys Favorite Winter Beer
Comments Off

on IPAs, Pilsners, Lager, & More! Tacoma Boys Favorite Winter Beer
There are still a couple months of the season left and enough time to enjoy the best winter beer! Dark, robust, and sometimes spiced, winter beer can be just as cozy as refreshing. And afternoons spent inside with a football game are perfect with a few craft beers to sip on. From Tacoma and all over the Pacific Northwest, there are plenty of local options to try. And other domestic and imported beers are available alongside the local bottles and cans at Tacoma Boys, too.
The Best Winter Beer
While a chilled glass of craft brew is prime for a summer afternoon, you can sip on winter beer in your warm home, too. Flavored with seasonal ingredients and reminiscent of holiday celebrations, winter beer is equally as refreshing! Tacoma Boys has a wide selection of seasonal and spiced beers to try. This includes options like Abita Office Party Holiday Stout, Matchless Cold Chocolate Imperial Stout, or Rainy Daze Brewing Holiday Bazaar. 
These brews and more winter options tend to be laced with flavors like chocolate, orange, and spices. Another tasty, slightly sweet option is a collaboration between Logan Brewing Company and SIG Brewing: Baking Care of Business Imperial White Stout with Coffee + Snickerdoodle Cookies. Or, try Fremont Brewing's Spice Wars Barrel Aged Dark Star, an imperial stout aged in bourbon barrels with spices.
Seasonal ingredients and types of flavored winter beer might include:
Cozy Beer Cocktails
To get even a little more innovative, try making your own cocktails with winter beer, too. One example is this Holiday Beer Punch Recipe by Craft Beering. Just grab your favorite malty ale like Silver City Brewing Thaw Out Winter Warmer Ale. Or, go for a classic like Farmhouse Shandy or Mexican Michelada.
Different Types of Beer Available
From hyperlocal right here in Tacoma to all over the nation and world, there are dozens of different types of beer to choose from. Tacoma Boys wide selection includes sour beer and nonalcoholic beer, too. A couple common varieties of beer are IPAs (India Pale Ales), Pilsners, and Lagers. Read on for a few of those options to browse at Tacoma Boys.
IPA
India Pale Ales are known for tasting very hoppy and sometimes slightly bitter. IPAs are increasingly popular and can be brewed through a variety of processes and flavors.
Alaskan Brewing Co. Husky IPA
Silver City Brewing Pirate Angel Nordic-Style IPA
Georgetown Brewing Lucille India Pale Ale
Sierra Nevada Celebration Fresh Hop IPA
Pilsners
A lighter brew, pilsners are nice for many people and are easy drinking. Most local and domestic brewers have a pilsner option so there are several to choose from.
Boneyard Beer Crooked Pilsner
E9 Brewing T-Dome Pilsner
Alaskan Brewing Pilsner
Ecliptic Pyxis Pilsner
Lager
Lagers are one of the different types of beer that is brewed at a cool temperature. Less bitter than an IPA and often similar in color to a Pilsner, they're subtle in flavor and often described as "crisp."
E9 Brewing My Fishing Buddy Dry Hopped Lager
Fort George Dismal Nitch Lager (a winter variety of seasonal lagers)
Abita Purple Haze Raspberry Lager
Winter Beer and Food Pairings
Beer and food pairings are great for weekend relaxation and eventful Monday night football parties. Most any beer is bound to quench your thirst and wash down snacks. But there are a few beer and food pairings to consider. Flavorful winter beer like Deschutes Jubelale Festive Winter Ale and Firestone Walker Mocha Dolce Nitro Spiced Stout might go well with fruit and cheese plates. Or, try stouts and amber ale with spicy food. Dark, hoppy beer tastes good with rich meats and grilled vegetables.
Beer and food pairings might complement each other or contrast with a range of light or flavorful options. For fried food like game day appetizers, you might enjoy something more subtle like a light lager or crisp pilsner. Hearty winter foods like roasted root vegetables and meat mains are another neutral option to pair with just about any beer.
For more tips and advice on pairing beer and food, check out this cheat-sheet by Brewer's Association. If you have any more questions about what beer to choose, just ask! Tacoma Boys is happy to help you find your favorite or try something new. With a vast selection of beer, wine, and cider, there is certainly an option for everyone. To stay up to date on insider deals and specials, sign up for Tacoma Boys' text list. Just text (253) 246-1661 to tell Paul you want to be on the list!