10 Easy Lunch Recipes to Help Kick Off The New Year
Comments Off

on 10 Easy Lunch Recipes to Help Kick Off The New Year
Easy lunch recipes are helpful to get you back into the swing of things after a few days off work for the holidays. That transition from evenings cozied up with comfort food to workdays with nutritious lunch and dinner recipes can be a little tricky! And with the new year rolling in, there are new opportunities to make different recipes including more nutritious meals too. To make the transition simple and delicious, try these easy lunch recipes. They're good for taking to the office or munching on when working from home, too.
Nutritious Easy Lunch Recipes
Why not start off the year with delicious and nutritious easy lunch recipes?! It's the perfect time to try something new and make goals to eat more vegetables and other healthy foods. But recipes with minimal chopping, sauteing, and planning are best for this time of year. Easy lunch recipes can encourage you to eat healthier and get back into the habit of cooking at home. Meal prep recipes like these to help kick off the new year and the following work weeks!
10 Tasty Lunch Ideas
1. Salad In A Jar
Trendy for good reason, salad jars are nice because you only need one container. Even with the dressing and an array of salad toppings, the whole recipe can be stored all in one. Add grains and protein like chicken or beans to make it a full meal!
2. Grain Bowls
Burrito bowls with rice, barley bowls, and quinoa salads are also easy and nutritious. Just cook up your grain of choice like Bob's Red Mill Pearl Barley or Seeds of Change Organic Quinoa & Brown Rice and add cooked or raw vegetables!
3. Variety of Soup
There are so many different soup recipes on the internet, the majority of which can be made all in one pot and reheated later. Or, grab canned soup from Tacoma Boys like Amy's Organic Soups.
4. A Good Ol' Sandwich
There's nothing wrong with an old school sandwich for lunch! With or without meat and packed with veggies, sandwiches are easy to make and customize. And Tacoma Boys' selection of premium sliced deli meat is vast and delicious.
5. Pasta Salad
Pasta salad is easy, filling, and can be packed with nutrients. Check out Tacoma Boys recipes for Simple Greek Pasta Salad and Caprese Pesto Pasta Salad!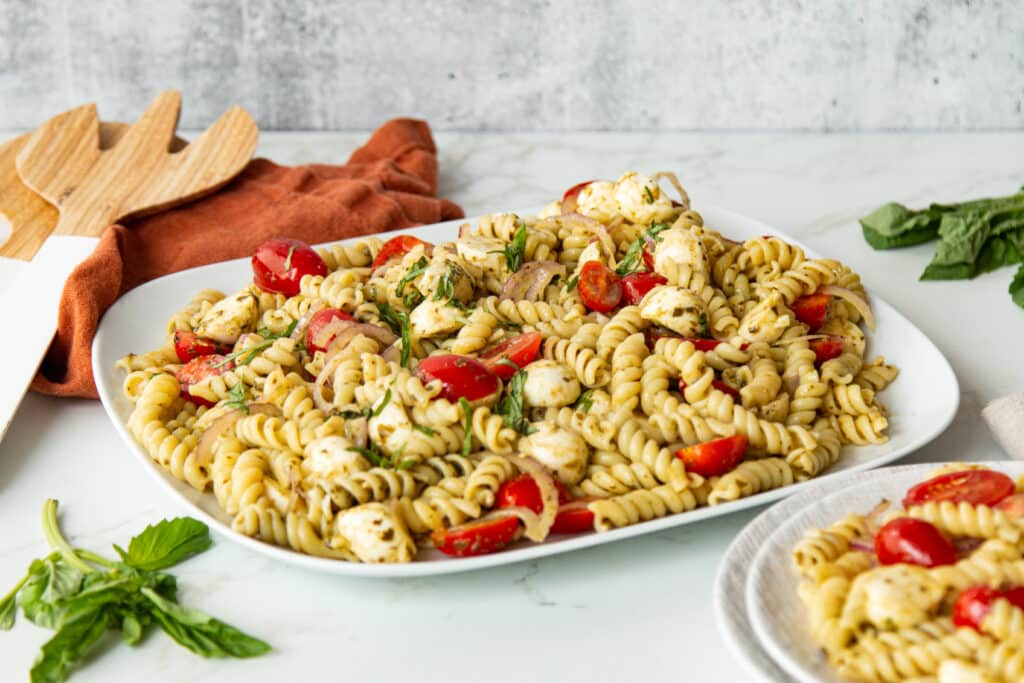 6. Asian-Style Stir Fry
Chop all the veggies ahead of time and use a premade sauce from Tacoma Boys like San Luck Cantonese Style Stir Fry Sauce or Stonewall Kitchen Roasted Garlic Peanut Sauce. Saute vegetables, stir in the sauce, and serve with additions like chicken and rice.
7. Anytime Quiche
Typically a breakfast main, there's no reason quiche can't be enjoyed for lunch or even dinner too! Load up your quiche with vegetables and cheese for flavor and grab a premade pie crust to make it extra easy.
8. Potato or Chickpea Stew
A hearty stew with beef or chickpea is so comforting for a dinner recipe. Use leftovers for lunch and add extra vegetables or beans for more nutrients!
9. Hummus Wraps
Use a base of hummus and protein like chicken, gyro meat, or falafel for a nutritious wrap. One example of this easy lunch recipe is this Spicy Hummus Wrap by Beauty Bites.
10. Stuffed Sweet Potatoes
Another easily customizable recipe, stuffed sweet potatoes can be made with many flavors and ingredients. One example of this is buffalo chicken sweet potatoes. Check out a few more stuffed sweet potato ideas by Love & Lemons here.
Lunch Meal Prep
These recipes and more are perfect for lunch meal prep for the week! There are tons of ideas and tips all over the internet and in cookbooks for lunch meal prep recipes. And with the convenience of Tacoma Boys selection of produce, meat and cheese, and kitchen staples, you can get prep done all at once. Read on for a few tips to make lunch prep a breeze!
Meal Prep Tips
Make 3-4 different elements for different meals and mix and match them throughout the week — Like steamed rice, marinated chicken, and tasty sauces.
Try a couple different recipes to switch between throughout the week. This keeps things a bit more interesting for work lunch.
Chop all your vegetables for the week all at once, even if you won't cook them until later.
Make a grocery list to ensure you have all the fresh food and ingredients needed for the week.
For some more tips and tricks, take a peek at Tacoma Boys' blog about back to school meal prep!
Healthy New Year's Recipes
Traditional New Year's recipes might include dishes like black eyed peas, sauteed greens, and noodles. Load up on veggies like collard greens in your first meal of the new year to start things off fresh and healthy. Other ideas for healthy New Year's recipes include honey mustard chicken salad and Instant Pot white bean stew. Consider the foods you want to try to eat more of in the new year as well as seasonal ingredients like winter produce.
Pears, pomegranate, oranges, and apples
Brussels sprouts, kale, and broccoli
Carrots, potatoes, and parsnips
Leeks and other members of the onion family
Tacoma Boys stays stocked with a wide variety of winter produce to keep you healthy and nourished all season long! There are still a couple more months of winter and the start of the new year is a great time to dive into even more seasonal recipes. To stay up to date on insider deals and specials, sign up for Tacoma Boys' text list. Just text (253) 246-1661 to tell Paul you want to be on the list!