The Tacoma Boys Guide to Cooking Your Holiday Prime Rib
Comments Off

on The Tacoma Boys Guide to Cooking Your Holiday Prime Rib
beef
,
Butcher
,
christmas dinner
,
christmas recipes
,
dinner recipes
,
h&L Produce
,
holiday prime rib
,
holiday recipes
,
how to cook prime rib
,
Lakewood
,
local produce
,
PNW
,
prime rib
,
prime rib recipes
,
prime rib roast
,
prime rib roast recipes
,
Puyallup
,
recipes
,
roast recipes
,
side dish recipes
,
South Sound
,
tacoma
,
tacoma boys
Christmas and Hanukkah are almost here and it's time to plan for your holiday prime rib roast! Tacoma Boys' meat case and butcher counter offers multiple cuts and types of meat. This means you can stay prepared for the holidays with your choice of meat and seafood. A huge variety of already-assembled entrees like stuffed chicken breast or pork chops bring the flavor and cut down on prep time, too. But for Christmas or other winter holidays, consider cooking prime rib for a traditional and tasty dinner main!
Three Ways to Cook Holiday Prime Rib
The most popular and simple way to cook holiday prime rib is by roasting low and slow. Generally, a hot oven (we're talking 500 degrees or so!) gets things going and creates a nice crust on the roast. Then, it's cooked at a lower temperature (around 300 degrees) for a couple of hours. This yields tender and juicy meat that's packed with flavor. Each bite is bound to be reminiscent of winter and the holiday season! Read on for three different ways to cook prime rib for holiday dinner. 
Cooked traditionally for several hours, slow roasted prime rib is sure to be nice and succulent. Just be sure to consider a few tips first— A roast should be removed from the refrigerator a couple hours early to bring it to room temperature since a it tends to be quite large. And be sure to rest the roast, too. This will ensure everything is the same hot temperature, from the beautiful brown crust to the tender center.
If you have a smoker, this one's for you! Smoking any meat, seafood, or even cheese results in – you guessed it – a mouthwatering smokey flavor throughout. Prime rib can be seasoned with a variety of herbs, spices, and rubs to create a crispy crust. This method tends to take the longest. But, it pays off when you need to use the oven for other recipes like side dishes. Plus, you can use your choice of pellets or wood chips to flavor the meat as desired.
Similar to roasting, grilled prime rib takes more time but frees up the kitchen for other activities. And there's nothing like that crispy, smokey flavor of grilled meat! When grilled, prime rib can be marinated or seasoned however you like. A combination of fresh herbs, garlic and honey tastes great on prime rib!
Prime Rib Roast Recipes
Many different methods and flavors can create tasty roast recipes. At Tacoma Boys, in addition to a well stocked butcher case, you can grab a variety of seasonings to use in your prime rib roast recipes. Stop by Tacoma Boys to grab your fresh prime rib and seasonings to cook up for the holidays! It's common to find roast recipes with a well-formed crust baked on the meat, like this garlic herb crusted prime rib. For a marinade, you can use a base of oil and spices like barbecue-based seasonings. Or, try a red wine marinade which goes great with the rich flavor of your holiday roast.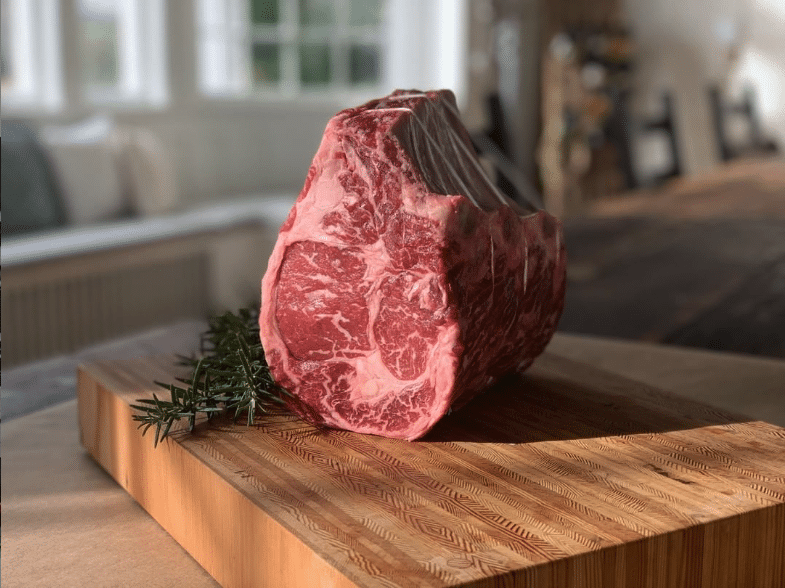 When the prime rib is sliced, serve it as desired. Many people choose to serve prime rib with au jus or gravy made from its own drippings from the pan. There are many recipes all over the internet for au jus and gravy using prime rib drippings!
Tacoma Boys' multitude of seasonings to use include specialty roast rubs like Burnt Sacrifice Barbecue Spices Gourmet Prime Rib Rub. Or, try one of these rubs:
Tacoma Boys Honey Mustard or Rosemary Garlic Rub
Garlic Gourmay Bacon Hickory Rub
Spiceology Cowboy Crust Espresso Chile BBQ Rub
Rub With Love Savory Spice Crust Rub (from Tom Douglas)
Festive Side Dish Recipes
Prime rib wouldn't be complete without its accompanying side dish recipes! For example, tender prime rib is often served with potatoes. Try baked, scalloped, or mashed potatoes. And always make sure to cook up plenty of vegetables to fill half your plate. Seasonal produce available at Tacoma Boys includes brussels sprouts, broccoli, and squash. Some other classic side dish recipes to serve with prime rib includes: steamed peas, green bean casserole, and glazed carrots. Or, you can get creative with sides like mashed parsnips, cauliflower gratin, and creamed spinach.
Check out Tacoma Boys' favorite holiday sparkling wine to make the most of your holiday shopping trip! And don't forget the appetizers and desserts, too. A selection of baking ingredients and kitchen staples means you're sure to have everything you need. A wide variety of plants and flowers can stand tall as a decorative centerpiece, too. To stay up to date on insider deals and specials, sign up for Tacoma Boys' text list. Just text (253) 246-1661 to tell Paul you want to be on the list!