A home herb garden is a beautiful way to add aroma and flavor to your kitchen. It's easy for any beginner or advanced gardener to get started growing a variety of herbs. Herb gardens are simply a group of live herbs growing in a container of soil. Usually, an herb garden is grown indoors so the freshest seasonings are right at your fingertips. Then you can grab some garnish for a 'Gram-worthy plating or whip up homemade sauces quickly!
Herb Gardens
An indoor herb garden is easy to care for because you can keep a close eye on it. It requires just a small amount of maintenance for a big, tasty payoff. Use whatever herbs you want! Common herbs to start your herb garden include basil, rosemary, oregano, thyme, parsley, dill, and sage. These are used often to cook dishes in cuisines all over the world.
Herb gardens are a great way to save money and waste less, too. Purchasing packs of herbs in plastic packaging is a thing of the past! You can simply pick them fresh from your herb garden whenever you need a little extra something for your meal. A pretty kitchen and tasty food has never been so simple.
Starting an Herb Garden
Starting an herb garden is one of the easiest ways to add extra pizazz to your meals. It's as easy as picking a sunny spot (like the kitchen windowsill) and selecting your favorite herbs. Avoid invasive herbs like mint, which grows abundantly like a weed. Pre-made kits make starting an herb garden quick, but it's easy to put your own together with fresh starts or cuttings of plants. You can use herbs already planted in soil and just transplant them to your container of choice. Tacoma Boys offers a wide range of potting soil for your fresh herbs to grow in a raised bed or container.
If you'd rather take it outside or take things on the go, Tacoma Boys' various ceramic pots are a beautiful option. Our guide on planting herbs in ceramic pots offers some great tips on choosing just the right pot.
How To Care For Herb Gardens
One reason starting an herb garden is so simple is because of the low maintenance required. It's quite easy to care for your herb garden and doesn't require extra materials. Some people may opt for plant food or fertilizer, but it's not necessary.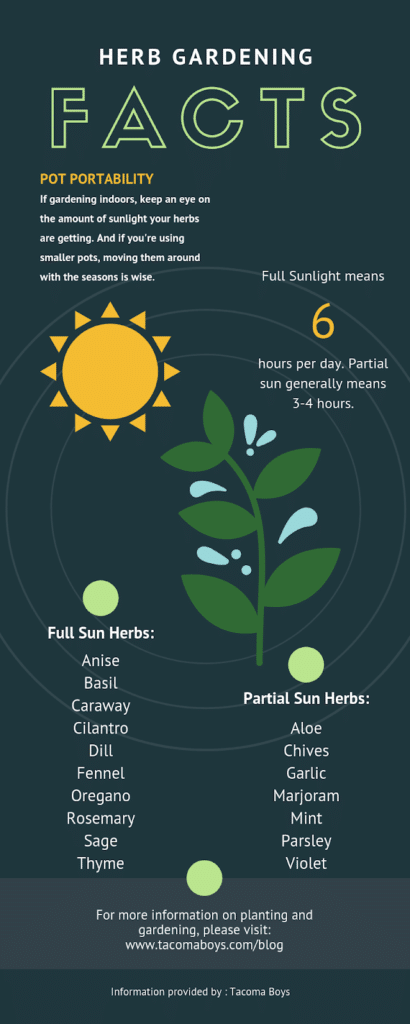 Water the herbs once or twice a week, depending on what herbs are planted. To see if your herbs are thirsty, touch the first inch or so of the soil of the plant. If it feels dry, go ahead and gently water the roots.
Harvest the herbs regularly as you cook and eat. Frequent harvesting is good! It encourages further growth of the plant. Go ahead and dry or freeze the fresh herbs if you won't use them immediately.
Sun is important for your herb garden. Some herbs like more or less sunlight, but most will do well with an average of a few hours per day.
Prune flowers when they pop up. It's not necessary, but some herbs such as oregano and thyme will sprout flower blooms in the spring and summer. To keep your plant bushy and encourage growth of leaves (the part you harvest), snip the buds.
Cooking with Fresh Herbs
Cooking with fresh herbs is an easy way to elevate many dishes. It's also super rewarding to reap the benefits of your gardening skills (fork, meet mouth)! Some meals and dishes can be based entirely on an herb, or simply use it as an extra ingredient or garnish. 
Breakfast
Persian Herb Frittata by The Kitchn makes great use of fresh dill and other herbs. Just start with Smith Brothers Farms Premium Eggs.
Lunch
Pesto pasta is made with fresh basil or parsley, lemon, pine nuts, and quality olive oil and grated parmesan cheese. Our favorite ingredients for a pasta pesto include Tacoma Boys Olio Dorato Lemon Garlic Olive Oil and Delallo Organic Farfalle Pasta.
Dinner
Strip Steak with Chimichurri Sauce by Jessica Gavin with Rosemary Roasted Potatoes by Rachel Cooks. Fresh oregano, cilantro, and parsley come into play in the chimichurri while rosemary perfectly seasons Baby Red Potatoes. We like Prime Grade Top Sirloin for this meal.
Snack
Pull-Apart Sour Cream and Chive Rolls by Bon Appetit. Cooking with fresh herbs makes these buttery tolls tasty enough to enjoy as a snack any time of the day. Bob's Red Mill Bread Flour makes them soft and flaky.
Cocktail
Basil alongside mint or lime is one of the tastiest ways to use fresh herbs in a drink. This recipe uses fresh basil alongside cocktail basics like simple syrup and club soda.
Basil Mojito
Ingredients (serves 2)
10 fresh basil leaves
Juice of two limes (2 ounces)
1 ounce simple syrup
4 ounces white rum
Club soda to top
2 lime wedges and basil leaves to garnish
Directions
Lightly muddle the basil and simple syrup in a cocktail shaker.
Add the lime juice and white rum and shake with ice for 30 seconds.
Strain into two glasses and fill with club soda to preference.
Garnish with lime wedges and basil leaves and enjoy!
Get Creative In the Kitchen
Swing by your local Tacoma Boys to get prepped for those fresh and flavorful meals made with your herb garden. No matter what you have planned for the menu, fresh herbs are almost always a thoughtful addition. To stay up to date on insider deals and specials, sign up for Tacoma Boys' text list. Just text (253) 246-1661 to tell Paul you want to be on the list!