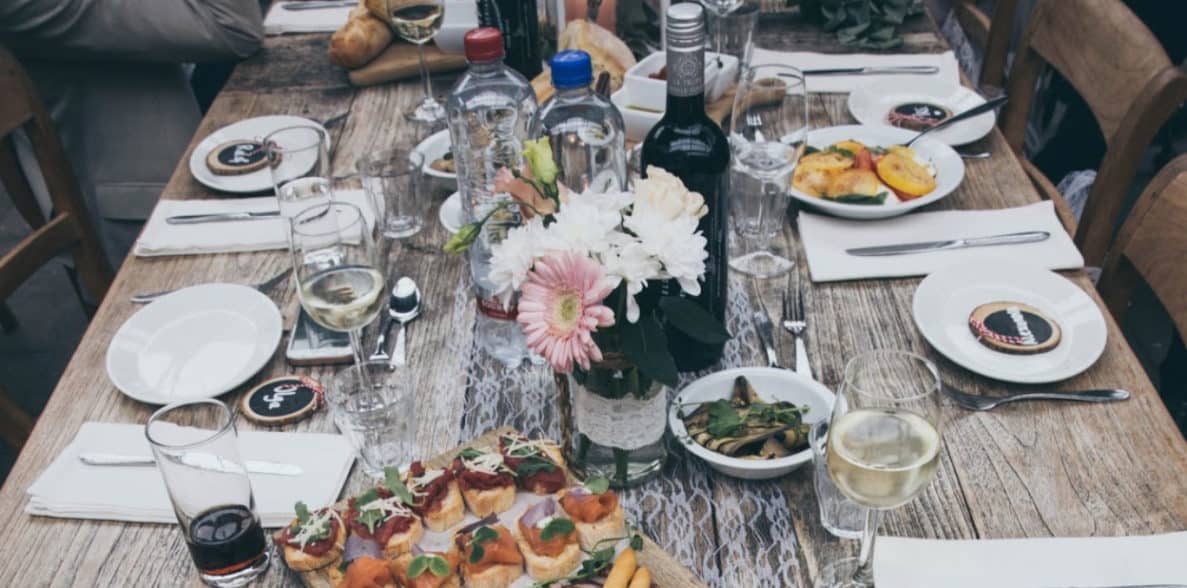 Summer Pairings – Seasonal Entrees
Comments Off

on Summer Pairings – Seasonal Entrees
You've already impressed with snacks and appetizers, so now it's on the main courses. As the dinner guests begin to be seated, here are a few entrees that are summertime sensations.
Summer dining can be as elaborate as you want it to be, but when it comes to time spent with family and friends, we don't want you getting lost in the kitchen. So here are a few summer-inspired entrees to get you going for your next dinner party.
Simple. Classy. Vegetarian.
There are no thermostats or cook times needed for this fun play on a classic carpaccio. Carpaccio, historically, is an Italian raw meat dish, but for a quick, hearty, and beautiful vegetarian dish, take this idea and let your palate and imagination run wild.
The basics of this entree are already in most pantries. First, you need something capable of thinly and uniformly slicing vegetables. Of course, a mandolin makes for even, consistent slices and is probably the best tool. How do you make this dish? Slice the vegetables in a way that suits the look of the dish. If all of your veggies are longer (squash, zucchini, carrot, etc.) consider cutting their full length. But if you use rounder produce (radish, beet, turnip, onion, etc.) then cut all vegetables to their width. It makes the meal much easier to eat when the cuts are similar.
Now the veggies! Well, it's summertime, so you could really fill your pantry with all kinds of terrific produce for this quick dinner entree. 
Summer squash and zucchini are a beautiful, hearty pairing for a carpaccio. The cut and design of the dish are up to you. But when a single layer is complete, drizzle that layer with olive oil, minced shallots, and some chopped herbs. If you're serving a fish dish as well, consider sprinkling dill into the mix for flavor continuity. Add salt and pepper with each layer as well. For the look of the dish, but more importantly, to honor it as an entree, make at least 3 layers, but no more than five. Top it with grated pecorino and allow it to sit and marinade for twenty minutes.
For a more eye-popping display, grab beets, carrots, radishes and turnips. Slice them at their width, and pre-marinate them in olive oil and red wine vinegar for an hour. If you stir them, use your hands! Meanwhile, toast pine nuts and pumpkin seeds together in a dry skillet for about 5 minutes. Arrange the marinated veggies, top them with the nuts, and then drizzle with a finer oil. For this summer dining entree we like walnut or avocado oil. Add salt and pepper, and you are done!
Summertime is Salmon Time
Tacoma Boys and H&L Produce are proud of the produce that we offer all year long. But there are certainly some summer dining items that we are equally wild for! And a dinner meal that features Copper River Salmon with roasted garlic spears is just a dynamite dinner pairing! Now those garlic spears are only available for a very limited period, so if you've missed that window, a nice roasted asparagus with lemon and garlic would be a hit as well.
If you've never worked with salmon before, and you're looking to grill, here are some quick tips. Choose skin or no skin. Oil the grates of your grill. Determine if you're cooking with indirect or direct heat. And if you're navigating the world of cedar planking, soaking, draining, and monitoring the wood is vital. However you're preparing the fish, an internal temp of 135 degrees is the goal.
For added flair, grill some sliced Meyer lemons as an accompaniment and sprinkle lemon thyme and fresh lemon juice over your cooked filets.
But Wait, There's Steak
Steak is steak. It's always a delicious entree, and you likely already know your favorite cuts and cooking methods. But for the foodie searching for a new pairing on this summertime entree, think caprese. Since we gave you carpaccio with a twist to lead off, let's finish with another twist.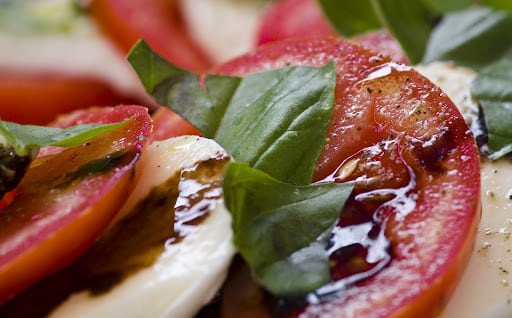 You know the Caprese Salad. Here's your shopping list for the next time you're in Tacoma Boys or H&L Produce: vine-ripened tomatoes, fresh mozzarella, fresh basil, olive oil, balsamic vinegar, and coarse ground salt and pepper. 
But now, we twist it with a great filet or ribeye that we also have available at our excellent Meat Market. And this twist is especially sharp if you're grilling out. Cook your steaks however you prefer them. And then allow them to rest as you usually do. But after 1-2 minutes of resting, add slices of mozzarella (number of slices depends on the surface area of the steak), and then equal slices of fresh tomato. Salt and pepper to taste. And then finish with oil and vinegar. For that added punch, skip the oil and heat two cups of red wine vinegar at a simmer until thick, and then drizzle that red wine reduction over your caprese steak. Delicious!
And That's a Wrap… Until Dessert
Of course, we hope you've stumbled on this article because you were searching for summer dining ideas, and we gave them to you! But there's also an article on summer appetizers for you, and the next one is on summer-inspired desserts. So whether you're wine pairing, dinner planning, or perusing for summer dining party ideas, we've got you covered at Tacoma Boys.