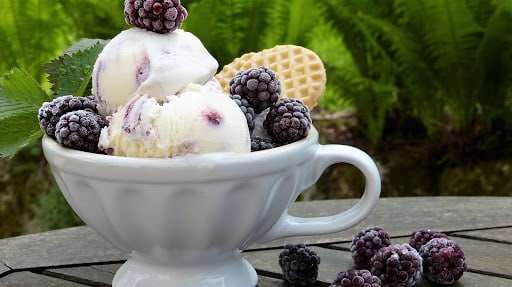 Summer Pairings – Just Desserts
No summer dining experience is complete without a refreshing dessert or two to be shared. So here are some ideas for finishing off that summertime dinner party.

As the dinner party winds down, and everyone discusses their favorite part of the meal thus far, send all your guests out smiling with these refreshing, bright dessert options. 
You Scream, I Scream… Ice Cream is Easy
You've been clever on the appetizers and wowed the crowd over the entrees, so dessert is a great chance to let them decide how they want to finish their dinner party. And nothing offers more choice than a simple, perfect bowl of ice cream.
As summer desserts go, is there anything better than ice cream? And as the kids make a mad dash for the disposable bowls
and run outside to eat mess-free, the adults can take a more sophisticated approach to this dessert with the addition of fresh fruit, like blackberries and raspberries. Even a sprinkling of crushed nuts, likealmonds or pecans, would make for a great pairing.  Or youcould create an ice cream buffet bar to let each guest make a frozen dessert of their liking. And if you're looking for a great, local ice cream to enjoy, swing by Tacoma Boys and H&L Produce, and ask for Umpqua Ice Cream. It's creamy, smooth, and we do love shopping local companies.
No matter how you choose to offer your ice cream up, we know that it is going to be a crowd pleaser. But if you prefer to steer clear of frozen items that easily melt, we have some great items for you.
Fool With Parfaits
Have you ever heard of a fool? Fools, when we are talking about summer desserts, are super simple combinations of fresh fruit, folded into fruit purees, and layered with a homemade whipped cream. These desserts really are that simple. So if the crowd all loves the same fruits, your dinner party could be made complete with a round of berry fools. Berries make for the quickest purees, so if you're making these for a large group, use fresh, cleaned berries and cool your finished dessert for an hour before serving.
But if you really liked that idea of a dessert bar, but don't want to deal with ice cream, may we suggest parfaits?. These can also be premade, and they are a delicious dessert that offers a very wide range of possibilities.
If you did want to serve a make your own style dessert parfait bar, here's a quick list of 'must haves':
Fruit – Pre-slice and dice the stone fruits that you might want to use. The goal is for people to build, not prepare their parfaits. And add as many fruits as you like: nectarines, peaches, melons, raspberries, blueberries, blackberries, and even pineapple.

Granola – Make your own or purchase a bag that is either entirely oats or only contains nuts. You want to avoid competing fruit combinations, and dried fruit might be too chewy in this application.

Yogurt – Greek yogurt holds up to this dish very well, but you're free to use any kind of yogurt you like.

Garnish & Glassware – Mint is a traditional garnish here, and use clear glassware when serving these, as guests will enjoy the visuals of their own creations or your culinary work. Another consideration might be a quick puree or sauce. Take two cups of berries and a quarter cup of granulated sugar, and press them together with a fork. Making a puree is not necessary, and larger chunks of fruit are certainly allowable, so stick with a sauce if you wanted to avoid bringing the processor out.
And then, you have parfaits! And they are a wonderful summer dessert for your dinner party.
Pastries & Bubbly
For the dinner guest that wants to finish their summertime dinner party with a bite into something, Tacoma Boys and H & L Produce also serves up a delicious line of French pastries. And these pastries certainly pair well with summer season fruits like raspberries and blackberries. So you can avoid losing the continuity of your dessert offerings by accompanying these pastries with assorted berries.
And for a truly adult pairing, finishing the meal with a nice champagne, rosé, or white wine will always work with any fruit focused desserts. And since we've stayed local with our beautiful seasonal berries and local ice cream, we will suggest a bottle of Reisling from Treveri, just up the road in Yakima, Washington. 
Try It All
Over the course of a few articles, we've walked you through a summer dinner party that we would be proud to host, attend, and enjoy. Did you try any of our suggestions? Send us some photos and we may feature it on Social Media! What is your go-to summer dish? We would love to hear your feedback.