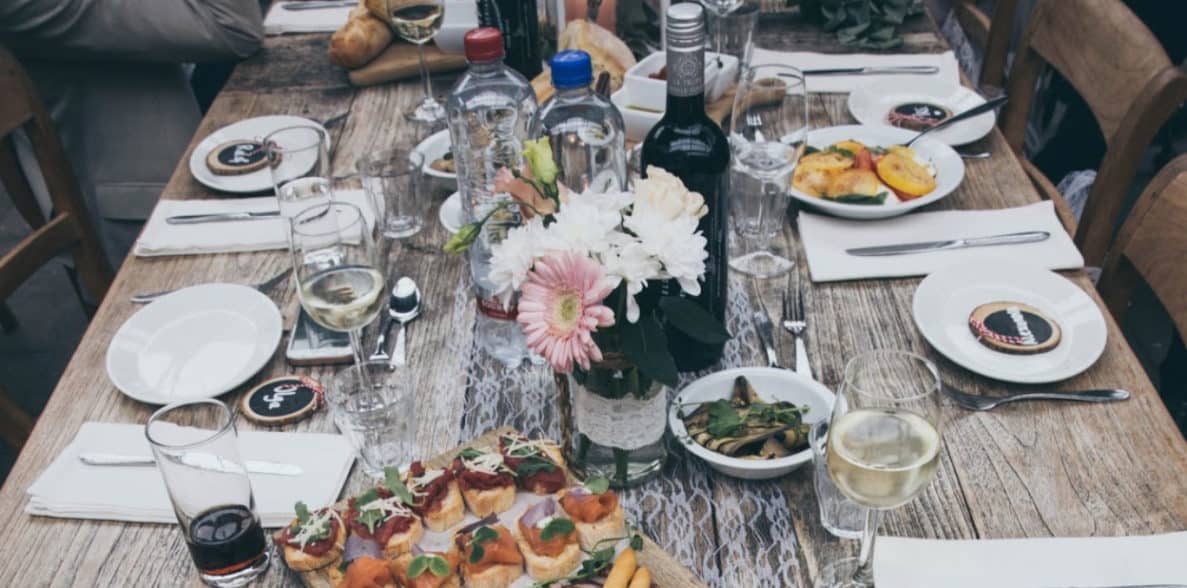 Kicking Off The Start Of Summer With Outdoor Brunch
Comments Off

on Kicking Off The Start Of Summer With Outdoor Brunch
The sun is shining, the parks are packed, and it's time to celebrate summer with outdoor brunch! While brunch is fun at any time of year, there's just something special about brunch in the summer. It's an opportunity to spend the sunny hours of the day relaxing and leisurely munching away with friends and family. During the summer, an abundance of local fruits and vegetables is readily available to cook up. Why not savor the flavors of the season while enjoying the season's weather, too?
Outdoor Brunch in the PNW
Here in the Pacific Northwest, outdoor brunch in the summer is a no-brainer. And although the idea of bringing all that food and supplies outdoors sounds like a chore, it doesn't have to be. Outdoor brunch can be as simple as taking your usual breakfast plate of eggs and bacon out on the patio to soak in the summer's rays! But you can certainly make it extra special by setting the patio table and cooking up a couple different dishes to enjoy. Go for the easier dishes with minimal elements that are easy to move in and outdoors. Some examples of these types of dishes can include:
Breakfast potatoes
Omelets
Pancakes
Quiche
Avocado toast
Fruit salad
When setting up for outdoor brunch, little details like decorating with fresh flowers are a great added bonus! Tacoma Boys has a vast selection of fresh flowers and arranged bouquets to add a floral touch to your table. Check out our blog about decorating with flowers to get inspired.
Breakfast and Lunch
Brunch brings in the best parts of breakfast and lunch and leaves room for something for everyone to enjoy! That's why so many people love serving a leisurely brunch for families and crowds. Why not make ham and cheese omelets and potatoes alongside BLT sandwiches and salad? Breakfast and lunch should keep you satisfied and energized for a full day— Especially when we have the summer sun to appreciate during the day. And it's easy to make use of seasonal ingredients like summer fruit while you're preparing a variety of breakfast and lunch foods to munch on.
Summer Fruit In Season
A big bowl of fresh fruit is a must-have for breakfast and lunch lovers far and near! Especially during the summer months, fruit is a delicious and satisfying side dish for brunch. During the summer, we can look forward to a lot of fruit that comes into season in the Pacific Northwest. Keep your eyes peeled for summer fruit such as:
Berries like blackberries, blueberries, raspberries, and strawberries
Melons like watermelon, honey dew, and cantaloupe
Cherries including bing and rainier cherries
Stone fruits like peaches, nectarines, apricots, and plums
Brunch Recipes
And outdoor brunch can be made simple and delicious with a series of basic brunch recipes that don't take too much effort. There's nothing wrong with tasty, low maintenance food when heading outdoors to brunch amongst gorgeous greenery and nice weather! Maybe save the more timely brunch recipes like eggs benedict and homemade hashbrowns for another day. A few breakfast meats from Tacoma Boys that are quick to cook up include Aidells Smoked Chicken & Apple Sausage, Tacoma Boys' Sweet Heat Smoked Bacon, or Uli's Famous Spanish Chorizo Links.
For more inspiration for classic or unique brunch recipes to try, check out these examples:
Brunch Cocktails and Mocktails
For many people who like to brunch, cocktails and mocktails are a fun addition to the spread. When you stop by Tacoma Boys, you can easily grab a pre-made beverage like Santa Cruz Organic Mango Lemonade, Vita Coco Pure Coconut Water, or Dry Sparkling Vanilla Bean Soda. A variety of wine including red, white, rose, and sparkling wine means you can easily whip up a batch of sangria or mimosas. For sangria, all you need is your choice of wine plus fresh fruit, fruit juice, and sweetener like honey. And Tacoma Boys boasts a large selection of coffee to brew and sip on during brunch— Take a peek at our blog all about local and specialty coffee here!
When you're ready to get shopping, swing by your local Tacoma Boys to grab everything you need for outdoor brunch. This includes all that coffee, plus wine, specialty cheese, meat from the butcher, and seasonal produce to savor. To stay up to date on insider deals and specials, sign up for Tacoma Boys' text list. Just text (253) 246-1661 to tell Paul you want to be on the list!