Cocktails and Mocktails For the First Day of Summer
Comments Off

on Cocktails and Mocktails For the First Day of Summer
What better way to start the summer than by whipping up easy cocktails and mocktails to sip on?! Refreshing and full of fruity citrus or other flavor, there are so many different drinks to make. From mojitos, to grapefruit palomas, to strawberry lemonade and sweetened iced tea. Try out one of these drinks and serve it up alongside a picnic or backyard barbecue to start off the summer right.
Making Tasty Cocktails and Mocktails
Some people may know where to start when it comes to making cocktails and mocktails. Mocktails are a nice alternative to cocktails for those who aren't drinking alcohol and can be just as exciting. For these purposes, classic kid-centric drinks like shirley temples are tasty and popular for a reason! But you can try other blends of fruit, herbs, syrups, juice, and more for tasty and refreshing mocktails that are perfect for summer picnics.
To take it up a notch, nonalcoholic drinks can be made with a few different types of ingredients to make it just a bit more interesting. Consider some additions like these for both your summer cocktails and mocktails:
Homemade simple syrup (with herbaceous, fruity, or spiced flavors like rosemary, rhubarb, or chai spice)
Bundaberg Ginger Beer
Fresh locally grown herbs like basil or mint
Frozen fruit as ice cubes
Sunfresh Freezerves Raspberry Jam
Mixers as a base like Stonewall Kitchen Lemon Drop Mixer
Something sweet, fruity, and sparkly are usually a good combination for both cocktails and mocktails. A couple examples of mocktails to try include a virgin moscow mule (just lime juice and ginger beer) or a cranberry pineapple sunrise with cranberry juice, pineapple, and maybe a splash of sparkling water. Or, try Tacoma Boys' Blueberry Limeade with Mint!
How to Make Summer Cocktail Recipes
Summer cocktail recipes should be refreshingly cool, maybe fruity, and keep you coming back for sip after sip. Whether you're into sweet or more sour drinks or a nice balanced concoction, cocktails can be easy and quick to make. Start with your favorite liquor as the base and different use components of flavors like the additions listed above to make your drink recipes sing. A lot of good summer cocktail recipes use fruit juice or a balanced blend of syrup and sour, maybe with a splash of something bubbly too. Depending on if you like your drinks spirit-forward or more subtle, there are a couple different ways to approach cocktail recipes.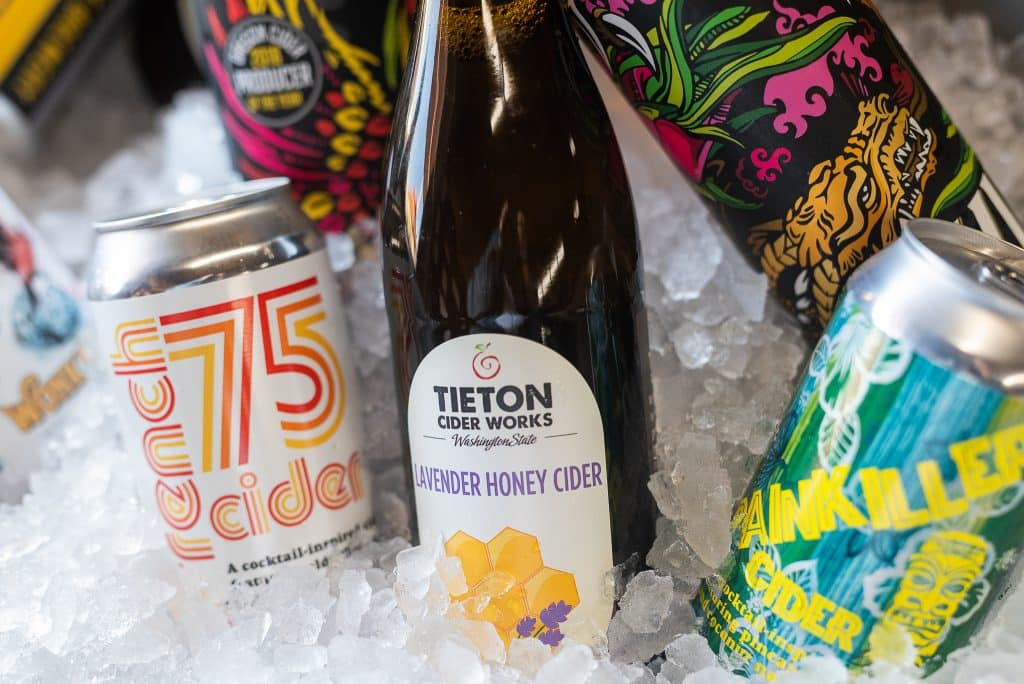 One way to make summer cocktail recipes is to use a shrub: This is a syrupy ingredient consisting of fruit, sugar, and vinegar (maybe with some aromatics like herbs or spices, too). Shrub and soda is a classic base for easy summer cocktail recipes. Throw a shot or two of tequila, vodka, or gin in with a couple spoonfuls of shrub and a generous pour of sparkling water. Or, nix the alcohol for a refreshing mocktail! The resulting flavor is of concentrated fruit but not overly sweet or sour. It's usually paired with sparkling water for an instant drink that has all the elements of refreshingly delicious flavor.
Drinks and Snacks for a Summer Picnic
The warm season is here and it's time to soak up the sun with a summer picnic! Check out your local parks and waterfront areas or keep it hyperlocal with a stay-home picnic in the backyard. With kiddos and lots of food to transport, at-home picnics can be just as fun and full of tasty drinks and snacks to munch on. To make the transportation and preparation process easy, stick to one or two ingredient drinks like wine spritzers. Or, make the drinks ahead of time like Tacoma Boys' Watermelon Agua Fresca. Also, try to bring premade snacks that require little if any cutlery and minimal assembly.
For an on-the-go, premade summer picnic drink, kombucha is easy and full of delicious sparkling flavor. Tacoma Boys has many types of kombucha to choose from, such as from Kombucha Town, GT's Raw Kombucha, and Brew Dr. Kombucha. For an alcoholic version, try June Shine Hard Kombucha or add your own spirit such as vodka.
Try These Picnic-Perfect Food & Drink Pairings:
Cucumber lemonade and grilled vegetable sandwiches
White wine spritzer and charcuterie board
Peach iced tea and greek pasta salad (try Tacoma Boys recipe here!)
Minty ginger beer and loaded hummus dip
Picnics and other summer celebrations are best enjoyed with tasty drinks like these mocktails and cocktails! Whether you opt for a bottled, premade drink or make your own concoction, sit back and relax with a beverage. To stay up to date on insider deals and specials, sign up for Tacoma Boys' text list. Just text (253) 246-1661 to tell Paul you want to be on the list!