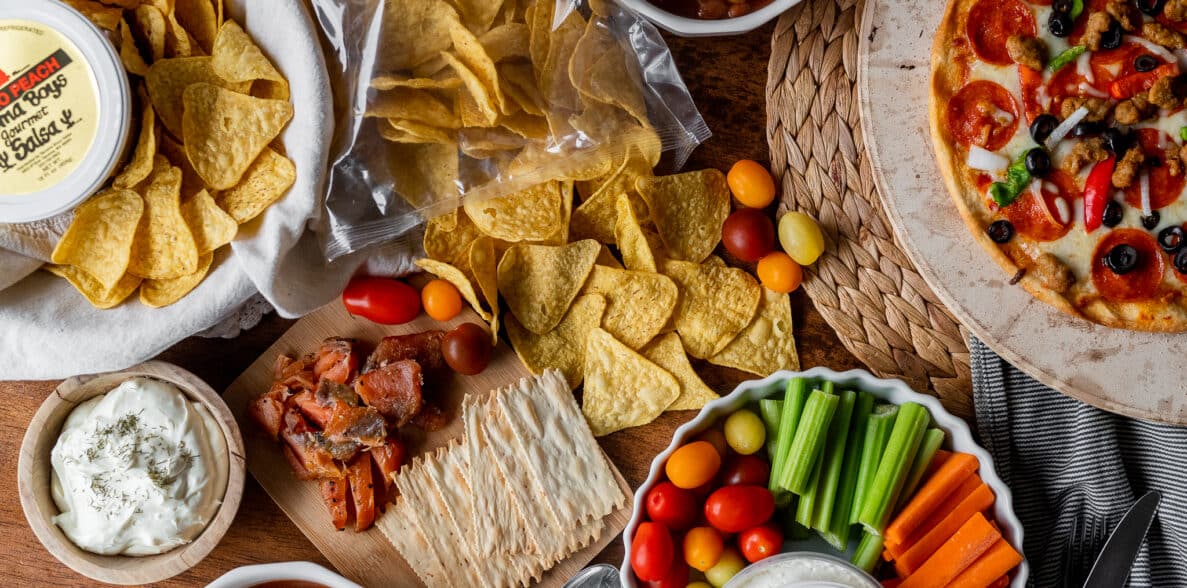 5 Quick & Easy Labor Day Appetizers
Comments Off

on 5 Quick & Easy Labor Day Appetizers
The end of summer is slowly approaching and that means it's time to celebrate with Labor Day appetizers! While the holiday represents and recognizes the American workers labor movement, it also marks the end of summer for many. This year's Labor Day is on Monday, September 5— And it's often a long weekend for both kids and adults. If you plan on gathering with friends or family to enjoy this first weekend of the month, Tacoma Boys has plenty of ingredients and ideas for delicious dishes to cook up!
Labor Day Appetizers To Try
Along with classic dishes like grilled meat or summer produce, Labor Day appetizers can be unique and different! Take the chance to use the last of your summer corn and zucchini on top of nachos for a spin on the traditional appetizer. Or, make a homemade salsa with all of those fresh ripe tomatoes you have laying around.
If you're not up for making your own dips and recipes from scratch, that's understandable! There is a lot to do to plan for an end-of-summer bash and there may be other stuff going on like boating, parades, or community events. If so, take a peek at these 5 quick, easy, and tasty appetizers to get going.
1. Spinach Artichoke Dip
There are many variations of spinach artichoke dip, and this version by Insanely Good Recipes is super easy thanks to a base of frozen spinach, jarred artichokes, and cream cheese.
2. Ham and Cheese Sliders
All you need is some slider buns, ham, and cheese to get started on this one by Averie Cookies. Try Tacoma Boys Deli Smoked Sliced Ham and Kerrygold Swiss Cheese. Then, flavor it up with spreads and condiments as mentioned like dijon mustard and maybe a sprinkle of Tacoma Boys Everything "But" The Bagel Seasoning.
3. White Bean Dip
This riff on hummus by Minimalist Baker is a breeze to blend up a food processor and store ahead of time. It's vegan friendly and full of customizable flavor— Grab some Eden Organic Navy Beans and Once Again Creamy Tahini from Tacoma Boys for the recipe.
4. Two-Ingredient BBQ Lil' Smokies
Spoiler alert: The two ingredients are cocktail weenies and barbecue sauce! Simply throw them together and let 'em cook. Tacoma Boys has dozens of barbecue sauces, including gluten and sugar free options to use with this recipe by Culinary Hill.
5. Fruit Skewers
Every spread of appetizers and party food deserves a pop of color and freshness! Simply thread whatever local seasonal produce sounds good to you on a skewer and plate it up for the crowd like in this example by The Recipe Critic.
Easy Summer Recipes
Full of seasonal produce and fit for a crowd, easy summer recipes are a necessary part of any end-of-summer celebration. The freshness of local seasonal fruits and vegetables such as heirloom tomatoes, zucchini squash, and summer stone fruits like nectarines and peaches is perfect right about now. And that means they're easy to enjoy fresh and with little cooking or seasoning required! One simple way to savor whatever is in season throughout the summer is simply by grilling it. A spread of grilled vegetables piled on a panini or on pasta salad is just about perfect. Or, grill up some gold or russet potatoes, sliced into wedges, with just a sprinkle of salt and pepper.
Or try one of Tacoma Boys own easy summer recipes and appetizers, like Goat Cheese Stuffed Mini Peppers and Caprese Pesto Pasta Salad. Browse the recipe section in general for a variety of fun ideas that can be made with ingredients from Tacoma Boys. Then, stop to see what's fresh and available now.
It's Time For Party Food!
Here at Tacoma Boys, dips and easy snacking is a favorite, especially when it comes to party food! You can find a variety of salsas and cheese dips to graze on at your local Tacoma Boys. You'll also find everything you need for classic party food like stuffed mushrooms, loaded potato skins, and buffalo chicken wings. A spread like that is sure to have your guests hungry with anticipation! For more ideas for party food like appetizers and of course, dips, check out our blog all about it here.
Another great way to celebrate with party food is by hosting the extravaganza potluck-style. Ask everyone to cook up their best appetizer or dish and bring it along! This way, you can also ensure all diet preferences are taken care of and there is a diverse selection to choose from. To stay up to date on insider deals and specials, sign up for Tacoma Boys' text list. Just text (253) 246-1661 to tell Paul you want to be on the list!