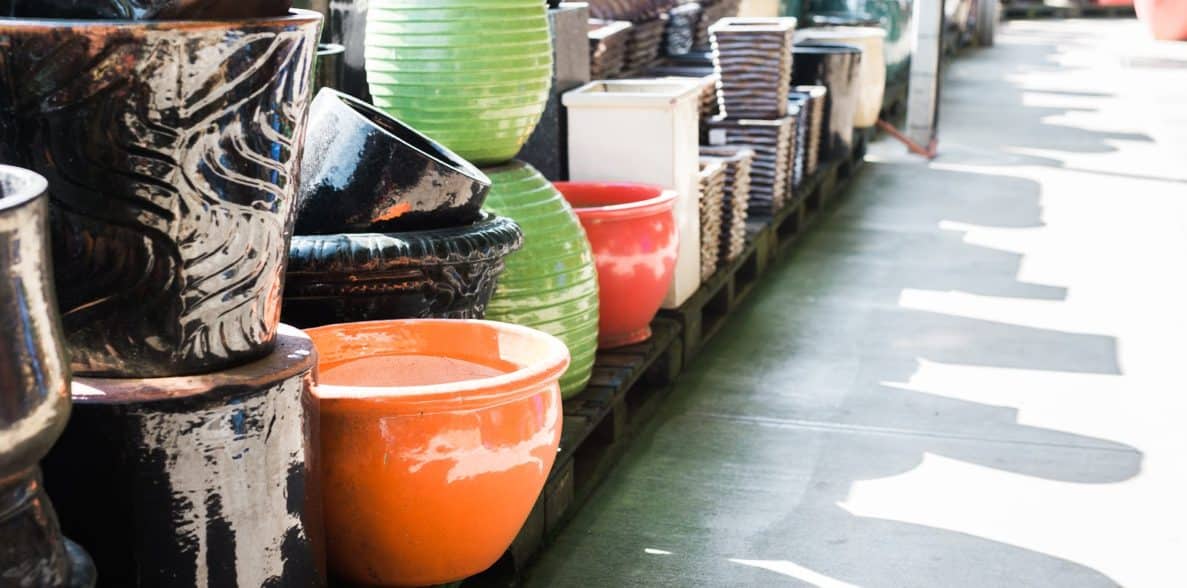 Why Tacoma Boys Has So Many Pots
Whenever you visit one of our stores, well before you walk into our buildings, you are introduced to our pots that line our entrances and storefronts. But why? Why does Tacoma Boys have so many pots?
They are beautiful alone or featured in your home. They offer a unique pop of color to your yard, and they make gardening seem less hard. There are so many reasons for us to love all that they can do, which is why we offer so many pots to you.
No matter which one of our stores you visit, you are always greeted by three things: our people, our plants, and our pots. We are proud of our team, and we source only the best plants for our community to choose from, and our show-stopping pots are just as exciting to our store and the possibilities for your home gardening and decor. So why do we have so many pots? Let's tell you all about it!
Color Kindness
Perhaps the most striking thing to see when you come to Tacoma Boys is the palette of colors that surrounds each of our stores. And that vibrance is most easily noticed in the wide range of colorful pots that we showcase every day. We carry both glazed and unglazed ceramic, and there are benefits to either, beyond what looks best to you. But why so any colors? Because Washington State is beautiful in every season, our community is wonderfully diverse, and we want to make sure everyone has the best colors to choose from, all year long, no matter what they need one of our pots for! So all of our colors are for you, and we wouldn't change a thing.
One Size Does Not Fit All
And while it's important to meet the aesthetic expectations of our customers, we also need to combine beauty with function. So we offer nearly every shape and size of ceramic pot imaginable. If you're planting seeds, starts, and bulbs, you may want to start with something about a foot wide at the top, but not too deep. As you pot up though, you may want to look into wider and certainly deeper pots. If you're planting smaller trees or plants for you home, perhaps you want a more narrow pot with a striking height. But you may also be looking to place a flowering plant up just slightly off of your outdoor garden floor, or as a statement to your front yard landscaping. And no matter what you need, we have the style and size pot that is just right for you and your planting goals.
Always In Shape
So you've found the colors that express your outdoor statements or match your indoor decor, and you have all the heights, widths, and depths that match your design eye. What would help transform that look you are going for better than texture and shape? A smooth, rectangular container to hold a fun mix of seasonal flowers. A large, porous, cylindrical vase-styled pot to hold your spring flowers or plants. A few wide, multi-colored square pieces for the shrubs that line your driveway. A series of small pots to host your indoor herb garden, succulents, and veggies starts.
Every shape. Every style. Every color we could find. And available daily at Tacoma Boys and H&L Produce. We would love to see you soon, and help you prepare for your Spring and Summer potting.
Ready to Grow Up With You
And when you need that one, perfect pot, we have given you all that you need to know about our selection of pots at Tacoma Boys. But we don't just pride ourselves on our inventory. We also pride ourselves on being growers, and purveyors of expertly grown produce, plants, and seeds to grow your own. And when it comes to potting, growth happens. For your flowering plants and grown basket purchases, a single size will likely suffice. And when you are planting seeds for veggie starts and flowers, you can certainly measure out seeds per square inch to fit the size pot you want or determine what size you need, based on the seeds you have. But indoor plants, trees, and those produce items that grow to become root bound, that's where potting up comes in. Simply put, the more some plants grow, the bigger the container they will require. So when your houseplants or trees begin to stagnate, or water seems to be rushing through you plant too quickly, consider upsizing your pot. And hopefully, you've taken advantage of the terrific deal on pots we have weekly, and you've already prepared for your potting expansion. If not, swing by and find a beautiful pot that is just the right size, shape, and color for you home!