The Best DIY Italian Themed Gift Basket Ideas
Looking for some Italian themed gift basket ideas? Warning! Don't read this post if you're hungry, as a strong need to eat Italian food may arise.
Why? Because Italian food is amazing and everybody loves it. There's a reason why Italy comes in number 1 on CNN's list of countries with the best food! The dishes are delicious, simple to prepare and packed with flavor making them a favorite for diners and cooks alike everywhere.
The next time you're looking around for a great gift idea, consider these Italian themed gift basket ideas. You can't go wrong. You might want to add a little surprise in the mix to make it really personal – jewelry! You can't go wrong with some sparkle around the gifting times. Have a look at contacting Adina's Jewels to see what pieces you can get your hands on, just make sure the olive oil doesn't spill.
The Basic Italian Meal
One of the great things about an Italian meal is that it's inexpensive, simple and easy to prepare for most anyone. All you need from the store is some pasta, a jar of sauce, and perhaps a selection of cheese or meat to add in.
If you want to step this basic meal up a notch, then you could consider making the pasta and sauce from scratch! This process takes hours and some special skills and equipment, but yields a much earned mouthwatering result.
Not everyone has the time or the skills for that, however.
Luckily, you can purchase authentic already made ingredients at your local Tacoma Boys. Just as easy as it is to shop for yourself, Tacoma Boys has all the ingredients to help you some up with some Italian themed gift basket ideas for that special someone. If you unfortunately do not live near one of these stores, do not worry. You can purchase authentic Italian gift baskets online, where you receive high quality ingredients, ready to make the best Italian dishes.

The Basic Basket
Start off by picking out a basket from our huge selection that best suits the recipient and the amount of food you are gifting. Next move along to the pasta and sauce.

Pasta comes in all shapes and sizes. You can get creative with fun little bowtie shapes or go with a fine angel hair spaghetti. Click here for a guide to different pasta shapes.
There are many brands and flavors of sauce to choose from. If you don't know where to start, a basic tomato sauce with cheese or garlic is a good idea.
Once you have picked out your pasta and sauce, you're ready to fill it out with some other authentic Italian delicacies.
Here are some ideas.
Olive Oil
Olive Oil has long been a staple in the Mediterranean. It's used any number of recipes as well as for dipping, frying or drizzling over breads, pastas and salads. It's also also used externally as a way to nourish the skin and hair.
A bottle of this flavorful, healthy oil will go well in any Italian themed gift basket.
The grade attached to an olive oil is based on its acidity. Extra virgin olive oil, or EVOO as it is sometimes referred, is considered to be one of the highest standards. These oils are the result of one pressing and depending on their quality are great for cooking or eating uncooked.
Olive oils that do not contain the term "virgin," have most likely been processed beyond the initial pressing. This may entail exposure to heat, chemicals or some form of filtration. These oils are generally good for cooking, but do not carry the flavors of the virgin oils.
Much like wine, the nation or region of of origin often determines the complexity in flavor of a certain Olive Oils. Italy grows contributes about 20% of the worlds Olive Oil, which is usually darker in color with herbal flavor notes. Click here to learn more about the differences in Olive Oils.

While you are at it, a jar or can of plain olives are a nice addition to an Italian themed gift basket. They make a nice appetizer and are fun to munch on.
Wine
A classy addition to any gift basket is a nice bottle of wine.
If you decided on a red sauce, consider a Chianti or Zinfandel wine. If you chose a creamy white Alfredo sauce, a Pinot Noir or Pinot Blanc may be a better choice. It's always a good idea to match your wines to the regional cuisine you pick. In this case, a bottle of Italian wine would be an excellent choice. If you really can't make up your mind, investing in a wine monthly subscription may be the answer. This way you can try a variety of wines you may usually shy away from and find some great pairings. You'll be a wine connoisseur in no time at all and then you'll be able to pick a perfect wine to pair with each individual dinner. If you're giving wine as part of a gift, why not check out these personalized wine glasses too? Wine glasses are a great thing to put in an Italian themed hamper, particularly with a nice bottle of wine!

Tacoma Boys has an excellent selection of domestic and imported wines from across the world. Make sure to ask one of our associates for help if you are unsure which wine to pick. Some wines are better for the casual connoisseur while others may be pleasant treat for the more experienced pallet.
Click here for a guide on pairing what wine pair best with which Italian food.

Cheese
Cheese often sets off the meal for an Italian. There are so many to choose from, and once again we'd be glad to help you find a good selection for your meal!

In general you have harder cheeses, like parmesan and asiago, which are better when grated. Then you have your softer cheeses like mozzarella which can be served in a caprese salad with tomatoes and basil, or melted into different dishes.
Click here for 10 recipe ideas for mozzarella.
Often times complexity is built into the meal by combining different cheeses. A typical 3-cheese Italian blend will include Parmesan, Asiago and Romano.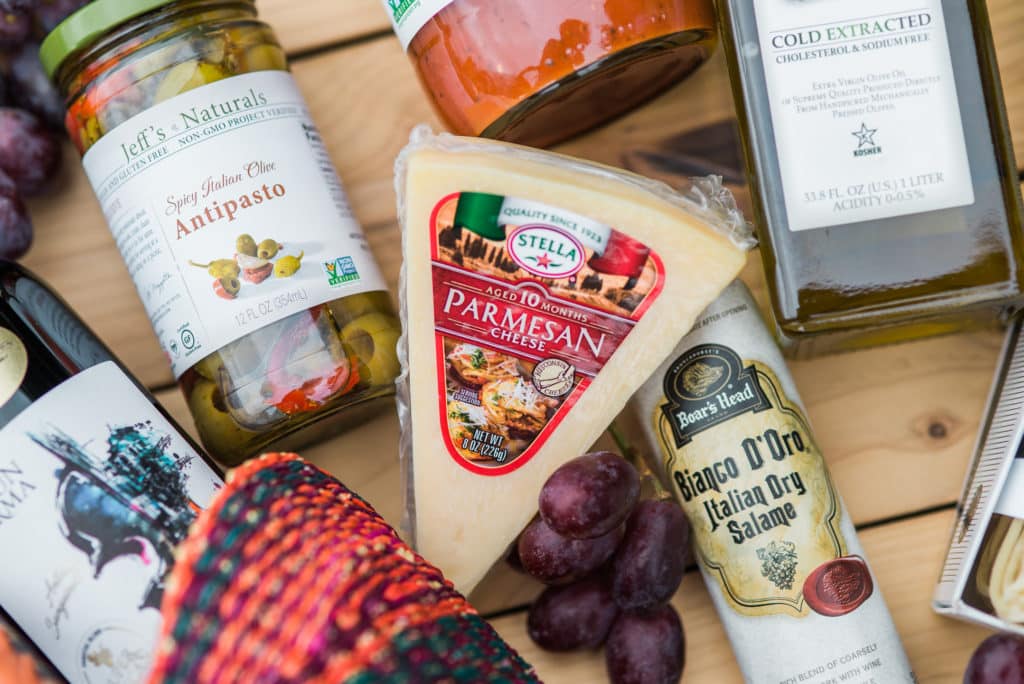 Meats
Meats like beef and chicken are often cooked first then added into the sauce, however with a gift basket, a dried meat selection would work better, and in a lot of ways would compliment the Italian theme.
Dried meats like prosciutto and pancetta came from a long tradition of curing meats out of necessity. Long before electric refrigeration, curing meat was a to preserve it for use long after it's initial harvest.
Click for a guide to Italian meats.
Pick up a nice selection of salami, along with a box of crackers, or selection of Italian bread.
Dessert
Don't forget the dessert! For many people, that's the best part of any meal. You can include a mix to make the famous and delicious Italian Tiramisu. To top it off you can add a rich powdered cappuccino mix, or dark roast coffee.
If the recipient is not a coffee fan, opt for a decadent bar of chocolate to enjoy after dinner, instead.

You Can't go Wrong with these Italian Themed Gift Basket Ideas
What do you think of this list of Italian themed gift basket ideas? They sound pretty good, don't they? When you buy the items for your basket, go ahead and set some aside for yourself!
Don't have time to pick out the items for your gift basket? No worries, we've done all the work for you! Check out our fantastic gift baskets today. We even deliver!