Winter is rolling in quickly which means it's time to roundup a long list of your favorite soup recipes to keep you warm and cozy this cold season. Nothing beats a hot bowl of your favorite soup when the weather is cold and grey, especially in the Pacific Northwest! What better way than to plan ahead for the new season with fresh winter produce and the ultimate winter soup recipe lineup?!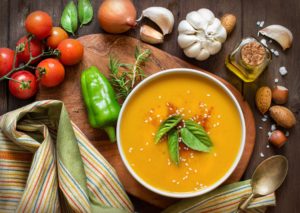 Tacoma Boys' Favorite Soup
Okay, to be honest, Tacoma Boys doesn't have a favorite soup – it's too difficult to decide on just one! What we do know is that your local Tacoma Boys is stocked with every soup essential you can think of. From canned goods to broth, produce, and even bacon, you're sure to be covered this winter season to whip up some of your favorite soup! 
Beans
Beans are a popular soup ingredient in various recipes – and for good reason! Legumes are packed with fiber, protein, and provide a hearty component to lighter soups. Some of Tacoma Boys' favorite legumes for soups include black beans, kidney beans, lentils, and garbanzo beans.
Br

ands

Field Day Organic
Black beans, pinto beans, ranchero chili beans, cannellini beans, kidney, and garbanzo beans.
Eden Organic
Great northern beans, kidney beans, aduki beans, pinto beans, and black beans.
Pepper Creek Farms
A great choice for dried beans vs canned. Offers more unique beans such as canary and black calypso beans!
Broth
Broth or stock is the base of most, if not all soups! Depending on what type of broth is chosen, it can add a great deal of flavor and richness to your soup. Beef broth works great for rich chili while seafood stock works great for creamy soups such as clam chowder. No matter the soup you have on your list, Tacoma Boys' broth selection is stocked, pun intended.
Pacific Foods
Organic Vegetable
Broth

Beef Bone Broth

Chicken Bone Broth

Turkey Broth

Chicken & Beef Broth
Epic Artisanal
Bison Apple Cider Bone Broth

Turkey Cranberry Sage Bone Broth

Homestyle Savory Chicken Bone Broth
Ocean's Halo
No Chicken Vegan Broth

Ramen Broth
Other Soup Essentials
Depending on the type of soup you're making, there are many different options for add-ins. Hempler's Original Center Cut Bacon works great for potato soup while Smith Brother's Whole Milk is a high quality option for a creamy based chowder. The possibilities are endless for winter soups!
Follow Your Heart Dairy-Free Sour Cream

to top a vegan chili

Niman Ranch Applewood Smoked Uncured Ham

for a ham & potato soup

Tacoma Boys Carolina Reaper Salsa

for a spicy tortilla soup

Thai Kitchen Coconut Milk

for a creamy curry soup

Manischewitz Medium Egg Noodles for classic chicken noodle soup
Muir Glen Organic Diced Tomatoes

for a hearty lasagna soup

Winter Produce
As always, produce is a must for any dish, including soup! Using produce in soup is a great way to hide leafy greens that may tend to scare some away when found in its purest form. Adding loads of fresh produce to soup recipes is a sure way to get nutrients that are needed for everyday life. Afterall, keeping your immune system in check during the cold season is essential. Some of Tacoma Boys' favorite winter produce includes: Kabocha squash, carrots, pumpkin, parsnips, brussels sprouts, and swiss chard!
Winter Soup Recipes 
What's on the menu for your winter soup recipe list?! If you don't have any, Tacoma Boys has you covered, as always. We've gathered a list of soup recipes that are guaranteed to be soup-er.
Quick & Easy Roasted Tomato Basil Soup
This tomato soup uses Tacoma Boys' delicious fresh grape tomatoes, fresh basil, garlic, herbs, and sweet onion for the ultimate comfort food dish. 
Ingredients
1 sweet onion, roughly chopped

2 cups fresh grape tomatoes

8 garlic cloves

10 fresh basil leaves

1 tbsp olive oil

1 tsp salt

½ tsp dried oregano

½ tsp pepper

1/4 tsp red pepper flakes

2 cups Pacific Foods vegetable broth
Directions
Preheat the oven to 375 degrees fahrenheit while you prep. 

Place the onion on the bottom of a 9×9 baking dish. Add the tomatoes, garlic, basil, olive oil, salt, oregano, pepper, and red pepper flakes.

Bake for 30 minutes until the tomatoes are blistered and the onions are cooked through.

Pour everything into a high speed blender and blend until completely smooth.

Pour back into a saucepan and add the vegetable broth. Cook over medium heat for about 5-10 minutes until hot. Season with more salt and pepper as needed.
Pre-Made Soup from Tacoma Boys
If making soup from scratch isn't your thing, Tacoma Boys carries pre-made soup options ranging from mixes to canned soup. This is a great option to have on hand when you're in need of throwing together something quick and easy for dinner! 
Rao's Sausage & Potato Soup

Namaste Gluten Free Hearty Vegetable Soup

Bar Harbor Clam Chowder

Safe Harvest Dairy Free Shrimp Bisque

Bear Creek Vegetable Beef Soup Mix

Rill Foods Tekoa Split Pea Soup Mix

Anderson House Chicken Noodle Soup Mix
Swing By! 
Hop into the Tacoma Boys closest to you to grab all of the ingredients to satisfy your soup needs! If you have any questions, don't hesitate to grab one of Tacoma Boys' very own to guide you through the store to find what you're looking for. 
Don't forget to shop early this season for Christmas Trees! TREES ARE SELLING FAST. Click here for more info on Tacoma Boys' Christmas Trees this year!