It can be a common misconception that dairy products are bad for you – but when it comes to fresh and local dairy, these products pack a punch when we're talking about nutrients. From bone health to immune health, fresh and local dairy contains various vitamins and minerals that aid in overall good health. There are countless ways to incorporate some of Tacoma Boys' favorite fresh and local dairy products into yours and your family's lifestyle. 
The Benefits of Fresh and Local Dairy
Including fresh and local dairy products on your shopping list is a great way to add a good source of calcium and protein to daily meals. Local and organic dairy has proven to be more nutritious than traditional dairy products sold on the market. Choosing to buy local and organic dairy is a healthier option so you're able to avoid any unwanted chemicals, added hormones, or unnecessary pesticides.
It's important to note that dairy may not be for everyone. If you or someone you know has an allergy or an intolerance to dairy, Tacoma Boys carries a great selection of non-dairy milks and creamers that are bound to give you the same satisfaction! This is a great alternative for dairy-lovers who are unable to consume dairy because they are unable to digest the lactose found in dairy products. These non-dairy products also work great for those who choose not to include dairy in their diets due to other external factors. 
Tacoma Boys' Favorite Local Dairy Products
Smith Brothers Farms
Smith Brothers Farms has been around since 1920 and has provided 100 years of fresh and local dairy to the Pacific Northwest. They are family owned and operated and provide truly some of the best dairy products around. 
Our Favorite Smith Brothers Products
Organic Whole & 2% Milk

Chocolate Reduced Fat Milk – yum

Half & Half

Heavy Whipping Cream

Eggnog

Cultured Buttermilk

Cottage Cheese

Sour Cream
Grace Harbor Farms
Grace Harbor Farms is another family owned and operated farm since 1999. All of the products are made without gums and artificial flavors, and come from organic-style farming where the animals have pasture access. This allows for healthier animals resulting in healthier dairy products!
Tacoma Boys' Favorite Grace Harbor Farms Products
Kefir is a fermented drink that contains high levels of probiotics. These probiotics are beneficial to gut health which in return helps with a healthy immune system. Kefir contains a variety of vitamins, minerals, and antibacterial properties. Additionally, as with many dairy products, kefir can aid in overall bone health, making it a great product for kids as they grow!
Cooking With Dairy
Consuming a meal with nutrient-dense local dairy is a great way to start your day! From homemade pancakes to overnight oats followed by a soup lunch and pasta dinner, dairy is here and ready for it all!
Breakfast
Lunch & Dinner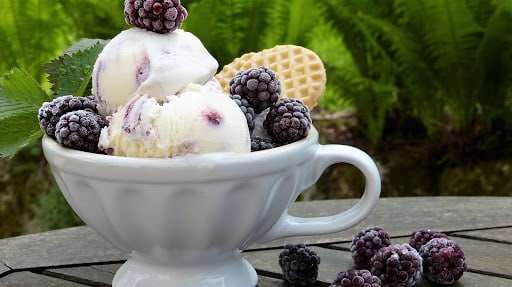 Dessert – Because we all need a treat sometimes!
Tacoma Boys' Iced Vanilla Mocha
Ingredients
2 shots espresso – cooled
6 oz Smith Brothers Chocolate Milk
1/4 tsp vanilla extract
Ice
Homemade whipped cream – optional
Directions
Fill your serving glass up with ice.
In a separate cup, quickly whisk together the chocolate milk and vanilla extract.
Pour the cooled espresso into your serving glass over ice, and follow with the chocolate milk mixture.
Give it a good stir and garnish with whipped cream if desired.
Tacoma Boys' Blueberry Kefir Smoothie
Ingredients
1 cup wild frozen blueberries
1 cup fresh spinach
1/2 banana
1/2 cup plain or vanilla kefir
1/4 cup pure pineapple juice
1/4 cup water or coconut water
Directions
Combine all ingredients into a high speed blender.
Blend until completely smooth.
Serve & enjoy!
Swing On In!
Swing by your local Tacoma Boys to check out the dairy selection to whip up one of these delicious meals or treats. If you have any questions, please reach out to one of our helpers and we will guide you in the right direction!