Tacoma Boys' Guide to Valentines Flowers & Gifts
Comments Off

on Tacoma Boys' Guide to Valentines Flowers & Gifts
A tradition for many couples, Valentine's flowers are a fresh and beautiful way to show your love. Seasonal flowers and roses have a lovely aroma and remind you of the appreciation your loved one feels for you. It's one of those gifts that shows thoughtfulness and marks special occasions— Or you can even give living plants as an alternative to fresh cut local flowers! In addition to plants and flowers, gifts like specialty food items, chocolate, and wine are enjoyable and can help you express your love for others.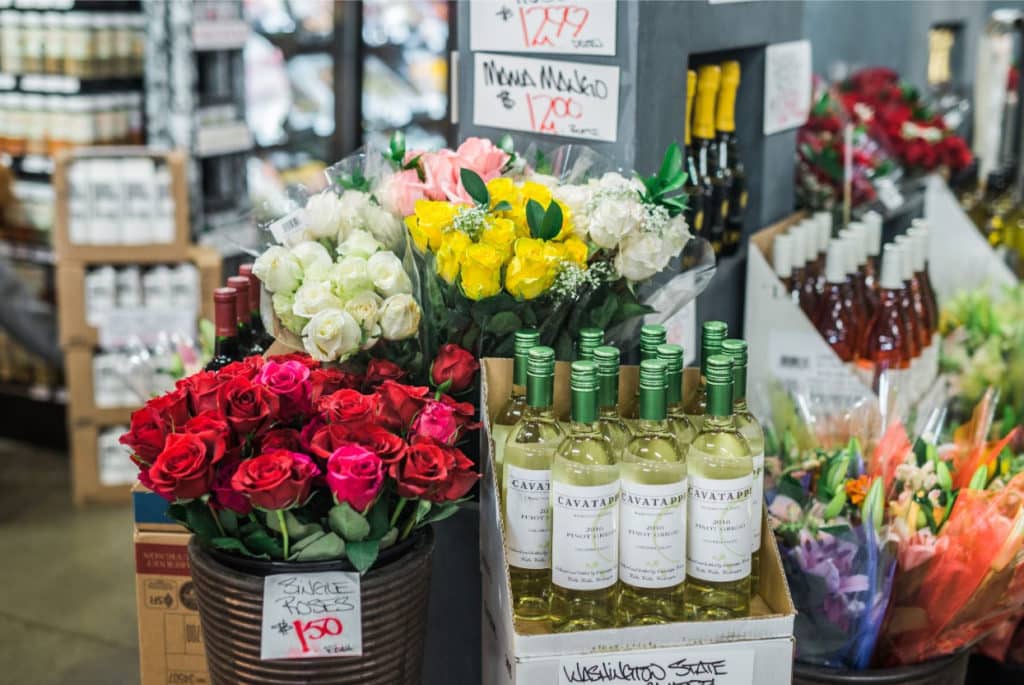 Valentine's Flowers and Plants
Tacoma Boy's selection of fresh cut local Valentine's flowers are a great gift to give that's easy to grab alongside your dinner groceries. Although dinner for the holiday is common, Valentine's flowers last longer and act as a symbol of love. No matter what you do to show your appreciation for others, it's the thought that counts: Flower bouquets are definitely special to many, especially when they're local and grown and arranged with careful attention to detail.
From roses, to tulips, to lilies, and mixed bouquets, flowers are usually fragrant and bound to light up any room with a gorgeous pop of color. In addition to bunches of roses in various colors, Tacoma Boys offers a variety of other fresh cut local flower bouquets to give. You will always find several bouquet arrangements to purchase with different flowers and embellishments. Or, grab a potted flowering plant for your loved one that will last through the season!
Living plants, in addition to fresh cut Valentine's flowers, are another great gift to give on Valentine's Day and stay alive longer. If they like to garden, help them get a head start on the spring season with a gift from our selection of annuals and perennials. From smaller houseplants, to hanging baskets, to simple greenery, or flowering plants, there's a plant for everyone to appreciate.
Specialty Gifts at Tacoma Boys
While Valentine's flowers are always special, other specialty gifts like living plants and unique food products are great for Valentine's Day. Grab one of Tacoma Boys' ceramic or concrete pots to artfully present your gift of a flowering plant or houseplant. You can also shop for specialty food like artisan pastas, chocolate, local wine, and more. For the cheese lover in your life, grab some fancy flavored cheese!
Other specialty gifts at Tacoma Boys for Valentine's Day can include:
Edmond Thery Sparkling Brut Chardonnay
The Vashon Island Coffee Roasterie Heirloom Coffee (local)
Silagy Sauce Roasted Habanero Sauce (local)
Owl's Brew Chai Pina Colada Craft Mixer
Hot Cakes Vegan Sea Salt Caramel Sauce (local)
If you're one to cook, show your love through a homemade Valentine's dinner made of specialty items and local produce: Like fresh seafood or prime cuts of your favorite local steak from Tacoma Boys' butcher counter, seasonal produce like red potatoes, and sauces like Borgo de Medici Artichoke & Garlic. For more ideas for recipes to make as part of a special dinner to celebrate, check out our recipes here!
Gifts for Valentines Day
Shopping for gifts for Valentine's Day is convenient with specialty food items and treats. Tacoma Boys also offers beautiful gift baskets that are made to order. Gift baskets are a great way to show your love and appreciation with fun food and ingredients to enjoy and experiment with in the kitchen! Your local Tacoma Boys can make gift baskets for many occasions and budgets. Or, grab a few bottles of different wines that you and your loved ones will appreciate— It's always nice to try something new and you may even find a new favorite!
Homemade Gifts
While it's easy to grab gifts like specialty food items and flowers, homemade gifts for Valentine's Day can make the holiday extra special. Even if it's as simple as a homemade card. For those who have fun making art, paint a painting or sketch a drawing for your love. Or bake yummy treats for your partner, friends, or family or cook their favorite meal. This effort to show your appreciation shows thoughtfulness and love. With kids and family, it can even be extra fun to make homemade gifts like crafts or baked goods together! Time to bond is of course an important part of celebrating friends and family on Valentine's Day.

When you stop by Tacoma Boys for Valentine's Day groceries, check out a few specialty gift items, too. A selection of fresh produce, prepared meats, and specialty food items means you can get ready for a delicious meal and celebration. Browse our fresh cut roses and other flowers and maybe some special chocolate to give to your loved one. To stay up to date on insider deals and specials, sign up for Tacoma Boys' text list. Just text (253) 246-1661 to tell Paul you want to be on the list!