Tacoma Boy's Guide to Super Bowl Party Snacks
Comments Off

on Tacoma Boy's Guide to Super Bowl Party Snacks
It's just about that time of year to get ready for the big game with super bowl party snacks! Super bowl parties may not be in full force yet, but it's helpful to plan ahead with how you want to celebrate. Some people get really excited for the football action, while others might just be in it for the snacks! It's known as a day to make appetizers and small bites to munch on while hanging out with friends and watching the super bowl. And if you're not one for sports, make the gathering extra exciting with tasty super bowl party snacks to share.
Super Bowl Party Snacks
Some common super bowl party snacks might include appetizers like chips and dips, pigs in a blanket, jalapeno poppers, or potato skins. When it comes to chips and dip, there are many different dips to choose from. To get started, check out our recipe for Jalapeno Popper Dip! Or browse our other dip recipes like Buffalo Chicken or Beer Cheese Dip here. Tacoma Boys also has a variety of chips and dips available to purchase like our own salsas, quesos, bean dips, and more. Other ideas for super bowl party snacks can include:
And much more! Get creative beyond this with whatever you have in your fridge. Or, try a spin on a classic recipe you know is a crowd pleaser. Easy super bowl party snacks can be as simple as veggies and dip— Or, make a whole grazing board with charcuterie like meats, cheeses, crackers, nuts, and more. For a guide on how to make a charcuterie board, go to our blog about it here. Then, swing on by Tacoma Boys for all the specialty items you need, like Sopressata Salami cut fresh at the butcher counter or Yan Black Fig Fruit Spread.
Easy Game Day Recipes
While the NFL gears up for the super bowl on February 13, you can get ready with easy but tasty game day recipes! Tacoma Boys can help you get prepared with grab and go snacks as well as a variety of ingredients to cook with. Fresh seasonal produce, specialty food items, and a stocked butcher counter means you can shop for it all at once. And when it comes to game day recipes, it's nice to have a variety of snacks and options to choose from. The best super bowl recipes tend to be finger foods and quick bites that are easy to handle.
Potluck-style foods that can be served in individual plates are good, too. Then, everyone can take a little bit from everything they like! Make entertaining extra easy this year when you ask each guest to bring an appetizer or snack. This also ensures even the picky eaters have something to enjoy while watching the game.
And of course, it can be fun to get creative with sports-themed snacks like football-shaped foods! Another super bowl recipe that's easy to make and fun to serve is a homemade cheeseball, shaped into a football. Just start with your favorite spreadable cheese like Montchevre Garlic & Herb Goat Cheese. For a sweet treat to finish off the day, our Homemade Football Peanut Butter Cups are surprisingly easy to put together.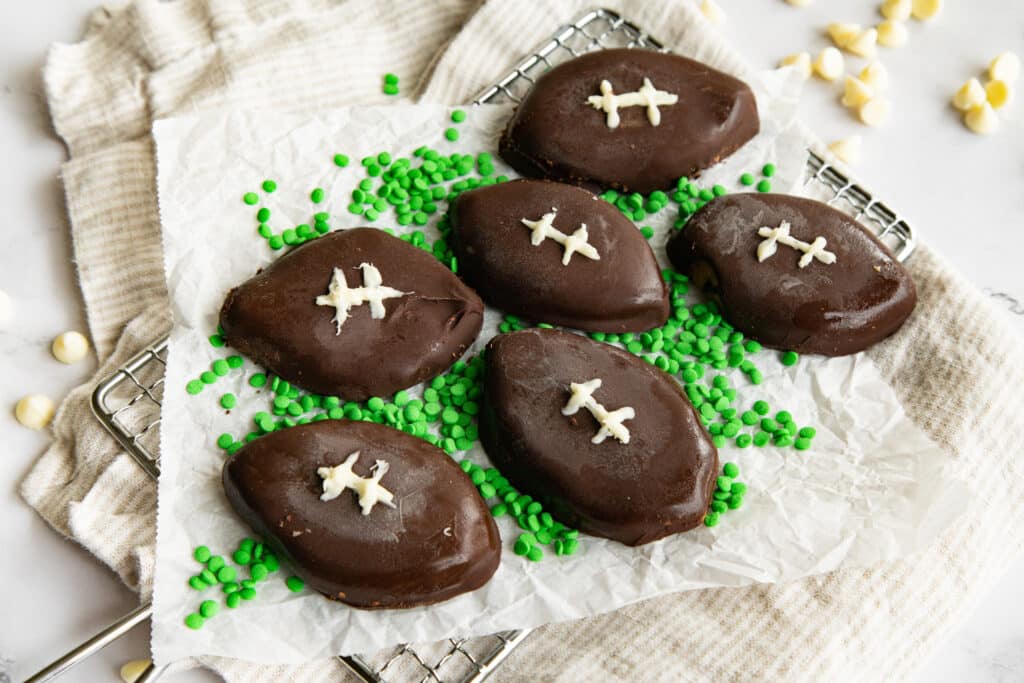 Healthier Options
Delicious game day recipes can easily be healthy, too! If you're looking for something lighter than the traditional super bowl snacks that tend to be heavy on the meat and cheese, try some of these snacks:
Fresh chopped carrot and cucumber with Lily's Classic Hummus or Wholly Guacamole.
Pecan Stuffed Mushrooms by the Modern Proper.
Caprese tomato bites with fresh basil, balsamic vinegar, and mozzarella.
Avocado Corn Salsa by Carlsbad Cravings.
Super Bowl Hosting Tips
Getting ready for super bowl hosting mostly means preparing snacks ahead of time. Entertaining can be fun with different foods and activities to enjoy. When it comes to a super bowl party, the main event is already planned! Just make sure you have your equipment like TVs ready to go and recipes on hand. Check out our blog here for general tips about hosting with appetizers and food.

And if you're in need of last-minute snacks or meals to serve, stop by Tacoma Boys! Quick foods like our take and bake pizza or frozen appetizers can help you get ready to host in just a few minutes. These are especially helpful as something more substantial to serve at halftime after hours of super bowl hosting with snacks. To stay up to date on insider deals and specials, sign up for Tacoma Boys' text list. Just text (253) 246-1661 to tell Paul you want to be on the list!