Enjoying The Pacific Northwest's Best Summer Fruit
Comments Off

on Enjoying The Pacific Northwest's Best Summer Fruit
Here in the Pacific Northwest, there is an abundance of summer fruit harvested all season long. As we move through June, July, and August, different fruits will be ready for harvest. Early fruits like cherries are ready now, while melons or nectarines take just a bit more time. Deliciously sweet and refreshing, summer fruit thrives in many parts of Washington. And it's so easy to eat with little preparation and minimal or no cooking required!
Seasonal Summer Fruit
Many people look forward to summer fruit all year long! There's something about the sun-ripened, juicy produce that's just hard to resist. While Washington is famous for its autumn apples, there are several varieties of other fruits to enjoy. When shopping locally and eating seasonal, it's great to have the option to enjoy fresh fruit. And there are so many ways to eat it! Think fruit salad, charcuterie boards, homemade breakfast buffets, and much more.
While vegetable gardens are a bit more common, growing summer fruit in the Pacific Northwest is fun for many gardeners. Some varieties of fruit, like melons, may be a bit trickier to take care of. Meanwhile, strawberries grow like weeds in some backyards! If you're interested in growing fruit, this guide by Swanson's Nursery may help you get started. By next season, your garden will be overflowing with sweet summer fruit!
Pacific Northwest Local Produce
Tacoma Boys boasts a wide selection of local produce throughout every season. But during the summer, you'll find a variety of even more locally grown produce. Local, seasonal fruits and vegetables are fresh, ripe, and reliably tasty. And buying local produce supports your community and Pacific Northwest farmers! Local summer fruit here in the Pacific Northwest includes:
Berries
Raspberries, strawberries, and blueberries all thrive when grown in Washington. Sometimes, you can find local boysenberries, marionberries, loganberries, and huckleberries. There are several different varieties of berries that grow here— You've probably even seen salmonberries if you've ever ventured for a hike through the woods in the Pacific Northwest!
Stone Fruit
Nectarines, peaches, and apricots are a late summer harvest. Plums and pluots are stone fruits that grow in the Pacific Northwest, too— You might even have a plum tree in your own backyard or neighborhood! And did you know that cherries are not berries, but stone fruits? Rainier and bing cherries are very popular early in Washington summers.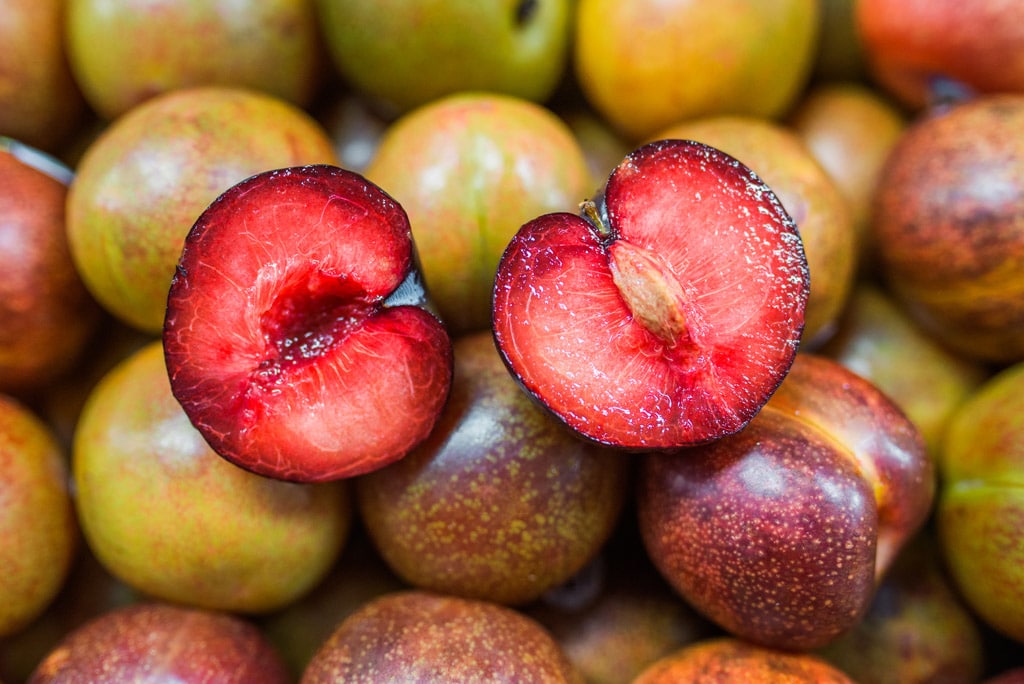 Melons 
Melons have a short growing period later in the summer, like stone fruits. They need hot, dry weather to thrive, like that in Eastern Washington. This includes cantaloupe, honeydew, and watermelon.
Rhubarb
Rhubarb is different from most other Pacific Northwest fruits because it's quite tart and not eaten raw. The stalky plant is usually cooked down with other fruits, like strawberries or raspberries. If you want to cook with local produce like rhubarb, try our recipe for Apple Rhubarb Crisp!
Easy Fruit Recipes
When you don't feel like cooking in the summer heat, easy fruit recipes are helpful to rely on. While you can certainly just cut the fruit and eat it raw, it's fun to get creative! Fruit can be incorporated into sweet and savory dishes. It can also be grilled or otherwise cooked before enjoying. These easy fruit recipes can work for breakfast, lunch, snacks, and dessert. During the summer, it's both convenient and hydrating to snack on fresh fruit: This makes it easy and tasty to eat healthy and consume enough servings of fruits and vegetables.
Breakfast
Oatmeal bowl topped with fresh strawberries, raspberries, and apples. Or, Zoi Honey Greek Yogurt parfait with fresh fruit and granola.
Lunch
Try a peach or nectarine in this Summer Peach Salad by Ambitious Kitchen. Or, throw together some nectarine blueberry toasties on sourdough bread on top of President Brie Cheese and fresh basil.
Snack or Appetizer
Bites of fresh fruit alongside just about any Boars Head Cheese is a great mini-charcuterie style snack! Or, grill up some fresh watermelon and serve it with fresh mint and Stella Crumbled Feta Cheese for something a little different.
Dessert
Making a dessert out of fresh fruit, like berries or peaches, is popular because of the fruit's natural sweetness. A quick and easy fruit recipe for dessert can be as simple as grilled peaches topped with Acme Valley Vanilla Bean Ice Cream. You could also try a homemade berry sorbet, like this recipe by Clean Food Crush!
Now that you're ready to start snacking on the Pacific Northwest's best summer fruit, check out the produce section at Tacoma Boys! We have a wide variety and selection of ripe local fruit and all the specialty food ingredients to go along with it. Also visit the weekly specials page regularly to see what's new and fresh now. And to stay up to date on insider deals and specials, sign up for Tacoma Boys' text list. Just text (253) 246-1661 to tell Paul you want to be on the list!