Shopping for Spring Flowers at Tacoma Boys
Comments Off

on Shopping for Spring Flowers at Tacoma Boys
Dress up your home and office with spring flowers to celebrate the start of the season! From hanging baskets, to flowering plants, fresh cut stems, and more. Tacoma Boys always has a rotating selection of plants and flowers to choose from. And when the warmer seasons come around, there are even more seasonal flowers too. Annuals and perennials in many varieties are prearranged or sold separately for your convenience.
Spring Flowers to Appreciate
Your windowsill, dining room table, and front porch can soon be adorned with beautiful spring flowers! These perennials are coming back into bloom and grow strong and tall specifically this time of year. Plus, ceramic pots and containers are perfect for decorating these flowers and mostly plants around your yard and home. Spring flowers are a nice view to welcome your guests or feel refreshed with your own decor in every room you step in. Surround yourself with bowls or vases of flowers all over! For shorter stems and blooms from bushes, trim the stem just below the bloom and place in a small decorative bowl filled with water. You can stop by Tacoma Boys to browse spring flowers and flowering plants such as these:
Geranium
Primroses
Tulips
Daffodils
Daisies
Local Pacific Northwest Flowers
It's still early in the year and there are plenty of other types of flowers to look forward to as we progress further into spring and summer. Tacoma Boys sources from regional and local farms both big and small. The local purveyors help connect you with the lush environment we have here in the Pacific Northwest. Plus, it supports your local economy and growing businesses throughout the region!
How to Decorate with Flowers
The first day of spring is March 20th and it's time to refresh or learn how to decorate with flowers! This includes cut stems as well as flowering plants indoors and outdoors. Surrounding yourself with these beautiful plants is a great way to appreciate the change in season. Look forward to even more blooms in the next few months and take the time to enjoy it all! If you're not sure how to decorate with flowers, don't fret. There is no right or wrong way to style flowers as long as you like the way they look. You could even add greenery like leaves even from your own yard for a different look and change of color.
Potted plants and hanging baskets are great because they are already ready to go just for you! Just be sure to keep an eye on them for regular watering and adequate sunlight. On the other hand, fresh cut stems are nice because they'll last a good week or so simply sitting in a vase filled with water. Make your own arrangements with different varieties of single flowers. Or, choose a bouquet from Tacoma Boys that will satisfy you without an extra thought.
If you have an abundance of flowers and are looking to do something special with those blooms, try decorating with dried flowers. Dried plants including stems and other greenery are common in decorating. Petals can be pressed inside of books or stems can be hung upside down to dry.
For more information on how to decorate with flowers, check out this guide by Better Homes & Gardens here.
Spring Gardening
Seeds, starts, and plants are in full bloom at Tacoma Boys! If you're one to get creative outdoors with your plants, spring gardening is coming up. Browse a variety of trusted quality plant starters, seeds, and supplies needed like potting soil and ceramic and concrete pots. Read more about spring gardening with beautiful flowers and plants in our blog all about it here. This includes tips and tricks for DIY gardening as well as ideas to prep your garden for the summer months, too.
Blooming Plants in March and April
The frost has just thawed and the blooming plants are on their way! While they're may not be many flowers popping up yet, they're just around the corner. Specifically, there are plenty of fragrant blooming plants to be enjoyed as that sweet smell wafts through your home or garden. This includes hyacinth, tulips, lilacs, winter honeysuckle, and more.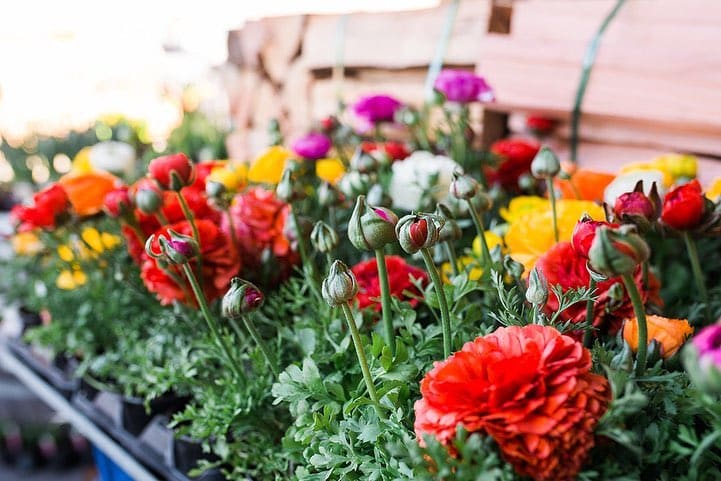 This is a nice time to step outside regularly for leisurely strolls in your neighborhood or local park. Point Defiance Park is one great place to get your body moving while enjoying the scents and views of blooming plants! The gardens full of dahlias and later, roses, are gorgeous and relaxing. Taking the time to stop and smell the roses – literally – helps connect you to the earth beneath your feet and the beautiful environment we live in. And that's another reason to decorate with flowers at home, too!
All locations of Tacoma Boys and H&L produce have plenty of flowers and plants to choose from. To stay up to date on insider deals and specials, sign up for Tacoma Boys' text list. Just text (253) 246-1661 to tell Paul you want to be on the list!