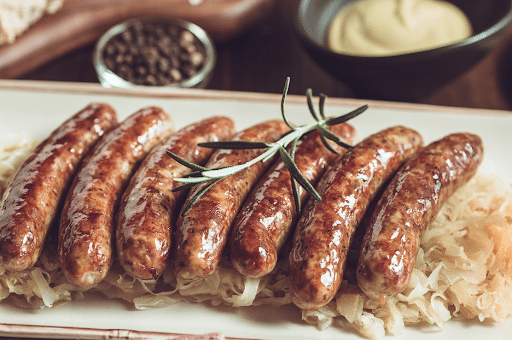 Oktoberfest – Wurst, Beer and Cabbage
Comments Off

on Oktoberfest – Wurst, Beer and Cabbage
At Tacoma Boys we enjoy the traditions of great food with family and friends.  That's why we have a one of the largest selections of wursts and sausages in Pierce County, just for your Oktoberfest needs.
Age Old Traditions and Choices
Oktoberfest is not an ancient celebration. It reaches back to only 1810 and has nothing to do with autumn rituals, as many Americans tend to believe. It is based on the celebration of the marriage of Bavaria's Crown Prince Ludwig and Princess Therese of Saxony-Hildburghausen. The wedding was on the 12th of October and like any good party two hundred years ago, it lasted for several days of drinking and feasting. Like all good parties or celebrations, people want to keep them around and enjoy it again and again, year after year. So, we now have a celebration that involves good German food, beer and lots of fun!
German food offers great recipes for Sauerbraten (Roast Beef Stew), Schweinshaxe (Pork Knuckle), Rinderroulade (Beef Roll), Bratwurst (Grilled Sausage), Kartoffelpuffer (Potato Pancake), Kartoffelkloesse (Potato Dumplings), Sauerkraut (Fermented Cabbage), Spätzle (Egg Noodles), Schweineschnitzel (Fried Pork chops), and  Wiener Schnitzel (Veal Cutlet). We can certainly supply nearly every ingredient you'll need for those varieties! But for those of you who want to enjoy the most popular Oktoberfest selections, Tacoma Boys and H&L Produce has some of the best Bratwurst (Sausage), and Sauerkraut (Fermented Cabbage).
There are usually one or two community gatherings in Pierce County to celebrate this . . . well, it's not a holiday . . . and it's not really a celebration of anything more than a wedding.  But it is a way for people to get together, dance a polka or two, have some German beer and wine, and eat sausage get-together.
 Actually, you don't even have to drink beer or wine to enjoy sausage and cabbage. Fresh Washington apple cider washes down a good frankfurter or knockwurst as well as pale ale. We have many non-alcoholic options and pride ourselves on offering a huge selection of wine, teas, juices, and other amazing drinks as well.
For Better or Wurst
When you're looking for a meat shop that really knows their meats, you can find it with us!  We carry a wide selection of Boar's Head Brand smoked sausages and Aidells sausages of many different types.
 In addition we have lamb sausage, and potato sausage, and this is just the tip of the sausage ice berg. In our butcher shop we have traditional bratwurst, and frankfurters as well as breakfast links. Choose what you like or experiment with different selections. This is a great way to share and review with your friends. And to go along with the wurst, you might try our pretzel buns!  Yum!
Oktoberfest Main Dish
Preparations are fairly easy for an Oktoberfest main dish of bratwurst and sauerkraut. Start by baking the potatoes in an oven. You want them past tender, which means over-cooking so the skins are a little crispy. 
Once they are done, put them in a bowl and sprinkle with coarse salt. In a cast iron frying pan add a tablespoon of olive oil and place on the burner at medium heat. Then place the wursts into the pan. Turn them as they develop color. When they are finished cooking remove them. Add the butter and the sliced onion. When the onions are near done, add the brown sugar. Carefully pour in the wine and vinegar. Add sauerkraut along with salt and pepper. When the sauerkraut gets some color toss in the baked potatoes, and caraway seeds. Mix and then place the sausages on top and serve in the frying pan.
1 medium onion, sliced thin

1 tablespoon butter

1 tablespoon caraway seeds

½ cup dry white wine

1 cup chicken stock

1 tablespoon brown sugar

1 tablespoon white wine vinegar

Coarse salt and freshly ground pepper to taste

2 bratwurst sausages per person

1 or 2 small red potatoes per person
Serve with a side dish like red cabbage at room temperature. We have both Eden Sauerkraut, and Kuhne Red Cabbage. Because not everyone likes the same heat and preparations, we suggest several jars of mustard to choose from: Cranberry Horseradish Sauce by Stonewall Kitchen, Löwensenf Extra from Düsseldorf, and Inglehoffer Sweet Hot with Honey.
Traditional German Side Dish
Another side dish is warm German potato salad:
2 pounds Yukon gold potatoes

1/2 pound thick-cut bacon

3/4 cup finely chopped onion

1/3 cup white vinegar

1/4 cup sugar

1 tablespoon Dijon mustard

1 teaspoon salt

2 tablespoons minced chives
Peel and boil the potatoes. Be sure to salt the water. When the potatoes are tender, drain them and slice into 1/4-inch thick rounds. We have several choices of bacon in our butcher shop – hickory smoked, cherrywood, and applewood are some of our favorites. 
Fry the bacon in a frying pan, cast iron if possible, at medium heat. When crispy, place on paper towels to absorb excess grease. Then crumble the bacon. 
Pour off most of the fat, but save 1/4 cup of the grease. Lower the heat to medium and add the chopped onion. Fry until the onion begins turning brown. Whisk in vinegar, sugar, mustard, and salt and stir. When the contents begin to boil, add the Yukon gold potatoes and toss until coated. Top with crumbled bacon and chives. Serve warm.
Choosing a German Wine
German wine goes back to grape vineyards of the Roman era. The most famous German wine is mostly produced along the Rhine and its tributaries. With Oktoberfest sausages and such, white wines are ideal, but they don't have to be German wines. There are great white wines all around the world and there are many from California as well as Washington. 
Here are some wine suggestions from our shelves:
Riesling is a white grape from the Rhine region. It has a flowery aroma. Riesling produces a dry, semi-sweet/sweet white wines.
Gewürztraminer is an aromatic white wine grape that does well in cooler climates.
Sauvignon Blanc is a white wine with green and herbaceous flavors. Sauvignon Blanc means "Wild White." 
Urban Riesling – German wine from Mosel

Snoqualmie Riesling – Washington wine

Fess Parker Riesling – California wine

Sun Garden Gewürztraminer – German wine

Château St. Michelle Gewürztraminer – Washington wine

Josh – Sauvignon Blanc – North coast California wine

Beer Suggestions
The Oktoberfest meal goes well with either wine or beer. Our Pacific Northwest beer selections are ideal for a homemade wurst meal. 
Deschutes Brewing from Bend, Oregon has a solid ten beer options plus seasonal brews. Elysian Brewing from Seattle's Capitol Hill has an excellent India Pale Ale, plus seasonal varieties. Since 2009 Fremont Brewery (Seattle) is a family owned artisan beer creator.  And the ever popular Holy Mountain, that has limited production. This table beer has lower alcohol content, but great flavor!
We have these brands as well as other local, American and foreign brews that pair well with all of your Oktoberfest meals.
Dessert and a Toast
For dessert, you might try a streusel coffee cake. You can use any cake mix that catches your fancy. Yellow, white, spice, it doesn't matter. What matters is the streusel! 
Streusel is a topping of flour, butter, sugar and cinnamon, if desired. To prepare, put the streusel between layers of batter and swirl it in or just put it on top. Your choice.  It's a great way to top off a great meal with friends and family!
Before, during, or after your Oktoberfest celebration, wish everyone " Gemütlichkeit" (gu-moot-lish-kite). This is a German wish than involves an atmosphere of comfort, friendship, peace, and acceptance. That's what life, and Oktoberfest is all about.  And at Tacoma Boys and H&L Produce, we work hard to provide the same kind of friendly, comfortable atmosphere you've come to expect over the years. Stop by today and ask one of our friendly meat department team members about all of our Oktoberfest selections.  
And when you make your own Oktoberfest meal, tag us in a photo with the only things we don't provide, your accordion and lederhosen!