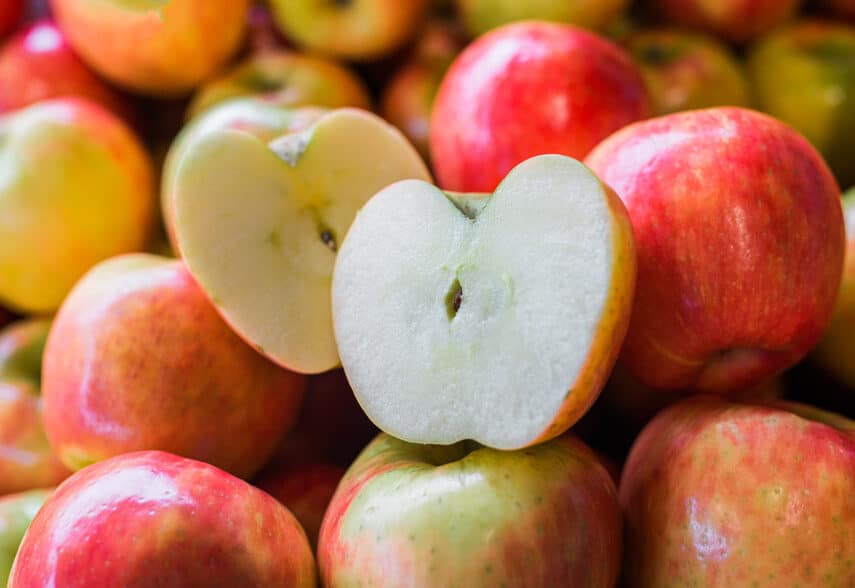 5 Ways to Celebrate National Apple Month
Comments Off

on 5 Ways to Celebrate National Apple Month
Did you know that October is National Apple Month?! The humble apple is great for snacking — and can be used in so many recipes. Dishes can be sweet, savory, or anywhere in between. Crunchy, sweet, and tart, apples become nice and soft when cooked or baked with. And apples are known for being nutritious — They're full of fiber, vitamins, plus carbohydrates and a low amount of sugar. Here in Washington, we're all about apples! Many varieties of the state fruit grow in orchards far and wide. And as we settle into autumn and the harvest season for apples, it's time to celebrate the season's favorite fruit.
October is National Apple Month
National Apple Month fits perfectly into Washington's harvest season! It's a great time to try a variety of fresh apples and celebrate the fruit. Tacoma Boys offers a variety of apples and apple products, from Fisher Northwest Apple Cake Baking Mix, to Eden Organic Apple Butter Spread, Santa Cruz Organic Apple Sauce, and much more. This month, celebrate apples a few different ways:
Apple picking: Some local apple orchards offer apple picking to the public. Bring the family and experience picking ripe apples straight from the trees they grow on!
Cider making: Cider pressing makes apples into juice. Like apple picking, you can find some cider pressing events or spaces near you during the harvest season.
Taste test of apples: Grab a few different varieties of apples and slice them up. Try a taste test to compare the flavors and you may even find a new favorite!
Sweet apple recipes: Baking sweet recipes with apples is a go-to for many since they're already so sweet.
Savory apple recipes: Get creative cooking with apples in savory dishes, like braised chicken or salads.
Local Apples at Tacoma Boys
It's easy to come by local apples around here. In fact, it may be hard to find much else! The majority of the nation's apples are grown in Washington. Several varieties of apple crops grow in orchards across the state — It's common to find most of these for sale, but not all are the same. Some apples are more tart and crisp, like granny smith, while other varieties are known for being extra juicy and sweet, like the honeycrisp. Depending on how you want to eat or cook these local apples, you might prefer one over the other.
Different varieties of apples at Tacoma Boys include:
Honeycrisp
Cosmic crisp
Red delicious
Pink lady
Gala
Jazz
Ginger gold
Apple Recipes to Try
Celebrate National Apple Month by trying out new apple recipes! Apples are quite versatile and can be used in many different cuisines and types of dishes. Apple recipes can be sweet, savory, or somewhere in between — Read on for a few examples of each. If you're one to enjoy simply snacking on apples, try this tip: Squeeze some lemon juice over the sliced apples to prevent them from browning. And don't forget that you can drink your apples, too! Try Ryan's Honeycrisp Apple Cider or some hard apple cider. Tacoma Boys has a wide selection of hard apple cider, much of which is local to Washington and Oregon.
Sweet Apple Recipes
Some of the simplest apple recipes can turn out to be the most delicious! One example of this is the granola-stuffed baked apple: Core an apple of your choice and place it in a baking dish. First, mix ¼ cup Made Good Crispy Light Granola with 2 tsp melted GloryBee Organic Coconut Oil and 1 tbsp Wholesome Organic Dark Brown Sugar. Then, press the granola mixture into the center of the apple. Bake at 350 degrees Fahrenheit for 35-45 minutes or until the apple is soft and the granola is crisp. Enjoy warm with Umpqua Vanilla Ice Cream! 
Some other examples of sweet apple recipes include:
Savory Apple Recipes
Savory apple recipes are fun to experiment with — You can sometimes use apples in dishes as you would vegetables for added flavor and moisture. For one, try an apple brie prosciutto panini: Build the sandwich like you would a grilled cheese, with a layer of sliced Marin French Traditional Brie Cheese, Boar's Head Prosciutto, and sliced honeycrisp apples surrounded by buttered Seattle Sourdough Bread. Then, grill the panini in a skillet on medium heat, flipping once, until the brie is melted and the bread is crispy. 
A few more examples of savory apple recipes include:
Stop by Tacoma Boys for a variety of different apples and apple products to celebrate National Apple Month! And to stay up to date on insider deals and specials, sign up for Tacoma Boys' text list. Just text (253) 246-1661 to tell Paul you want to be on the list!