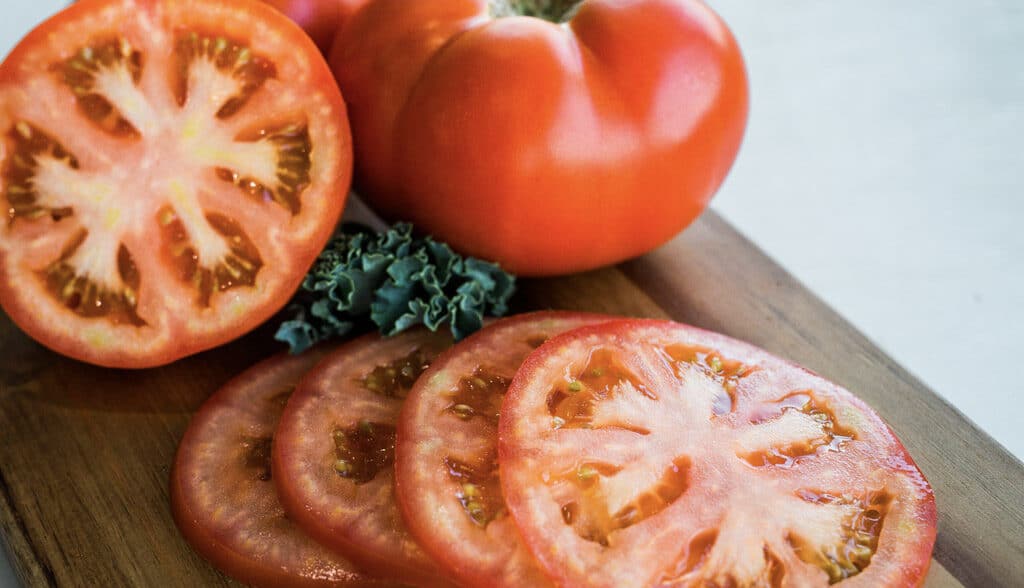 How To Cook With Late Summer Tomatoes
Comments Off

on How To Cook With Late Summer Tomatoes
Fresh and full of flavor, summer tomatoes are delicious and plentiful throughout the season. At the end of August especially, there are tons of tomatoes to enjoy in the Pacific Northwest! It's the peak time when tomato plants are ripe, gardens are overflowing, and the produce section is packed with the fruit. Some people —Especially those with vegetable gardens— find themselves with an abundant amount to eat. Good thing there are plenty of ways to cook and savor late summer tomatoes!
Ripe, Vibrant Summer Tomatoes
There are dozens of types of summer tomatoes to try, especially during this peak of the harvesting season. This includes varieties that are good for slicing, some that are best for canning, and small, cherry sized tomatoes: Like sungold tomatoes, roma, vine tomatoes, beefsteak, Oregon spring tomatoes, and varieties of heirloom.
Recipes With Tomatoes
This time of year tomatoes are so easy to enjoy on their own and are packed with flavor. One easy way to eat tomatoes when they're perfectly in season is a classic caprese salad: All you need is Bel Gioioso Sliced Fresh Mozzarella, Napa Valley Naturals Balsamic Vinegar, and some fresh basil (also a summer favorite!) to accompany your late summer tomatoes. Or, check out these recipes that savor the flavor of an abundance of tomatoes:
Tacoma Boys Roasted Feta & Cherry Tomato Pasta is another easy recipe that can start with any variety of cherry tomatoes and a block of Mt. Vikos Feta Cheese.
Pacific Northwest Local Produce
While the region always has local produce to offer, summer is the biggest harvesting period of the year. The Pacific Northwest is home to a plenty of delicious fruits and vegetables like zucchini, corn, potatoes, cherries, nectarines, and so much more! And in addition to those fresh tomatoes, these vegetables and fruits shine on their own too. Tacoma Boys is always happy to offer a selection of ripe local produce to choose from. If you're not sure what's in season and available now, take a peek at our weekly specials here.
Cooking with tomatoes and other produce from nearby helps support the local economy, too. This delicious produce varies throughout the year and now is a great time to take advantage of what Washington has to offer. As we move through late August and into fall, it's nice to take a minute to savor the last bites of the sunny days.
Preserving Tomatoes: A Few Ways
When it comes to preserving tomatoes at the end of the summer when there's a lot on hand, there are a few ways to make them last. While not everyone is familiar with the process, canning tomatoes probably comes to mind. Depending on the method, canning can be easy with some equipment and expertise required. The practice of canning fruits and vegetables dates back almost 100 years! So there are many different recipes and instructions to learn from all over the internet and in cookbooks everywhere.
Tomatoes might be canned on their own, diced or pureed, or even incorporated into sauces and salsas. But this process involves specific food safety protocols and can seem daunting to some people. If you're not interested in canning your late summer tomatoes, try one of these methods for preserving tomatoes instead:
Dry tomatoes: Slice or dice tomatoes and use a food dehydrator or oven on low heat to dry and dehydrate them. Check out this guide by Wholefully to get an idea of how it works.
Fermenting: Fermenting foods is another tried and true method with a long history. Make your own fermented ketchup or salsa or use whole or cherry tomatoes.
Pickling: Similar to fermentation, pickling tomatoes works best with whole tomatoes, especially green tomatoes. These pops of vinegar and acid are great on salads and charcuterie boards!
Freezing Tomatoes
Freezing tomatoes is probably one of the easiest and most versatile ways to preserve tomatoes next to canning. You can make your tomatoes into sauces, salsas, condiments, pastes, purees, and much more. Or, you can slice and dice the tomatoes and freeze them individually. Then, just throw them straight from the freezer to the saucepan or soup pot! Frozen in many ways, tomatoes will keep good for months if not a full year or more stored in the freezer— That's just in time for next year's crop of delicious August tomatoes!
Take a look at your local Tacoma Boys to keep up with what's in season, on sale, and available now. In addition to all that fresh summer produce, you can grab all the basics like meat and pantry staples to build your recipes. To stay up to date on insider deals and specials, sign up for Tacoma Boys' text list. Just text (253) 246-1661 to tell Paul you want to be on the list!