How to Choose Meal Prep Food at Fresh Produce Stores
Comments Off

on How to Choose Meal Prep Food at Fresh Produce Stores
Do you want to start eating healthy but think it's too time-consuming? Do you find yourself at the drive-thru window, time after time, feeling like you are too short on time to cook at home? Maybe it's time to check out your local fresh producer stores. If you really don't have time for that either, you may want to consider meal kit deliveries! After a little research, like looking into blue apron vs hello fresh as well as other kits, you might find one that's suited to your needs and provides various healthy recipes. It's a great idea for someone with a very busy schedule. If you do have some spare time in the day to head to the store, then go for it! Anyone can make some delicious, healthy recipes with only a few ingredients.
Start thinking like a chef — they don't have the time either!
To maintain their business in a healthy way, they shape menus around what's in season. They find ways to maximize fresh produce in the most delicious ways possible.
You could say there are two steps to prepping your meals. One is simply preparing and storing the food you purchase in such a way that's easy to access and eat. The next step is to take a little time and actually plan your meals for the week. A small investment of time up front can save you a lot of time and money down the road!
Keep reading for ways to turn your kitchen into your own personal drive-thru window. Save time and money by using fresh produces stores in your area!
Make Sure to Shop at Fresh Produce Stores
Do your produce shopping at specialty markets if possible. The employees can be very helpful. They can help you pick which produce works best for your lifestyle. They often offer free samples and can provide tips on cooking.
Big box stores are focused on maximizing profits by sourcing fruits and veggies that are harvested well before their ideal ripeness. Sadly they lack the nutrition and flavor they can achieve when allowed to fully develop. Specialty markets like Tacoma Boys and H&L Produce take on the risk of a shorter shelf life to offer their customers beautifully ripe fruits and veggies, at the peak of ripeness.
It's easy to love healthy eating, when you are eating properly sourced produce!
Cut and Prep Fruits and Veggies
Once you get home from the store, go ahead and prep some of your fruits and veggies. Wash your fruits so they are ready to grab and eat. Wash and slice your veggies so they are ready to eat cooked or raw.
Doing these things ahead of time can save you a lot of time throughout the week. They also make for great healthy snacks! The easier it is to grab-&-go — or grab-&-cook — the more likely you are to choose your fresh produce than the nearest drive-thru window!
Hold off on any items that you want to store for a while – once washed they don't last as long.
Make sure to take note of how long certain fruits and veggies can store whether they are diced or not. It's always a good idea to date any prepped food items or left overs. Using paper tape with a sharpie or pen is a great way to mark your food. With some containers you can use a dry erase oil pen.
Click here for tips on how to store certain fruits and vegetables!
Use Clear Containers
Invest in quality containers to store your fresh produce. Make sure the containers are clear so when you open the fridge, you immediately see the beautiful colors of the fruits and veggies.
It's a good idea to invest in reliable, well known brands and products that stack well. You can purchase a few today, and add to the collection over the coming months and years. Eventually your cupboards and fridge will look straight out of a magazine, with functionality to brag about #FoodStorage!
Clear glass containers are great for prepping foods and often come as a bonus with the jarred items you purchase. Mason jars are the perfect size for your bulk food items like dried foods, nuts and cereals. They also work well for on-the-go salads, and overnight oats with fruit!
Think Multi-Meal and Multi-Purpose
When planning your meals for the week, consider how leftovers from dinner can be used for the next day's meals. Roasted broccoli tastes great in an omelet or frittata. Baked potatoes work great for hash-browns the next morning.
Consider too the time that goes into prepping produce for dinner? Leverage that time for meals all week! Sliced mushrooms and peppers for a sauté can be set aside for future scrambles, salads or pizzas. They can even be great to have around to snack on.
Roasted sweet potatoes can be used in kale bowls or as a side for salmon. Zucchini can be sliced and sautéed for a side or put in a spiralizer for zoodles.
Click for Zucchini Noodle recipes.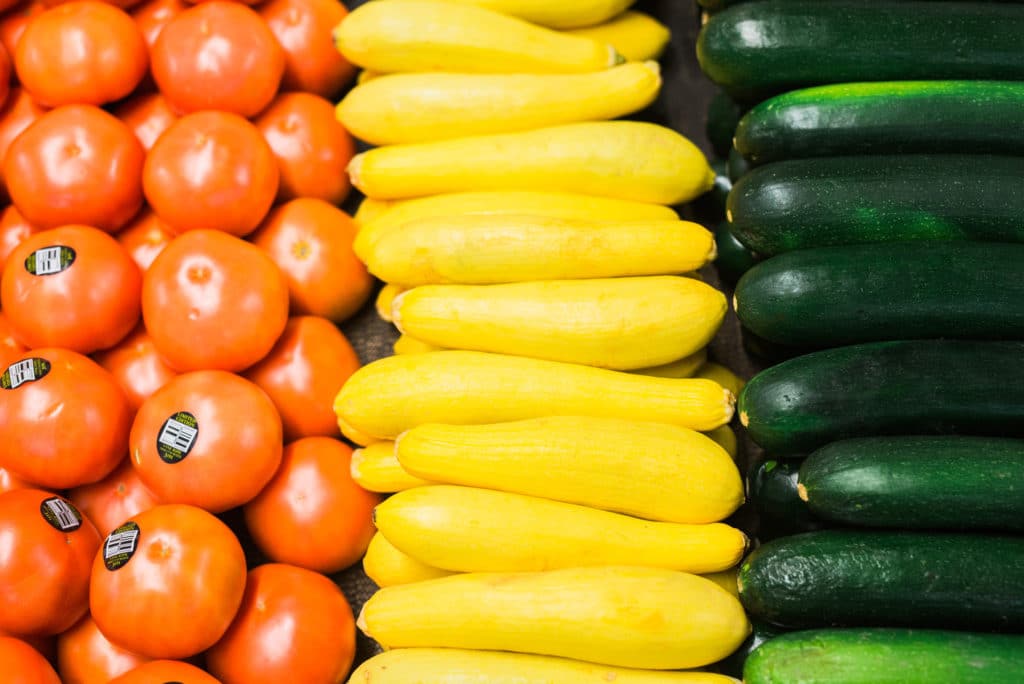 Think Beyond Produce!
Many fresh produce stores, like Tacoma Boys Markets, also have a great selection of meat! Go ahead and purchase that larger quantity of ground beef. You can brown the whole batch, section off what you'd like to use for tacos that night, and keep the rest to put in your egg scramble the next morning, or perhaps in a shepherds pie two nights away. If you don't anticipate you will eat the extra meat right away, put it in a freezer bag, lay it out flat, and freeze for later use!
Buying items in larger quantities is a great way to save time and money. The more you have access to in your own dry/refrigerated storage, the less likely you are to hit up that drive-thru window or make a last minute shopping trip! Whilst it's good to have all of this produce ready, it can easily go out of date, so it's important to use it all up or look into storage methods. Different products require different methods of storage, so it's important to cater for each product. Perhaps this Food blog could help with storage options and cooking tips.
Be creative and have fun with preparing your meals. Eating well doesn't have to be boring and having multi-purpose foods on hand will keep things interesting.
Meal Prep is an Age Old Practice
You might not realize this, but for centuries we've planned our meals and cuisine around a no-waste mentality.
Traditionally bread was made fresh each morning, then used in different ways as it aged. Day old bread was often chopped into croutons or used in dishes like panzanella or French Toast. Crumbs from the cutting board were saved and used to bread delicious dishes like chicken parmesan, meatloaf or meatballs.
Fresh Fruits and vegetables were ate fresh when in season, then prepped for storage to be eaten throughout the year. The term "preserves" is often used for for jams or jellies because "preserving" food was the original purpose!
Surely you've heard of pickles? Again this was method used to store cucumbers, which has become a delicious treat!
Along side our fresh produce items we have huge selection of jams, jellies and salsas along with hard to find items like pickled beets and quail eggs. Think of what the conversations you could start at the next potluck!
Looking for a Specialty Produce Market?
In the search for fresh produce stores, it can be hard to beat Tacoma Boys Market or H&L Produce. Visit us at any of our three locations. Our aim is to provide you with the best product at a great price.