How to DIY Your Christmas Tree With Tacoma Boys
Fresh Christmas trees are a classic tradition that make the holiday season extra special. While some people may opt for artificial trees, there's nothing like the smell and feel of a fresh tree. Tacoma Boys has a wide selection of different types of Christmas trees to choose from. This includes both regular and flocked trees! Trees like douglas fir or noble fir are common as Christmas trees and grow right here in the Pacific Northwest. And there's nothing like the smell of fresh evergreen and pine right in the living room: It smells just like Christmas. In addition to beautiful trees, Tacoma Boys also has a variety of fresh wreaths, cedar garland, Christmas swags, and more.
Christmas Trees at Tacoma Boys
Tis the season for fresh Christmas trees and holiday decor! Christmas trees come in all shapes and sizes and it's helpful to have several to choose from. Some people like funky short trees or super tall trees. Extra tall high alpine trees are less bushy than traditional trees and can make your holiday season just a little bit unique. And those flocked Christmas trees will guarantee your family enjoys a white Christmas this year! It's easy to find the best Christmas tree for you at Tacoma Boys with so many to pick from, including xtra fancy:
Douglas Firs
Fraser Firs
Noble Firs
Nordmann Firs
Depending on what your family prefers, you may favor one of these types of trees over another. Some are more green or blue in color, while others tend to have more or less branches. Or, check out other remarkable trees like:
Flocked Douglas Fir
Flocked Noble Fir
High Alpine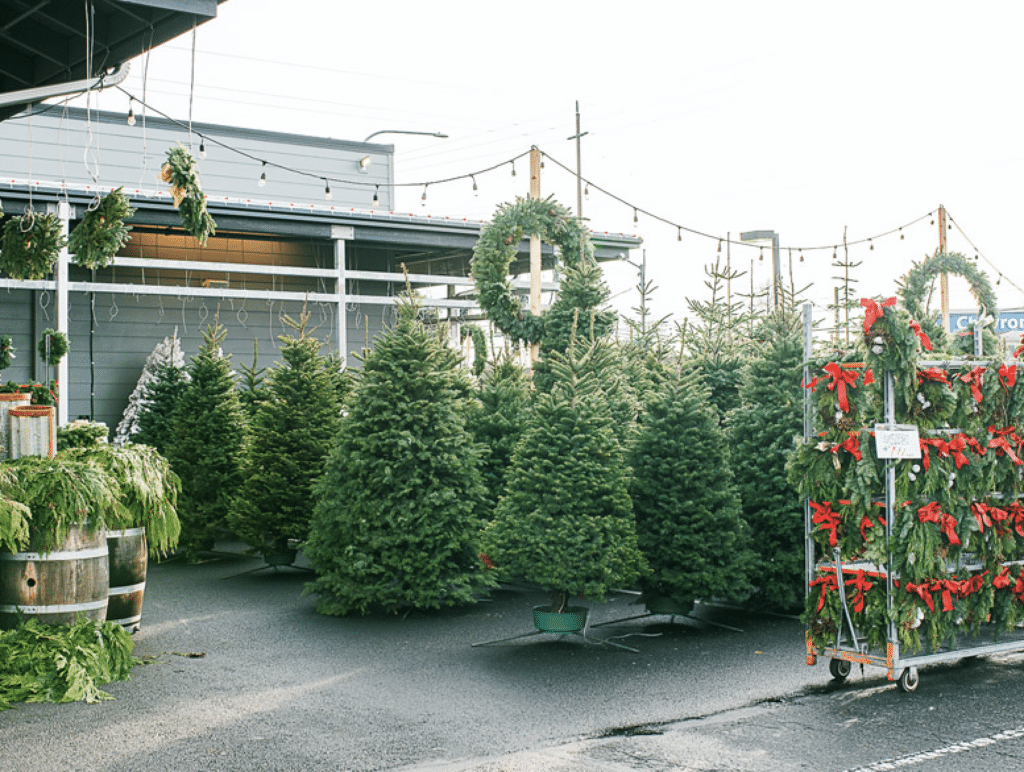 DIY Decorations
One way to make the holiday season extra special is to make your own DIY decorations! This includes Christmas tree decorations and things like garland for the home too. If you're looking for classic Christmas decorations, Tacoma Boys has a selection of fresh wreaths, fresh cedar garland, boughs, poinsettia and swags. Get in the holiday spirit early and your fresh tree and decor will last all month long!
If you want to make your own garland, there are many different ways to go about it. It's fun to get creative with DIY decorations with the family and make it part of your holiday tradition!
One way to make DIY food garland is with dehydrated citrus. Tacoma Boys has a variety of citrus like oranges, blood oranges, grapefruits, and lemons. All you need is a few citrus fruits, twine, and a stitching needle. Dehydrate the fruit either by using a dehydrator or the oven: Slice the citrus into rounds and place slices on a cooling rack on top of a baking sheet. Bake at about 200 degrees Fahrenheit for 3-6 hours, rotating the baking sheet every 1 ½ hours. For a step-by-step guide on how to make dehydrated citrus garland, check out these instructions by Spoon Fork Bacon. You can also make DIY decorations and food garland with popcorn, pretzels, fresh cranberries, cinnamon sticks, and more!
Local Holiday Shopping
When you're ready to get started with local holiday shopping, swing on by Tacoma Boys. In addition to holiday decorations and Christmas trees, you can find Christmas candy and specialty food items. Local and specialty food products can be great for gifting because it's always fun to try new foods! And of course, Tacoma Boys' holiday gift baskets can be made to order with a variety of specialty food items. Check out specialty food items like these at Tacoma Boys:
Stonewall Kitchen Peppadew Sriracha Bloody Mary Mixer
Adams Mushrooms Dried Golden Chanterelles
Puyallup Valley Jam Factory Pure Raspberry Syrup
Walkers Shortbread Cookies
Lindor Chocolate Truffles
Get started early with grocery shopping for holiday meals, too! Local holiday shopping helps support small businesses and is a great way to enjoy seasonal produce and locally made products, too. Shop from Tacoma Boys selection of fresh produce, meats, cheese, and beer and wine for your holiday meals For Christmas dinner, stop by the butcher counter for prepared meats or classic mains like prime rib and chuck roast. If you're looking for more inspiration for Christmas cooking, check out this post for non-traditional Christmas dinner ideas by Food 52.
Prepare for The Holiday Season with Tacoma Boys!
Stop by Tacoma Boys to get everything you need for a festive holiday season. This includes fresh Christmas trees and wreaths, and a selection of local and specialty food products. Grab stocking stuffers, last-minute gifts, and decorations for your home. To stay up to date on insider deals and specials, sign up for Tacoma Boys' text list. Just text (253) 246-1661 to tell Paul you want to be on the list!