3 Comfort Food Recipes for a Cozy Winter Dinner
Comments Off

on 3 Comfort Food Recipes for a Cozy Winter Dinner
The winter season is a great time to get cozy with tasty comfort food! Hearty meals like soup, pasta, and casseroles are common comfort foods, especially in the winter months. This chilly time of year is when warm, hearty recipes for comfort food are popular to cook and eat. Foods that make you feel comfortable and cozy can often mean creamy, cheesy dishes. Comfort food is usually known for being high in calories, fat, and carbs (like mac and cheese) — But these aren't essential to enjoying a nostalgic, delicious winter dinner fit with comfort food!
Comfort Food at Tacoma Boys
Dishes like cheesy pasta bakes, creamy chicken casseroles, and crispy potatoes are common comfort foods. Digging into green bean casserole, mac and cheese, or mashed potatoes with butter and gravy is like being wrapped in a big warm blanket! But when you're in the mood for these types of foods, you may not be in the mood to cook. Tacoma Boy's selection of premade comfort food is great to fall back on when you need something quick and cozy. In addition to a range of frozen meals, like the legendary Beecher's Mac & Cheese or Cheese Curd Lasagna, Tacoma Boys also offers a variety of frozen snacks and appetizers, like GeeFree Gluten Free Spanakopita and uRösti Crispy Filled Potatoes.
Pizza: The Ultimate Comfort Food
Pizza is another popular go-to comfort food! And it's easy to find your favorite ready-to-cook pizza at Tacoma Boys. If you're vegetarian, vegan, or gluten free, there are plenty of options to choose from, like:
Caulipower Pizza (made with cauliflower crust)
Three Bakers Classic Cheese (gluten free)
Amy's Vegan Margherita Pizza
Pizza Romana Roasted Garlic Pesto Pizza
Tacoma Boys own Take & Bake Pizza are made with a variety of different traditional toppings.
For a quick and easy appetizer recipe that doubles as comfort food, try making Tacoma Boys' Garlic Butter Breadsticks with Kalama Sourdough Pizza Dough!
Local Winter Produce
One way to make comfort food nutritious is to incorporate seasonal and local winter produce. Shopping local and seasonal can help people appreciate the produce that grows here in the PNW while supporting the local economy. There is a variety of delicious fruits and vegetables to enjoy year-round, including the winter season. Some popular dishes made with local winter produce might include roasted root vegetables, Butternut Squash Fettuccine Alfredo, and classic apple pie. These all make good use of seasonal produce and are comforting and delicious! You can find a variety of local winter produce at Tacoma Boys, including:
Squash like butternut, spaghetti, delicata, and kaocha
Root vegetables like carrots, beets, parsnips, and turnips
Potatoes and sweet potatoes
Brussels sprouts and cabbage
Pears and apples
Pomegranate
Oranges: Click here to read a blog all about winter's favorite citrus!
Cozy Winter Recipes
When relaxing in the cold weather, cozy winter recipes are welcome and comforting. Making these types of dishes can easily be quick and uncomplicated, too. Consider what seasonal winter produce you might want to cook with and how to make it taste delicious: Your recipes can be as simple as roasting squash with salted butter and garlic. Wholesome ingredients like such are all you need to get started making comfort food. Read on to get inspired with more cozy winter recipes!
This tasty ramen recipe by Half Baked Harvest requires just a few pantry staples to get started. Add whatever chopped vegetables you have on hand for some extra nutrients!
Cheesy Potato Soup
When considering cozy winter recipes to make, soups are often quick to come to mind. Creamy and cheesy, this potato soup is easy to make all in one pot. And it can be finished with your toppings of choice like bacon, cheese, and green onion.
Ingredients
¼ cup Tillamook Sea Salted Butter
1 large white onion, chopped
2 lbs gold potatoes, peeled and diced
Salt and pepper to taste
1 head garlic, roasted, peeled
3 cups Pacific Foods Organic Vegetable Broth
1 ½ cups Smith Brothers Farms Half and Half
½ cup freshly shredded Coastal Cheddar Cheese
Optional toppings: crumbled bacon, shredded cheddar, chopped green onion, red pepper flakes, etc.
Directions
Heat a large pot over medium heat. Add the butter. When the butter melts, add the chopped onion and potato. Season with salt and pepper to taste.
Saute the potato and onion, stirring often, until the onion is tender, about 5 minutes.
Stir in the roasted garlic, vegetable broth, and half and half. Bring to a low boil, then simmer on low for 20-25 minutes or until the potatoes are fork tender.
Use an immersion blender to blend about half the soup for a creamy texture. Stir in the shredded cheese and simmer for another 5 minutes. Serve hot with desired toppings.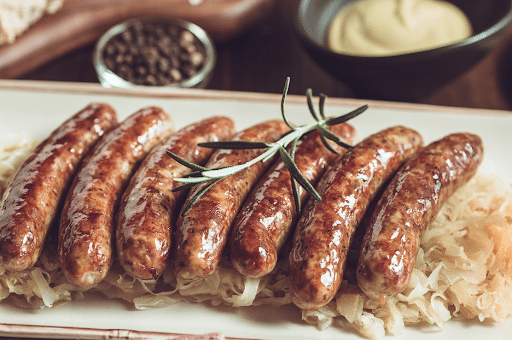 Try this recipe for sweet potato fries with a slight twist: Before cooking, toss the sweet potato with ¼ cup Napoleon Basil Pesto instead of the oil, salt, and spices. Then, cook the fries as direction and enjoy with your favorite dipping sauce, like Stonewall Kitchens Roasted Garlic Aioli.

Tacoma Boys has all the essentials for your favorite comfort foods ready to go. Stop by and check out our selection of pre-made, frozen comfort food or grab all the ingredients to whip up your own recipe! To stay up to date on insider deals and specials, sign up for Tacoma Boys' text list. Just text (253) 246-1661 to tell Paul you want to be on the list!