Pumpkins are here, and not a moment too soon! With the rain settling in for the season, we could use a spirited orange squash to brighten up the place. And this year's crop does not disappoint! Looking for more than your typical run-of-the-mill pumpkin to spruce up your porch this fall? In keeping with what you've come to expect, Tacoma Boys and H&L Produce has a wide and unique selection of autumn squash. We're certain you'll find something to fall for! 
Tacoma Boys' Surplus of Sensational Squash
Did you know that pumpkins, like most produce, come in many varieties? If you've ever been to one of Washington's famous pumpkin patches, you've probably seen many of them. Lucky for you, you don't have to go all the way to a pumpkin farm to grab one for yourself! We've got pumpkins a-plenty right here at your neighborhood Tacoma Boys and H&L Produce. Let's meet the contenders.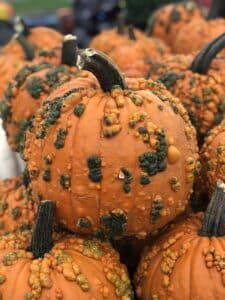 The Warty Goblin
Whoever names these things either has an immense imagination or none at all. This gorgeous gourd looks just like it sounds. Perfect for…well, we're not exactly sure what it's good for, but we sure love it! You don't even have to carve this one up for it to be a spooky spectacle, it's already got all the ghoul you need. Or pair it with some mums in your best attempt to soften its…dramatic..features. Either way, this little guy has all the makings of a front porch showstopper. 

The Cinderella 
Put it next to your Warty Goblin, and you've got yourself a fairytale! Cinderella Pumpkins are known for their rich color, flattened round shape, and creamy sweet flavor. Grab three, stack them on top of each other, stuff some leaves in between, and you have yourself a centerpiece. 

The Porcelain Doll Pink 
It's said these pumpkins were created to raise awareness of breast cancer. Cute as a button with a heart of gold! What more could you want in a pumpkin? 

The Ghost 
In keeping with the Halloween theme, this white pumpkin is all the rage for decorating and carving alike. Prefer painting to carving? A Ghost Pumpkin makes a perfect blank slate. (Moms, pumpkin painting is a great substitute for carving for the littles among us.) A classy alternative to the typical orange and red motif of fall, cluster a few white pumpkins together for an understated effect. 

The One Too Many 
We would say you can't make these names up, but somebody clearly did. Cheekily named for its resemblance to the bloodshot eyes of someone with a hangover, One Too Many Pumpkins are a great blend of white and orange all in one squash. Cluster with one white pumpkin and one orange for a pleasing symmetry, or let this striking autumn squash stand alone. 
3 Ways to Enjoy Your Autumn Squash
Now that you know what you're getting, we'll talk you through what to do with them!
1. Chow down. 
This is the most obvious and least likely reason you'll purchase a pumpkin this year. You'll probably make your pumpkin pies, scones, breads, and donuts from canned pumpkin like the rest of us (we have some canned pumpkin by the way, if that's the route you choose, but we digress…) If you do choose to upstage us all with your Martha Stewart ways, you probably already have a recipe passed down from your great grandmother. But in case you don't, you can give this one from Allrecipes a try. For this, you'll want to use a sweet, smooth variety, like a Sugar Pumpkin or the Cinderella. Most pumpkins are edible, but some are better for eating than others, so do your research. May it be worth your extra efforts!
2. Carve a Jack-O-Lantern!
Is it even fall if you haven't spent some time elbow deep in a pumpkin, digging around for the last vestiges of its slimy innards? We think not. Do you go for the classic toothy grin and triangle eyes? Or do you prefer to get creative with well known cartoons or pumpkin versions of political figures? Either way, you might want to go with the traditional Jack-O-Lantern pumpkin. Although technically, you can pick any kind of autumn squash you want, as long as it's big enough to withstand whatever carved creation you choose. 
3. Decorate for fall. 
This is the easiest of your options AND works perfectly in combination with either of the above. Here's how it works. You buy a pumpkin. Any pumpkin will do. However many you want. Then you put them literally anywhere. And suddenly it's fall! Want a cute porch? Put a pumpkin on it. Need a fall tablescape? Pumpkin it up! Wondering what to do with your mantle now that the leaves are falling? One or two pumpkins will do! You get the idea. Leave it there as long as you want (not too long…it's still food), dust it off, and cook it up or carve it out. Who knew a fruit so orange could be so multifunctional? Also, who knew pumpkin is a fruit? Now you know. You're welcome.
Fall in Love With Tacoma Boys
In addition to a wide variety of pumpkins, you'll find a large assortment of other autumn squash with which to cook or decorate at your nearest Tacoma Boys or H&L Produce. Swing by and ask one of our friendly store associates for help picking a pumpkin or other squash that best meets your needs! And for the finishing touch on your fall decor, don't forget a pot or two of our beautiful fall mums. We're confident you'll find everything you need to welcome this fall season with open arms.