Meat, Cheese, Pickles, & More! Crafting Cheese Boards & Snacks for the Big Game
Comments Off

on Meat, Cheese, Pickles, & More! Crafting Cheese Boards & Snacks for the Big Game
Crafting cheese boards are easily one of the most versatile and simple snacks to prepare! Charcuterie and cheese boards are a staple for appetizer spreads everywhere because eaters can munch on their favorites. And if you follow diets like paleo or vegetarian, pick and choose what sounds good to you as you go. There can be a selection of different fruits, veggies, cheeses, spreads, crackers, and more!
DIY Cheese Boards for the Big Game
A variety of dried meats like salami, cheese like gouda, and extras like olives and nuts can fill up your Super Bowl cheese boards! Some people may be a little intimidated by the extravagant cheese boards styled on Instagram and Pinterest. But your charcuterie spread can be as simple and fuss-free as you'd like. A couple homemade or cooked extras like olive tapenade, kielbasa sausage, and even roasted potatoes can add some pizzazz to your board as well.
First, choose your meats and cheeses. Try to get a few contrasting flavors and textures like soft brie in addition to aged cheddar. Next, get crackers and bread like sliced baguette. The last step is where it's fun to get super creative with a variety of sweet, salty, and savory adornments. We're talking pickled veggies, spreads like mustard, and more. You can even style your Super Bowl cheese boards to focus on a theme, like a Mediterranean mezze platter or seasonal produce and flavors like squash.
Meat and Cheese
A good starting lineup for meats can include options like: Columbus Italian Dry Salami, Niman Ranch Uncured Capocollo, and Boar's Head Uncured Sopressata Dry Sausage.
And for fun options for cheese, try: Kaukauna Cheese Spreadable Sharp Cheddar, Ellsworth Creamery Ranch Cheddar Cheese Curds, Red Apple Hickory Smoked Bourbon Gouda, and Yanceys Fancy Buffalo Wing Cheddar.
Creative Charcuterie Ideas
Get creative and jump outside the box for different charcuterie ideas! There are so many different methods and recipes all over the internet. We suggest doing whatever sounds nice to you with a good mix of cheese, meat, crackers, and extras. You can also prepare it ahead of time to make the Super Bowl party a little easier. Cut up your meats and cheeses and arrange them on a platter. Fill the empty space with bowls of nuts and spreads and finish it off with remaining loose extras. Then, pop it in the fridge until you're ready to go. Or, throw on the room temperature items like crackers just before serving. Not sure what else to add to your charcuterie board? Read on for a few specific suggestions!
What To Add To Meat And Cheese Boards?
Try these items from Tacoma Boys to go along with your meat, cheese, and crackers.
Fresh fruits and veggies like carrots, cucumbers, apples, and grapes
Stonewall Kitchen Roasted Garlic Bread Spread
Beaver Sweet Honey Mustard
Ziva Mediterranean Foods Original Hummus
Divina Caramelized Onion Jam
Wonderful Sweet Chili Pistachios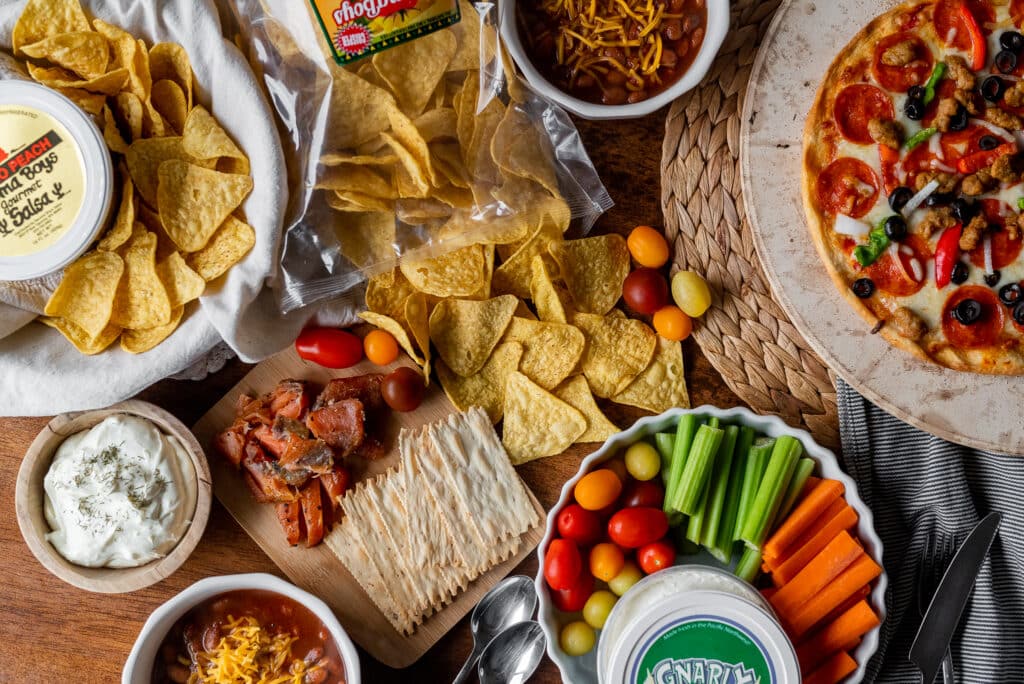 Tacoma Boys is known for a variety of specialty food items from jarred jam, to aiolis, pickled vegetables, and more. Walk the aisles to get inspired for dozens more charcuterie ideas! This includes seasonal produce, crackers, and bread. Plus, build it up with foods with a variety of textures and flavors.
Snacks for the Big Game!
When planning for your charcuterie board, add in some extra Super Bowl snacks and appetizers, too. Tacoma Boys has a large selection of dips like salsa, queso, and bean dip to go along with tortilla chips. Our recipe section also includes even more dips like buffalo chickpea dip, jalapeno popper dip, and more. For more nutritious recipes, go for hummus, bruschetta, and the classic veggies and dip! From blue cheese to ranch and more, who doesn't love some veggies and dip?! If you're planning potluck-style, try to group things off in categories of food. For example, some people can bring cheesy dips, some more hearty options like beef sliders, and grab-and-go options like those chips and salsa too.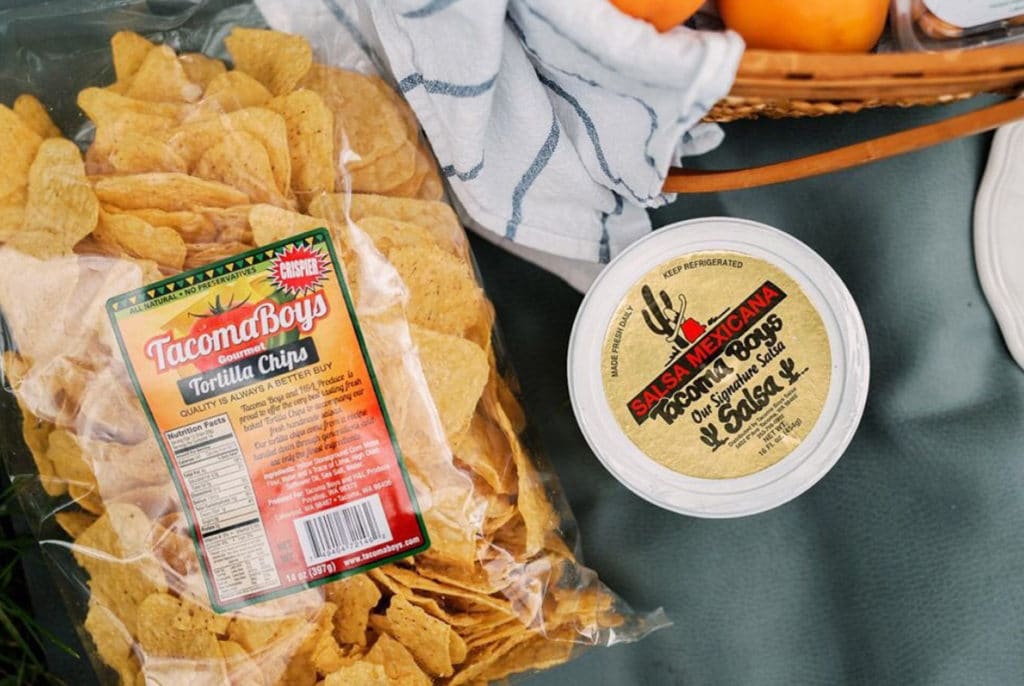 Appetizers and Entrees, Too
For more ideas for Super Bowl snacks and appetizers, take a peek at Tacoma Boys' Guide to Super Bowl Party Snacks. You can even cook some bigger meals or side dishes to go along with your snacks, too. That might be turkey pinwheels, simple pasta salad, or broccoli cheddar casserole. The options are endless! Try for a combination of foods for different dietary needs plus lighter and heartier dishes. And there's nothing wrong with throwing out a bag of potato chips or flavored tortilla chips to go along for the ride.

To stay up to date on insider deals and specials, sign up for Tacoma Boys' text list. Just text (253) 246-1661 to tell Paul you want to be on the list!