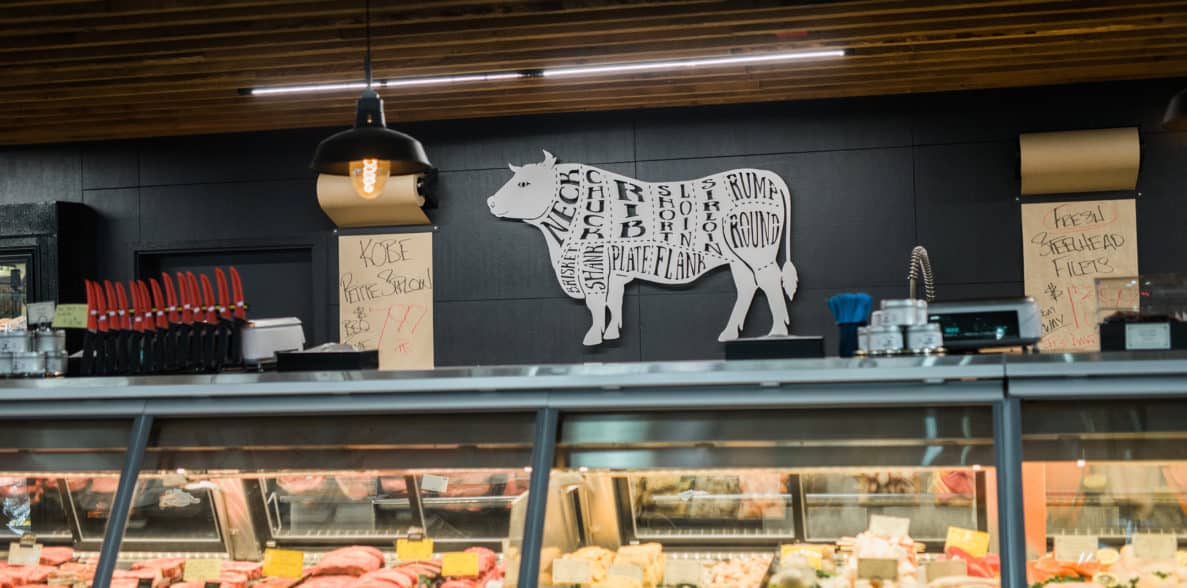 Is There a Fresh Meat Market near Tacoma?
Comments Off

on Is There a Fresh Meat Market near Tacoma?
Having a local fresh meat market near Tacoma makes your everyday shopping easy. Especially when that market offers fresh produce along with a wide array of specialty grocery items.
Here are some times on how to find the best fresh meat in the Tacoma area, and how to identify the very best cuts.
Signs to Look For
Buying meat can be a tricky process but knowing the ins and outs of fresh meat can help you make the best decisions when shopping.
Meat wrapped in plastic on a Styrofoam plate is not a sign of quality fresh meat. Butcher paper is a much better way to present meat, and better for the environment. You should also look for a meat counter that presents their meat in such a way that's evident they care greatly for the product. A quality end product requires the meat to be treated in a certain manner, such as using top equipment like universal meat grinder parts. The difference is critical whilst also showing an attention to detail that should not be underestimated.
How Styrofoam is bad for the environment.
Darker colored meat is ok. Fresh meat is typically purple and turns a brighter red when it comes in contact with oxygen. If you bring home a package of bright red meat and find that some of the deeper cuts are less bright, it is most likely because they've had less contact with oxygen.
The rainbow effect, or green tinge that some meats have don't necessarily mean something is wrong, or the meat is spoiled. Cured meats and cuts like roast beef are high in iron, or other ingredient that may interact with light in certain ways.
Fresh vs Frozen
Although frozen meat has a longer shelf life, it does not have the flavor of fresh, unfrozen meat. There are a number of reasons for this.
Freezing actually changes the cellular structure of the meat. No matter how fast or slow the meat is frozen, ice crystals can damage the protein of the meat at a cellular level. This affects the meats texture. It can also change the natural process of the juices as the meat thaws and when you are ready to cook.
Typically, cuts of meat with a higher fat percentage will freeze better than leaner cuts of meats. Consider this when looking for meat that has a less fat content.
Click for info on the "Leanest and Fattiest Cuts of Steak"
Fresh Meat Is Healthy
Non-processed, fresh meat is full of healthy proteins, iron, antioxidants and vitamins like B-12. Fresh meat can actually be good for your overall cardiovascular health because of the lipids in the meat, which when consumed in the right amounts, are beneficial.
Click for Health Benefits of Meat.
A good meat market will offer plenty of organic and grass fed options, for those who are concerned about antibiotics, pesticides or fertilizers affecting their diet
Click to learn about the benefits of grass-fed beef.

Frozen Meats Don't Last Forever
You may think of the freezer as a kind of time capsule for your food. Throw something in there in it's good for the next 10 years right? Wrong!
The USDA actually recommends tossing frozen meat after 1 year. Frozen ground beef is only good for 4 months, and frozen pre-cooked meat should be thrown out after just 3 months.
While freezing food can be a great way to stock up for the next few months or year, you are still buying food throughout the year. You might as well enjoy the benefits of fresh meat! Meal planning can be a great way to ensure you and your family are eating well, and you are making the best purchases each time you visit you local market.
If you do freeze your food, make sure to always date and rotate those frozen items. Invest in proper freezer packaging and watch for freezer burn throughout its time in the freezer.
What to Look for in Your Meat
There are so many kinds of meats and cuts available that it can be overwhelming at times. That's why Tacoma Boys Markets and H&L Produce have an amazing staff of knowledgeable and friendly folks to answer all your questions
When you are considering buying a fresh cut of meat remember to look for these four things:
Free from excessive connective tissue.
Single or few muscle groups on each cut
Limited or well distributed fat marbling (dependent on taste and preference)
Meat grain that is finer
These tips will help you pick the best cuts of meat that are tender and flavorful. Meat with these qualities may even feel soft when touched because of the clusters of muscle fibers.
Tender meat normally comes from the parts of the animal where the muscles work less and there is not a lot of collagen. You don't want a lot of connective tissue because it makes the meat tough and chewy.
Get to Know Your Butcher
Inspect the meat with your butcher before purchasing and make sure the cut is as close to perfect as possible. Feel free to ask your butcher his advice on what to look for, and if any additional cuts can be made. A quality butcher is glad to assist you, and prepare your chosen cuts as they are needed for whatever meal you are preparing.
Insider Tip: Special orders, if not to picky, can be fun for a Butcher.
Becoming friends with your local butcher is a great way to solidify a long term advocate for you and your family to eat well. The better your butcher knows you and your preferences, the better he or she will be able to serve you with quality cuts, recommendations and service.
What to Look For In a Market
Does the market carry a variety of organic, grass fed and specialty meats? Are they quick to tell you who the suppliers are and where the meat came from? Does the market carry just meat, or do they carry other items as well?
Tacoma Boys Markets and H&L Produce carry a wide range of fruits, vegetables, beer, wine and other grocery items, making it a great one stop shop on your way home to prepare dinner.
Specialty Offerings
When looking for a fresh meat market near Tacoma, consider the ways meat can be prepared and sold.
H&L Produce in Lakewood offers a wide selection of fresh meat along with smoked and dry aged meat. If you like, you can even specialty order your very own cuts, and watch them dry age in H&L's specialized cooler over a period of weeks. Once ready, you can pick your order up when it's ready.
H&L's premium meat counter also offers a selection of prepared, ready to cook items along with a wide selection of seasoned deli-meats for the whole family to enjoy.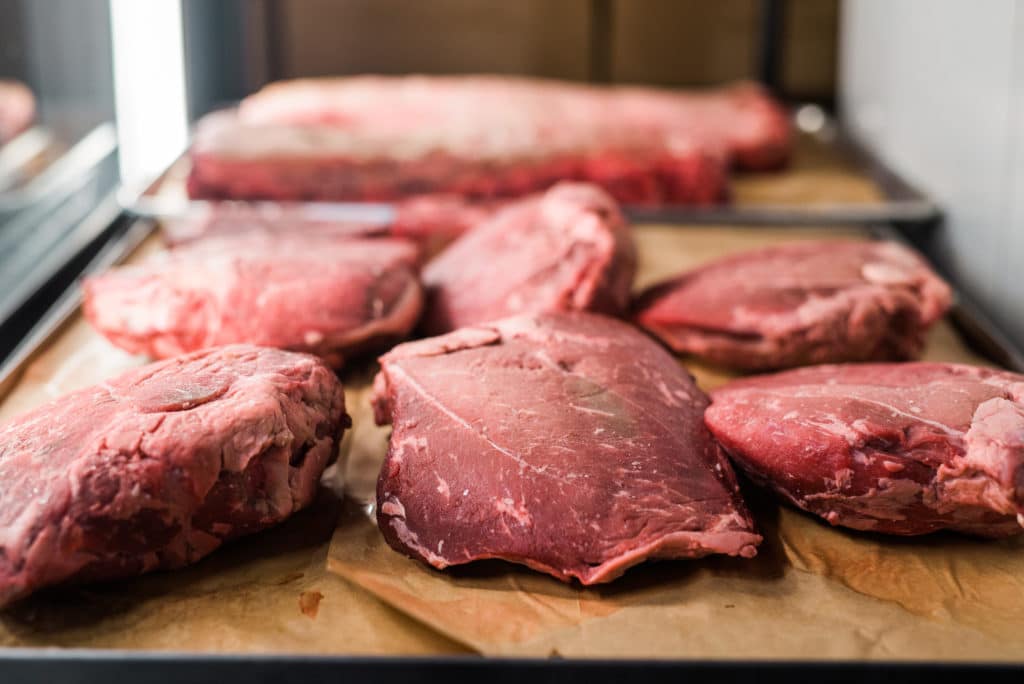 Where to Find a Fresh Meat Market Near Tacoma
Tacoma Boys and H&L produce firmly believe in providing premium quality products to their customers. They have been building trust and serving the South Sound since 1985.
No matter where you are in the greater Tacoma area, you can get the best quality fresh meat at great prices from these three locations.
With pork chops, free range chicken, bacon, steaks, custom sausages, and more, you can pick up whatever fresh meat you want from our expert butchers.
Look No Further
Tacoma Boys are locally owned and open year round for all your grocery needs. You will love the modern, down home vibe.
Check out our site for recipes, products, and more information about fresh meat and produce.