How to Cook With Your Air Fryer
Comments Off

on How to Cook With Your Air Fryer
Kitchen appliances like the air fryer are popular for their convenience and quickness. Air fryers have been on the market for awhile but have become even more common in the past 5 years or so. These days, many people have an air fryer just like they do toasters, microwaves, and coffee machines. The kitchen appliance is handy and useful for prepping, cooking, and reheating. It's similar to an oven because of its use of hot air to cook. But there are just a few reasons why air fryers are so popular and unique.
The Quick & Easy Air Fryer
Many people will use their air fryer to cook vegetables or other foods that can be baked. As the name implies, it can be used to somewhat "fry" foods to a crispy texture. While the frying method generally requires hot oil, an air fryer doesn't require much or any oil. It simply cooks the food with hot air circulating in the small appliance. And since it doesn't need that oil, it's often referred to as a healthier option for breaded foods that are generally deep or shallow fried. To learn more about how it all works, check out this article by Insider. 
Foods like chicken wings, potatoes, onion rings, and vegetables work well in the air fryer. But try to stay away from food with a lot of liquid, like you would if when shallow or deep-frying food. Since the food sits in a basket to cook, anything that seeps out of the food will just fall through the basket.
As the handy kitchen tool becomes more popular, more prepared foods come with instructions for how to heat the food in the air fryer! These instructions almost always take less time than options like a conventional oven. Try preparing these frozen or prepared foods from Tacoma Boys in the air fryer:
üRösti Crispy Filled Potatoes
Simulate Nuggs Plant Based Nuggets
Alexia Onion Rings, Potato Puffs, Truffle Fries, Spicy Sweet Potato Fries, and more
Ian's Gluten Free Chicken Nuggets
Field Roast Miniature Corn Dogs and Buffalo Wings
Alpha Plant Based Pot Pie
These are just a handful of the dozens of items that can easily be heated or cooked in the air fryer. Try your favorite snack in the air fryer for quick and easy cooking and eating. Just be sure to keep an eye on any foods that may leak into the bottom of the appliance, like those with cheesy fillings. Or, try a simple version of these crispy chickpeas in the air fryer instead of the oven.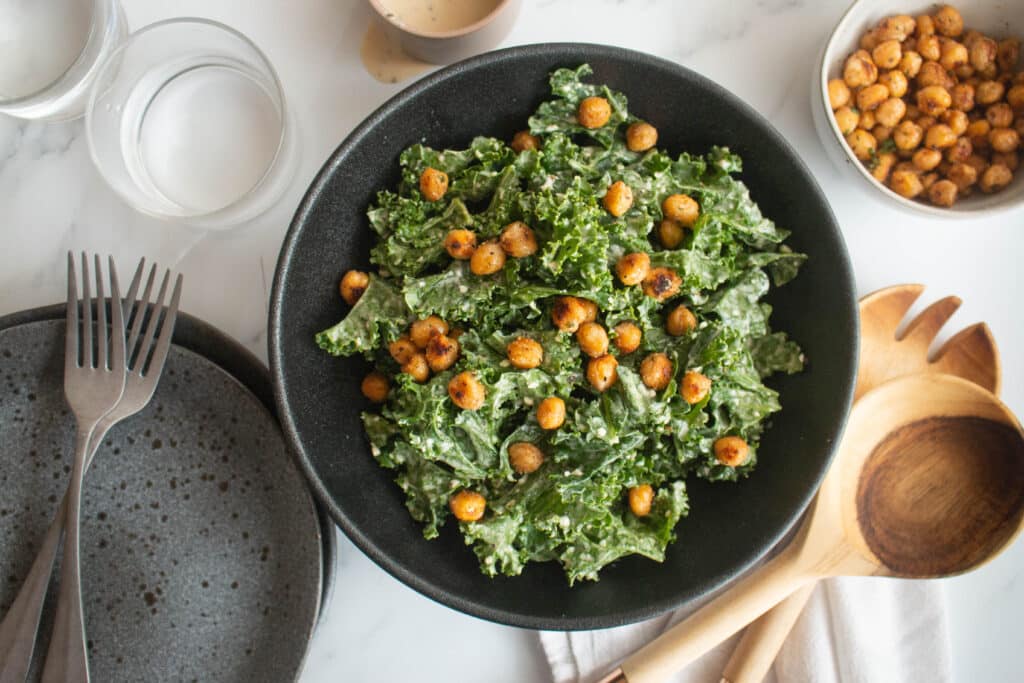 Cooking with an Air Fryer
Cooking with an air fryer can save time and make cleaning up easier. Air fryers come with a removable basket. This can often be thrown into the dishwasher. This is definitely easier to clean than a pot full of oil or a cooking sheet with baked-on food. Cooking with an air fryer is as easy as cooking with an oven and takes less time! Air fryers can be great for quickly reheating leftovers or frozen finger foods too. Follow these basic steps when you begin cooking with an air fryer:
Place your food inside the basket.
Turn the temperature and time to the desired setting.
When the time is up, remove the food and enjoy!
While air fryers are convenient because they're small, this can sometimes be a downside. When cooking large amounts of food, you may need multiple batches. That's because the food needs to be in a single even layer for the hot air to reach every nook and cranny. That's how everything ends up so crispy! And air fried food is rarely cooked for longer than 20 minutes or so. This hot-and-fast method of cooking is not always preferred— Low-and-slow foods with sauces like braised beef are better in the oven. 
Easy Recipes
Air fryer snacks and dishes are often very simple and easy recipes. Frozen finger foods and crispy appetizers are quick and convenient to make in the handy appliance. You can also make roasted vegetables, meat, or seafood. And these days, there are so many easy fryer recipes all over the internet! To get started, try some of these air fryer recipes by Spend With Pennies. 
For example, it's simple to make some roasted potatoes: Simply toss some diced red potatoes with a drizzle of Madhava Organic Extra Virgin Olive Oil and a sprinkle of Tacoma Boys' All Purpose Seasoning. Roast in the air fryer at 400 degrees for 15 minutes, shaking the basket halfway. These potatoes will become nice and crispy quicker than the oven!

Swing on by Tacoma Boys for everything you need to try new easy recipes in your fryer. In addition to prepared frozen foods and appetizers, you can choose from a selection of local and specialty ingredients to cook with. To stay up to date on insider deals and specials, sign up for Tacoma Boys' text list. Just text (253) 246-1661 to tell Paul you want to be on the list!