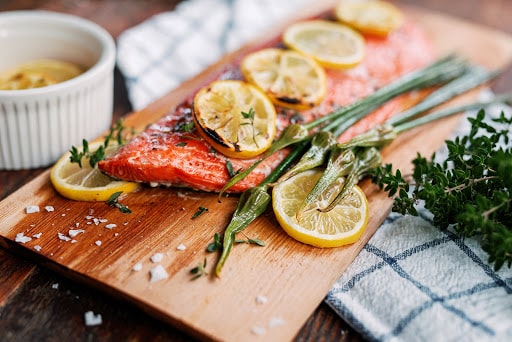 Eating Well While Eating Ketogenic
Ketogenics is so popular in the culinary and dietary world, and for good reason. Aside from the science of ketosis, this eating plan challenges you to eat more fat, and cut carbs. So, in essence, you lost the pasta and bread, but you get the bacon and avocados! But there's more to be enjoyed with keto than a simple two-item menu, and Tacoma Boys and H&L Produce have everything you need.
Counting… Everything in a Ketogenic diet
In the most simple expression of the ketogenic diet think – high fat, low carbs. But if you're going to count carbohydrates, recognize that fiber counts as a carbohydrate but does not count against your net carb counts. And ketogenics is partially about lowering net carbs. For example, a medium sized avocado can have about nine grams of carbohydrates in it. But seven of those grams are from fiber. So the keto-savvy eater would consider the avocado to have two net carbs. 
But there are additional benefits to truly keto-friendly foods. Again, the avocado is not only low in net carbs, but it is high in potassium and fat. Potassium is thought to ease the chemical transitions to a truly ketogenic diet. And with fat grams as high as twenty-one grams per fruit, avocados are an almost perfect choice. So again, high fat and low carbs, net carbs over total carbs, potassium is good, and fat is even better. It's a new dietary world.
Eat Your Veggies for a Ketogenic Diet
The ketogenic diet is not about abandoning vegetables. Though many of the vegetables we love pack more carbohydrates that are generally allowed in a ketogenic diet, there are some outliers. Here is a vegetable eating tip on ketogenics: If it grows in the ground, it's likely too high in carbohydrates and sugar. Sadly, if you're holding to the keto plan, potatoes are a casualty and carrots and onions have to be heavily reduced. But never fear, we have some great options for you to dine and snack on at Tacoma Boys and H&L Produce!
Cauliflower has become a terrific culinary multitasker in recent years. Mashed and seasoned properly, it can be a tasty substitute for potatoes, and grated cauliflower cooked properly makes a terrific rice substitute. Try adding some cayenne and slivered almonds to your cauliflower rice, and cook it in a meat-based broth for flavor and added fats.
Kale and broccoli stand on their own as healthy, nutrient rich veggies that offer more fiber and less carbs. And if you're looking for a substitute for that pasta you love so much, bake a spaghetti squash, or try out some zucchini that's been cut down into noodle shape. Spinach and Brussel sprouts are great keto friendly vegetables as well.
Eat More Fat
It's counter-intuitive, we know, but in order to engage the metabolic state of ketosis, you need a dramatic reduction in carbohydrates, and a significant increase in fat intake. That last part is the most nuanced component of the ketogenic diet. Eat more fat. But not just any fat. What the truly keto eater is looking for is referred to as healthy fat. And in the meat world, that means grass-fed meat.
Grass-fed meat can mean a lot of things. So finding local specialty markets like Tacoma Boys, that have full meat markets at every store, and have relationships with the farms and providers that bring that meat into the stores, which allows for a lot more clarity and honesty in the grass-fed world. To make it simple, you want your cattle, pigs, and chickens to have eaten as much natural grass as possible. And if they are raised in a grazing environment, you can almost be certain that they eat all natural foods, are raised safely, and without antibiotics. So ask one of our butchers about our grass-fed meats! And then you can be certain you are eating healthy fat products that are higher in Omega 3 fatty acids, lower in monounsaturated fats, and contain all kinds of additional health benefits.
See to All the Seafood
While you are up to your eyeballs in counting all kinds of carbs, fats, and fibers, seafood is a terrific escape from the constant counting. Fish, almost every kind of fish worth eating, have no carbohydrates and are filled with tremendous amounts of vitamins, nutrients, and in some cases, healthy fats. A quick list of fatty fish include salmon, sardines, trout, and mackerel. 
Shellfish, however, varies in carb content so it is important to keep your eye on what shellfish you eat. Again, a quick list of the lowest carb shellfish includes shrimp and most crabs, higher fat shellfish to be mindful of include mussels, clams, and oysters. Whenever you're looking at consuming the higher carb shellfish, just mind portion size, because most are still terrific sources of healthy fat and nutrients.
Can You Even Dessert?
Yes, you can eat desserts when you are in ketosis. The trick is in the composition. Sugar substitutes and flours that contain little to no carbohydrates make keto desserts a real possibility. And as mainstream companies catch on to the keto craze, more and more products come out that making snacking, cooking, and enjoying ketogenics a real opportunity. 
And for the family that doesn't want to abandon sweets, think fruit. Watermelon, cantaloupe, peaches, honeydew, and most berries offer a natural sweetness and are surprisingly low carb options. And again, avocado is a fruit! So make as many shakes as you can imagine. And if you just feel compelled to bake, bake sugar-free. Cookies, brownies, cakes and pastries can all be made with sweeteners and flours that are light on sugar, but still big on flavor.
When in Doubt, Ask
Tacoma Boys and H&L Produce are here for our community. And if you are set to embark on healthier eating habits, we are excited to provide local grown, healthy produce and meat that will get you to your goals. But we are also ready to answer questions, find solutions, and help each member of our community in Tacoma, Puyallup, and Lakewood, Washington. We want to help everyone in the South Sound become the healthier, happier people they truly want to be, no matter what they choose to eat. So ask any of our team members for assistance, as you look to make your meals and health habits come to life.